News
News
Global Entrepreneurship Award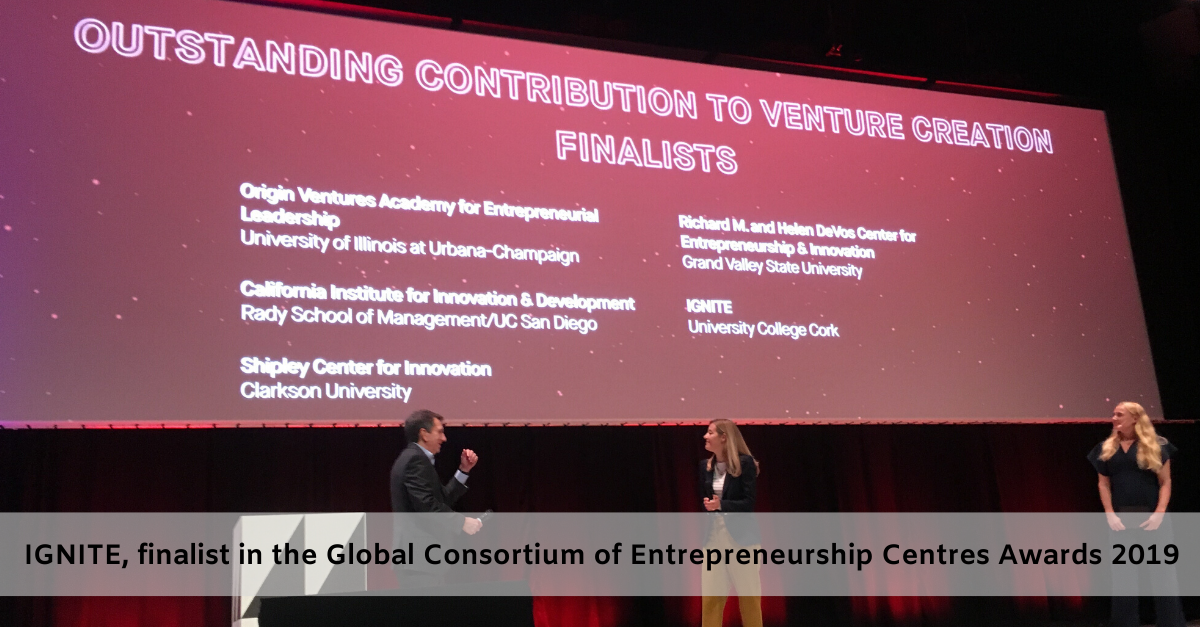 The IGNITE Graduate Business Innovation Programme was recently shortlisted in the Global Consortium of Entrepreneurship Centres (GCEC) Awards 2019.
The Global Consortium of Entrepreneurship Centres Awards (GCEC) are designed to showcase and celebrate the very best of university entrepreneurship. Each year, the GCEC recognises the top entrepreneurship programmes in eight categories:
1. Outstanding Emerging Entrepreneurship Center
2. Outstanding Contributions to Venture Creation
3. Exceptional Activities in Entrepreneurship Across Disciplines
4. Excellence in Specialty Entrepreneurship Education 2
5. Excellence in Entrepreneurship Teaching and Pedagogical Innovation
6. Outstanding Student Engagement & Leadership
7. NASDAQ Center of Entrepreneurial Excellence
8. GCEC Legacy Award
IGNITE, UCC was listed in the top five finalists under the category "Outstanding Contribution To Venture Creation".
The Outstanding Contribution to Venture Creation Award honors a center that creatively supports the process of launching and accelerating university affiliated startups through 1) competitions, 2) incubators, 3) accelerators, or 4) other programs. The finalists and eventual winner were selected by an international panel of judges during the GCEC Conference, hosted in Stockholm School of Entrepreneurship (SSES) on Sept. 26-28, 2019.
IGNITE was the only non US finalist in the top five finalists alongside 1) Origin Ventures Academy for Entrepreneurial Leadership, University of Illinois at Urbana-Champaign, 2) California Institute for Innovation & Development, University of California, San Diego/Rady School of Management and 3) Shipley Center for Innovation Clarkson University, 4) Richard M. and Helen DeVos Center for Entrepreneurship & Innovation Grand Valley State University.