Events & News
Events & News
Final PRTLI Cycle 4 Progress Report for CELT
TEI-encoded electronic publications, March 2008 to August 2010
Issued by Beatrix Färber, CELT Project Manager,10 September 2010

(Requires Adobe Acrobat Reader 9 or equivalent)
Distinguished Guest Lecture by Professor Catherine Clinton
On 14 February, the UCC Humanities Platform and the MA in Politics presented a Distinguished Guest Lecture by Professor Catherine Clinton of Queen's University Belfast. The title of Professor Clinton's Lecture was, "Representing the Lincolns: Costumes and Consulting on Steven Spielberg's Lincoln." Professor Clinton, Lincoln Scholar and film consultant, is the author of Mrs. Lincoln: A Life (New York: Harper Collins, 2009), the biography of Mary Todd Lincoln. Professor Clinton has worked as an advisor to Steven Spielberg on War Horse, Munich, Saving Private Ryan and, most recently, the historical epic, Lincoln.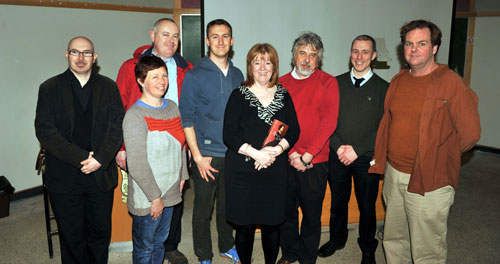 Left to right: James Cronin, Dorothy Convery, Michael Holland, David Fitzgerald (Co-ordinator: MA in Politics), Professor Catherine Clinton (Speaker), Hiram Morgan (PRTLI4 Project Leader), Ben Hazard, and John Borgonovo (Photo credit: Mike English).
UCC Humanities Platform Book Launch
Presented by the UCC Humanities Platform (PRTLI4), two new history books by John Barry and Hiram Morgan, Andy Bielenberg and Raymond Ryan were launched on Monday 18 February in the Aula Maxima, University College Cork.
Well attended by many friends and colleagues of the authors and editors, the event was opened by Professor Patrick O'Donovan, Vice-Head for Research in the College of Arts, Celtic Studies and Social Sciences. A presentation was given by Dr Hiram Morgan, Project Leader of PRTLI4 before Professor Emeritus of Irish History, John A. Murphy, launched both books.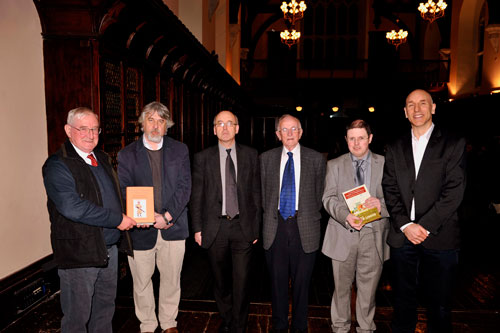 Photo: (L-R) Dr John Barry, Dr Hiram Morgan, Professor Patrick O'Donovan (Vice-Head for Research in the College of Arts Celtic Studies and Social Sciences), Professor Emeritus John A. Murphy (Speaker), Dr Raymond Ryan, Dr Andy Bielenberg (photo credit: Mike English)