Kinsale's Accidental Royal Visit
Kinsale's Accidental Royal Visit
Kinsale's Accidental Royal Visit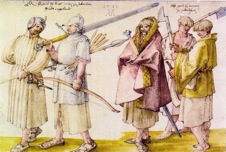 Hiram Morgan and CELT University College Cork, has revealed an exciting new source for Irish history.
A little known account in Old French tells the story of a four day visit to Kinsale by Archduke Ferdinand of Habsburg in June 1518 after his fleet was forced to land in Ireland on the way from Spain to the Low Countries because of stormy weather.
The account was written by a royal secretary, Laurent Vital. It is full of curiosity and good humour and unlike contemporary English observers he is not hostile towards the Irish. It is an important addition to our knowledge.
Vital gives a very detailed description of Irish dress - something that we do not have for the early 16th century. We get a very good idea of the colour and shape of the clothes people wear and close attention is paid to their hairstyles. One of the striking things for Vital was the semi-nude state of the Irish women and the fact that they were willing to allow the visitors to touch their breasts, without any sexual overtones on their part. Furthermore it is obvious from Vital's description of Irish men and soldiers that it must have subsequently influenced the famous drawing of gallowglasses by Durer, who was an intimate of the Habsburg court.
Besides the dress of the Irish, Vital also heard high mass song Irish-style in the church at Kinsale, witnessed a clandestine do-it-yourself marriage in its grounds and listened to his landlady tell the tale of her visit to St Patrick's Purgatory at Lough Derg in Donegal. He observed a formal meeting between the town council and the young prince and saw a servant of the local lord (probably the earl of Desmond) entertain the future Emperor with singing, harp music and a swimming display.
History Ireland has an introductory article on the visit.
Frank McNally, 'Irishman's Diary', 5 May 2012
A translation of Vital's account is freely accessible on the CELT website @www.ucc.ie/celt/published/T500000-001
18 May, 7 pm Kinsale : A seminar about Archduke Ferdinand's visit to Kinsale in 1518 featured in this issue of History Ireland will be held in the town this evening at The Blue Haven Hotel. Speakers will include Hiram Morgan, KW Nicholls and Jeroen Nilis. All are welcome.