News
News
Your UCC Graduate Attributes and Values Compass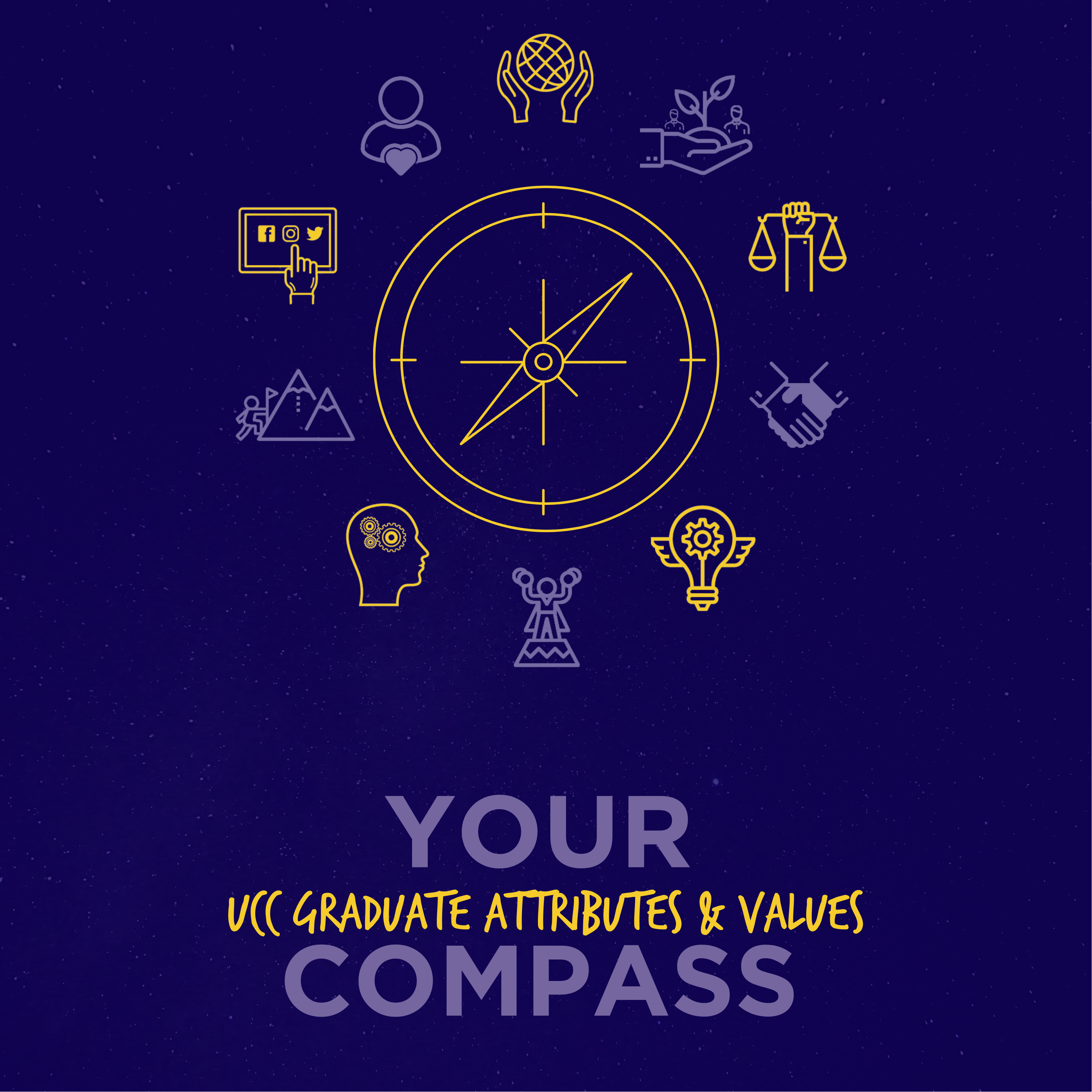 We are delighted to share with you that the student self-assessment tool, as set out under Action 17 of Priority 4 UCC's Academic Strategy 2018-2022, has been developed and is called Your UCC Graduate Attributes and Values Compass [GAP Compass].
In partnership with ten academic and professional services units across the university, a digital badge is in development to support students in their development of attributes and values. The aim is that all students are facilitated through curricular, co-curricular and extra-curricular learning to develop the articulated attributes and values, in a manner reflective of their personal goals and programme of study.
A cohesive narrative and bespoke visual identity have been created for the GAP Compass (which integrates all five graduate attributes and five values). This strong concept and brand will strengthen students' identification with the GAP Compass and the suite of learning activities and resources that are signposted within it. A Project Steering Group has been created with membership from technical, academic and professional services colleagues to inform and support the roll out of this Action, in particular the technical embedding of the GAP Compass into the students' journey.
The pilot phase included 201 students from all four Colleges and across UG and PG cohorts (taught and research) who completed the GAP Compass instrumentation pilot and provided feedback. The next phase of the pilot will involve extensive user experience testing with the intention of integrating the tool into postgraduate registration in Spring 2022 with large scale integration for the core registration event in Autumn 2022.
We look forward to sharing further updates with you as this exciting project develops!
For more on this story contact:
Dr Eithne Hunt
Academic Advisor, Graduate Attributes Programme
e.hunt@ucc.ie