News
News
Proudly supporting the Postgraduate Showcase and Challenge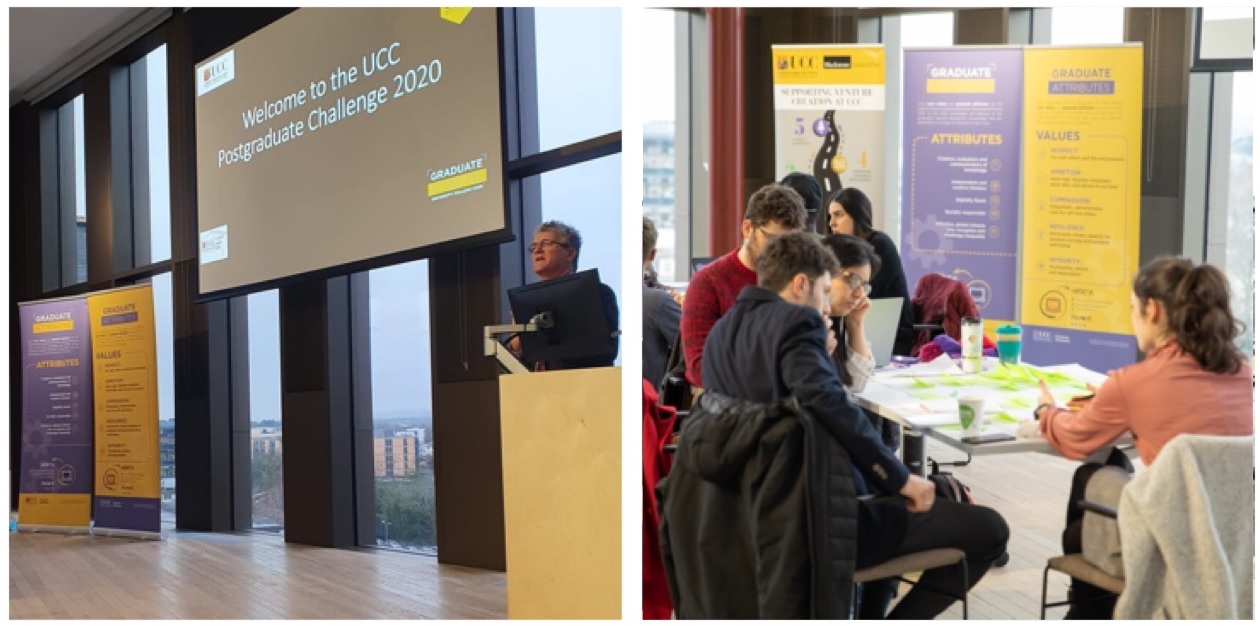 The Graduate Attributes Programme was proud to support a fantastic student-led and student-focused event this week.
The event had the incredible guidance of Peter Finnegan from Blackstone LaunchPad UCC, along with Graduate Studies Office and Graduate Attributes Programme. This "Postgraduate Showcase & Challenge 2020" is a new student-led initiative aiming to introduce UCC postgraduate students to the value of interdisciplinary thinking and collaborative action whilst building new student connections across the campus, and was hosted in the new Hub on the 21st and 24th January.
The first day consisted of a 2-hour lunch time showcase of successful interdisciplinary teams, with skill sessions included, to prepare students for the full-day challenge event. Professor John O'Halloran, Deputy President and Registrar UCC, began the Challenge Day, and tasked the students with addressing specific challenges currently faced by the University.
Students worked in teams, where they had 12 hours to take ideas from concept to pitch and present in front of a panel of judges.
Approximately 60 students attended the Showcase event last Tuesday. Blackstone LaunchPad assembled a high calibre panel made up of Ed Harnett and Breffni Allen, Habitus Posture; Denise Tormey, PlanNet 21 Communications; Irene Guédan and Sorcha Healy, McAfee. Great teamwork brought this to its success, made up of various Postgraduate Student Committees in the different Colleges especially Michael Vaughan, College of Medicine and Health.
There were a total of 39 participants in last Friday's 12-hour Challenge event. The College breakdown of participants was as follows:
College of Arts, Celtic Studies and Social Sciences - 7
College of Business and Law - 9
College of Medicine and Health - 7
College of Science, Engineering and Food Science – 16
The immersive and engaging event was unlike anything students had ever experienced during their time in UCC and was one of the most rewarding times they will have spent on campus!