News
News
GAP at the EUA European Learning and Teaching Forum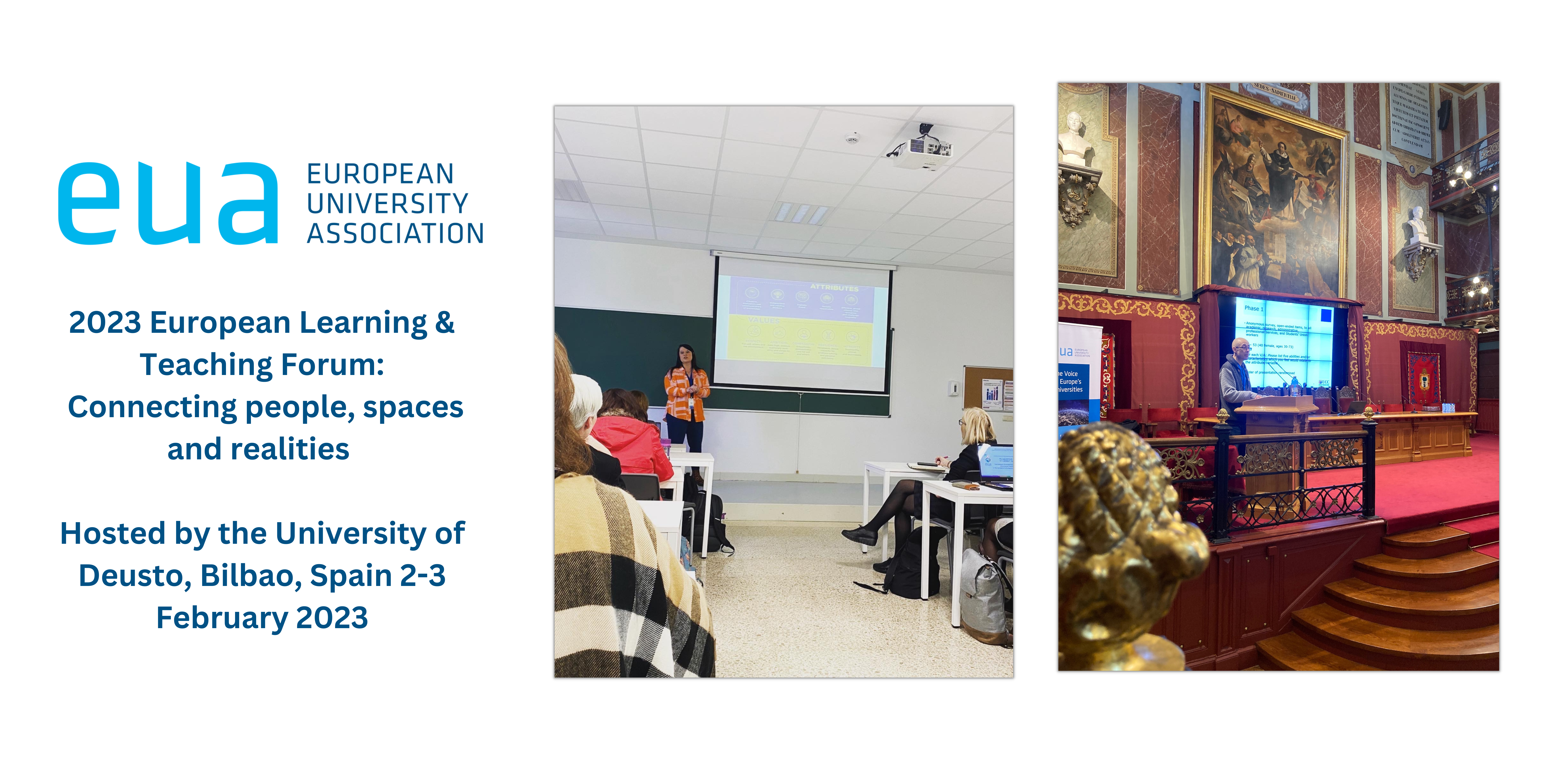 A practice presentation focussed on the work of the Graduate Attributes Programme and how the programme was developed and embedded in UCC. A paper presentation discussed the development of the Your Compass self assessment.
The European Learning & Teaching Forum is an EUA event that provides an opportunity for participants to meet and discuss developments in learning and teaching at European universities. The Forum builds on EUA's work with its member universities on this topic. Alongside the bottom-up approach, the Forum makes use of EUA's extensive policy work in European higher education. The Forum is an ideal event for vice-rectors for academic affairs, deans, and management involved in learning and teaching. It also welcomes students, policy-makers and other stakeholders in higher education.
Through a mix of plenary and parallel sessions, the Forum provides a platform for discussion on how universities enhance learning and teaching. This year the Forum was hosted at the University of Deusto, Bilbao, Spain. Several University College Cork initiatives were presented with academic and professional services staff leading three sessions over the two day event.
Adel Coleman, Graduate Attributes Programme Manager, presented on how the innovative programme was developed, unique initiatives it has led that enhance student learning, and how the programme supports our students to become life long, life wide and life deep learners.
Dr Mike Murphy, Lecturer in the School of Psychology, UCC, discussed his work on developing the Your Compass self-assessment tool to support and facilitate students in the development of their attributes and values.
Dr Catherine O'Mahony, Director of the Centre for the Integration of Research, Teaching and Learning (CIRTL), and Dr Angela Veale Senior Lecturer in the School of Applied Psychology, UCC presented alongside Dr Naomi Masheti, Cork Migrant Centre and Conor Anderson of Campus Engage. They presented on Community- Engaged Learning in the European Context.
Dr Mike Murphy's paper Development of the UCC Graduate Attributes and Values Compass (GAP Compass) is available for download on the EUA website.
For more on this story contact:
Adel Coleman, UCC Graduate Attributes Programme Manager, adel.coleman@ucc.ie