News Archive 2019
News Archive 2019
MSc IPPD Student on Work Placement with Standards in Public Office, Dublin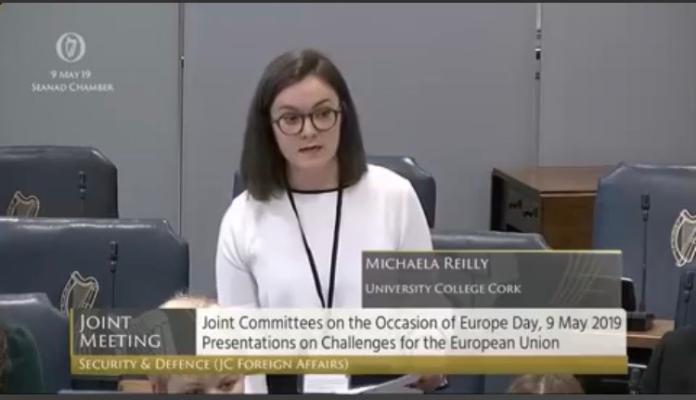 A student of the MSc International Public Policy and Diplomacy Programme, Michaela Reilly, has recently accomplished her Work Placement with Standards in Public Office in Dublin.
Michaela says:
"As part of the Europe Day 2019 celebrations, I was invited to present a short paper to the Oireachtas Joint Committee on Foreign Affairs and Trade and Defence on the challenges to the Common Security and Defence Policy of the EU. My research focused on the broader obstacles that Brexit poses for the EU in advancing the CDSP once they leave the Union, in addition to the knock-on effects that Ireland is likely to experience. This was a great opportunity to put the skills that I have acquired from studying on the MSc IPPD programme to good use while engaging with cross-party policy makers and academics from across Ireland."
To find out more about the MSc IPPD Programme visit a website of the Department of Government and Politics in UCC: MSc IPP and Diplomacy.
Check here to find out about our successful Work Placement Programme.