News Archive 2018
News Archive 2018
The 20th Memorial Philip Monahan Lecture and Awards Night 2018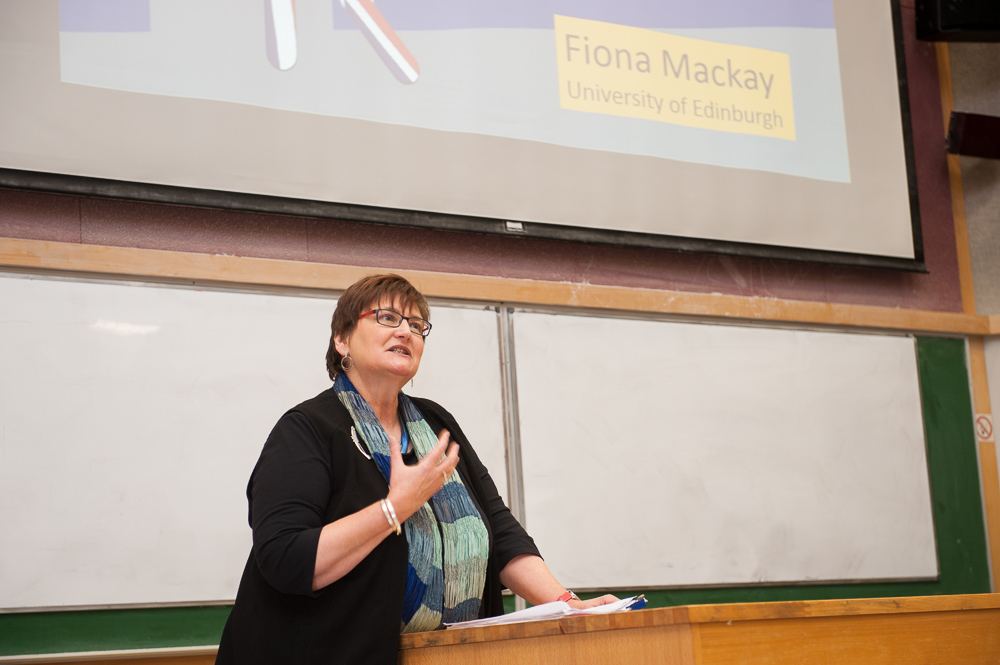 Brexit: what are the gender consequences?
A long-awaited 20th Memorial Philip Monahan Lecture, which took place on the 22nd November 2018, was delivered by Fiona Mackay, Professor of Politics in the University of Edinburgh.
The theme of this year's lecture was 'The Gendered Consequences of Brexit'. The question of 'what prospects for women and women's rights post-Brexit' was given thought-provoking answers. Additionally, Prof. Mackay assessed the pitfalls and perspectives for gender equality policy and women's rights in these uncertain times.
The lecture was live-recorded and can be listen to via the Panpoto recording platform.
NOTE: Please skip approximately first 30 minutes of the recording from the Awards Night to start the lecture's slides and the audio.
Awards Night 2018
The Department of Government and Politics was delighted to celebrate achievements of its BSc Government final year students during the Philip Monahan Lecture.
Mr Colum Buckley was awarded the BSc Government Student of the Year 2018. UCC Deputy President, Prof. John O'Halloran and Deputy Lord Mayor, Cllr. Mary Shields presented the award.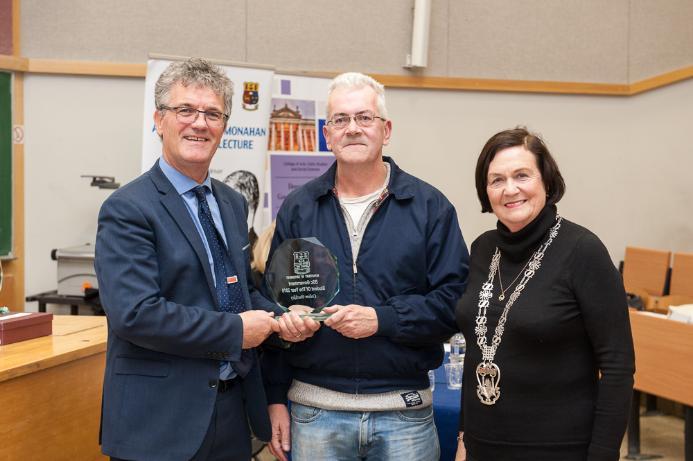 Colum Buckley (centre) with Prof. John O'Halloran and Cllr. Mary Shields
Ms Laura Cummins was awarded the BSc Government Graduate of the Year Award 2018. Laura received her award from the Head of Department, Dr Clodagh Harris.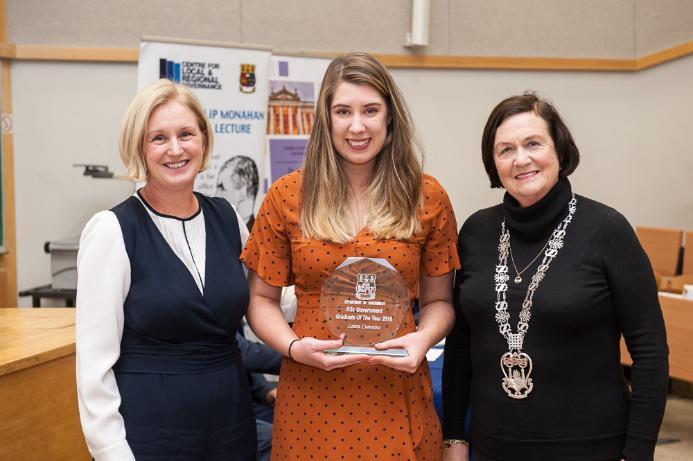 Laura Cummins (centre) with Dr Clodagh Harris (left) and Cllr. Mary Shields
There were three awards dedicated to outstanding students for their work placement achievements: Ms Samantha Lane received the Best Placement 2018 award and Ms Amy Brett, together with Mr Nathan Board both received the Placement Distinction 2018 awards from Deputy Lordy Mayor, Cllr. Mary Shields.
Samantha Lane was placed in the Office of Revenue Commissioners, Large Cases Division, where her work directly assisted case managers in their ability to calculate any potential risk and to operate good governance in their dealing with the taxpayer. Amy Brett was placed in the Westminster Office of Carol Monaghan MP and Nathan Board did his placement in Micheál Martin, TD's Cork Office; both greatly contributed to their busy and often challenging environments.
Samantha Lane (right) with Cllr. Mary Shields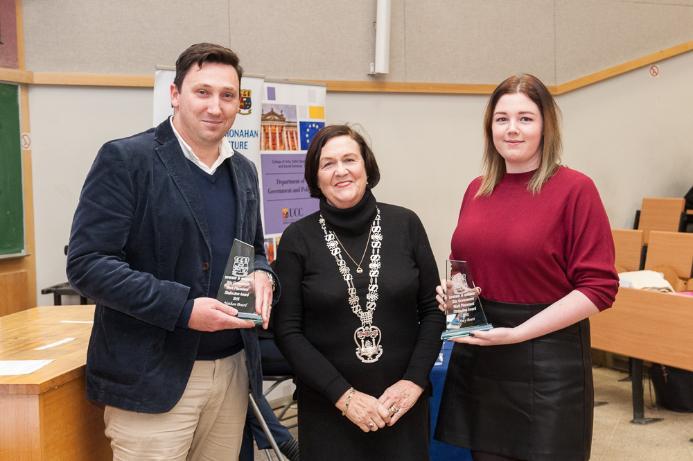 Amy Brett (right) and Nathan Board with Cllr. Mary Shields
The final award of the evening was the winner of the Patrick O'Sullivan Essay Competition 2018, which was awarded to Nathan Board for the second time in a row.
Nathan received the shield from the Deputy Lord Mayor and Professor Fiona Mackay.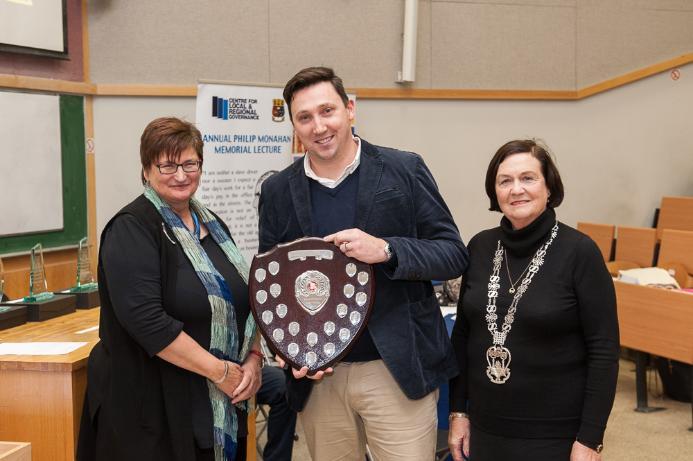 Nathan Board with Professor Fiona MacKay (left) and Cllr. Mary Shields