Juliana de Albuquerque
Juliana de Albuquerque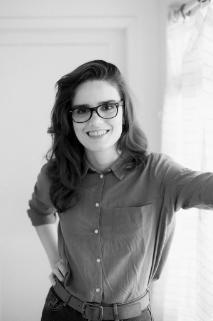 Juliana de Albuquerque submitted her PhD thesis in November 2021 to University College Cork, Ireland, where she was co-supervised by Professor Gert Hofmann at the German Department and Professor Alessandro Salice, at the Department of Philosophy.
Juliana's doctorate focuses on the interrelation between the philosophical, scientific and literary discourses in Germany during the late 18th and early 19th centuries, with an emphasis on Goethe's notion of Bildung as it is reflected in the portrayal of women in his literary work.
Juliana has a Bachelor's degree in Law from Universidade Católica de Pernambuco, Brazil, and received her Masters degree in Philosphy from Tel Aviv University, Israel. Her MA dissertation was supervised by Professor Ilit Ferber. It examined the influence of Leibniz on Hölderlin's and Hegel's views on tragedy, and it explored questions in aesthetics, literature, and moral philosophy.
While working on her MA Juliana spent 18 months at Universität Konstanz, in Germany, as a research and teaching assistant at the Lehrstuhl für Bürgerliches Recht, Antike Rechtsgeschichte, Römisches Recht und Neuere Privatrechtsgeschichte, working under the supervision of Professor Matthias Armgardt. During that time she was also a member of the research project: JuriLog (German Research Foundation [DFG]/ Agence Nationale de la Recherche [ANR]).
Juliana's main fields of research are German Literature, German Philosophy and Intellectual History.
Her academic activities at University College Cork during the last five years have included teaching German intellectual history, with an emphasis on German Classicism and Idealism, and German Jewish thought and literature, from the age of the Enlightenment to pre-War Germany. In collaboration with Professor Gert Hofmann, Juliana edited the book Anti/Idealism (De Gruyter, 2019). This book is a collection of essays presented during the first conference of the Anti/Idealism & Anti/Realism Research Network, in June 2017.
Since August 2021 Juliana has coordinated a research group dedicated to the study of Contemporary Jewish Philosophy and Politics at LABÔ – the Laboratory for Politics, Behavior and Media of Fundação São Paulo, the maintaining institution of the Pontifical Catholic University of São Paulo, Brazil. At present, the activities of the research group focus on the discussion of literary and philosophical texts related to the theme of the Dialogue between Jews and Germans. Juliana is also an associate researcher at the Center for Jewish Studies at the University of São Paulo, Brazil.
In addition to her work within academic institutions, since 2018 Juliana has been writing a fortnightly column for the leading Brazilian newspaper Folha de S. Paulo, where she discusses themes from philosophy and literature. In the last four years, she has written essays on Spinoza, Goethe, G.W.F. Hegel, Friedrich Nietzsche, Hannah Arendt, Gershom Scholem, Elias Canetti, Isaac Bashevis Singer and others.
ACADEMIC PUBLICATIONS
a. Edited books (peer review)
(2019) with Gert Hofmann. Anti/Idealism: Re-interpreting a German Discourse. De Gruyter.
b. Chapters in books (peer review)
(2019) "'Meine Schwester Natalie ist hiervon ein lebhaftes Beispiel':Bildung and Gender in Goethe's Wilhelm Meisters Lehrjahre. In: Anti/Idealism: Re-interpreting a German Discourse, pp.27-48. De Gruyter.
(2014) "The Relevance of Simone de Beauvoir's Ethic/Aesthetic Project to the Humanities" In: Simone de Beauvoir: A Humanist Thinker. Ed. Tove Petterson and Annlaug Bjørnøs. Vol. 279, pp. 129-46. Leiden: Brill Rodopi. Value Inquiry Book Series.
c. Articles (peer review)
(2012) "Simone de Beauvoir's case for Philosophical Autonomy and The Possibilities within The Metaphysical Novel." In: Sapere Aude, Belo Horizonte (Brazil): Editora PUC Minas, v. 3, #6, pp.87-106.
(2009) with Katz, Frederico Jayme. Sicsú, Abraham Benzaquen. "A Importância da Integração Regional e a Questão das Desigualdades do Processo de Desenvolvimento." In: Cadernos PROLAN/USP. São Paulo (Brazil): Editora da USP, 8th year, vol. 2, p. 901- 112.
In preparation:
Article on themes of health and sickness in Goethe's work to be published in Symphilosophie's forthcoming volume 05 on the topic of Romantic Aesthetics. The paper is due in March 2023.
d. Book reviews
(2019) "On Man and His Circumstances by Carl Wilhelm Frölich (Review)" In: Goethe Yearbook, Volume 26, 2019, pp. 303-305.
In preparation:
Review of Goethe's Wilhelm Meister's Apprenticeship and Philosophy (OUP, 2020), a volume of essays edited by Sarah Eldridge and C. Allen Speight. This review to be published by the Goethe Yearbook.
e. Guest editor
(2019) Especial Feminismos. Estudos Universitários: Revista de Cultura Da Universidade Federal de Pernambuco, vol. 36, #1-2, October.
f. Translations
Fortcoming:
Hill, Samantha Rose. Hannah Arendt. Editora Contracorrente.
INTERVIEWS
(2020) with Franca-Lipke, Ludymila. "Interview with Susan Neiman." Off-Lattes. https://offlattes.com/archives/5819
LITERARY ESSAYS AND CULTURAL JOURNALISM
a. Columns for Folha de S. Paulo:
From April 2018 to date I have written 90 essays on topics related to philosophy, literature and Jewish culture. A complete list of all my columns for Folha de S. Paulo can be accessed here: https://www1.folha.uol.com.br/colunas/juliana-de-albuquerque/#90 (This includes essays on Spinoza, Leibniz, Goethe, Hegel, Nietzsche, Dostoevsky, Simone de Beauvoir, Rilke, Franz Rosenzweig, Gershom Scholem, Hannah Arendt, Saul Bellow, Philip Roth, Isaac Bashevis Singer, Jewish History and Folklore.)
b. Book Reviews (most relevant):
(August, 2020) "De Leste a Oeste: Clássico de Goethe mostra a influência da cultura oriental na obra do escritor alemão e a sua busca por uma literatura universal." (Review of the translation of Goethe's West-Östlicher Divan for the Brazilian literary magazine Revista Quatro Cinco Um, pp. 32-33)
(June 21, 2019) "Getting to the essence: An Important Narrowing of a Philosophical Movement" (Review of Jonathan Webber's Rethinking Existentialism [OUP, 2019] for The Times Literary Supplement, p.25)
c. Literary essays published in other cultural media outlets:
Revista Amarello, Brazil.
Revista Helena (Public Library of Paraná, Brazil)
Jornal Cândido (Públic Library of Paraná, Brazil)
O Estado da Arte (cultural blog of the newspaper O Estado de S. Paulo, Brazil)
Yod Magazine, Italy.