News & Events
News & Events
Irish Earth Observation Symposium 2017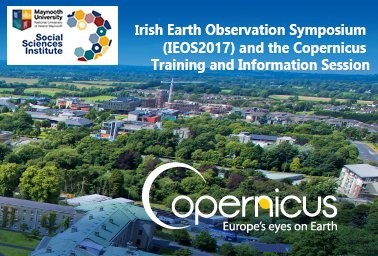 The theme of this year's IEOS meeting was strengthening the linkages between Researchers, Technologists, Service-Providers and End-Users in order to enable more effective exploitation of Copernicus Earth observation (EO) data & information services across Ireland.
Day-1 (2nd Nov 2017) was dedicated to highlighting and presenting Earth Observation projects from Researchers, Government Agencies and Industry whilst Day-2 (3rd Nov 2017) was dedicated to EU's Copernicus programme with special emphasis on Land, Marine, Emergency and Climate Change Services within an Irish context.
Congratulations to Preethi Balaji for winning the best student presentation at the IEOS2017 on Thursday 2nd November – there was a good turn out from the rest of the Department with presentations from current and past staff and students - who all learned a lot about how satellite images are being used in a range of projects across the land, coastal and marine sectors in Ireland as well as the European Copernicus products coming from the ESA Sentinel satellites.