News & Events
News & Events
UN Sustainable Development Goals - using GIS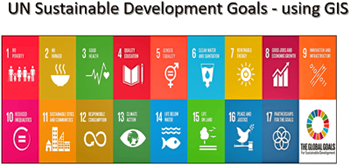 Presenters: Dr Kevin McCormack & Dr Mary Smyth, Division of Central Statistics Office, Cork
When: Thursday 15th March 12-1pm
Where: Geography Library, Geography Building, UCC
The Irish Central Statistics Office (CSO), in partnership with Ordnance Survey Ireland and Esri Ireland are currently participating in the UNSD/Esri Research Exercise. This project commenced in May 2017 with a goal to develop and deploy a new approach for monitoring the UN SDGs using geographic information systems (GIS) - "geospatial potential of statistical data".
Background: The Sustainable Development Goals (SDGs) are a set of global development targets adopted by the member countries of the United Nations (UN) in September 2015. The SDGs will guide the global development agenda through 2030.
Focus of SDGs: There are 17 SDGs, 169 Targets and 230 Indicators which focus on five key elements: people-planet-peace-prosperity-partnership
Monitoring: Due to their multi-dimensional nature and breadth, monitoring of and reporting progress on the SDGs (Goals, Targets and Indicators) will require: integrating statistics, geospatial information, earth observations and other big data in a more holistic manner.