News
News
Food for thought: international recognition for UCC scientist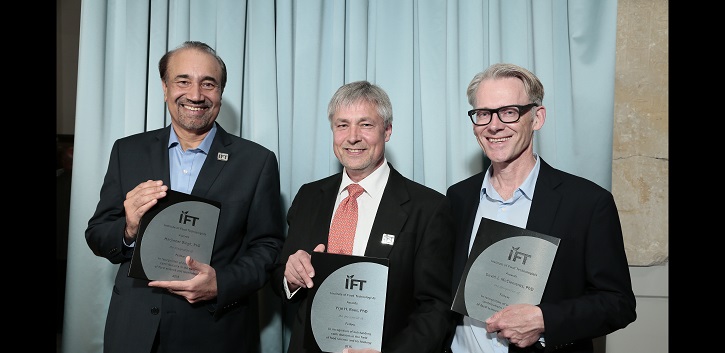 The next time you visit the supermarket, spare a thought for how food technologists get omega-3 safely into milk, or make vitamins stable to bring health benefits to consumers.
"Much of that is thanks to Food Materials Science and Engineering," says Yrjö H. Roos Professor of Food Technology and Head of UCC's Food and Nutritional Sciences. Food Materials Science and Engineering is the key research area of Professor Roos which involves, for example, how food materials and ingredients can be formulated, processed and characterised to achieve high stability, functionality and bioavailability, improve the suitability and efficiency of the manufacturing processes and extend the shelf-life of food. New, emerging areas of food materials science include development of nanotechnology and micro- and nano-encapsulation and structuring technologies for food applications.
Professor Roos received two significant international awards during the summer: He was a recipient of the Lifetime Achievement Award of the International Association of Engineering and Food presented in Quebec City, Canada and The American Food Science Society, Institute of Food Technologists (IFT, Chicago) elected Professor Roos to IFT Fellow. This award was presented in Chicago to 12 recognised professional members of IFT for their contributions to IFT and Food Science and Technology. Most recipients in the past have been from the USA and there have been very few from Europe.
Two other new IFT Fellows have very strong links to Food Science at UCC. Distinguished Professor Harjinder Singh is Head of School of Food and Nutrition at Massey University and Co-Director of Riddet Institute, New Zealand. Professor Singh was supervised by Professor Patrick Fox at UCC and he graduated with PhD in 1986. Professor D. Julian McClements of University of Massachusetts, Amherst is a World leader in biopolymer and colloids research. He worked as postdoctoral scientist at UCC and Moorepark in mid-1990's in research led at UCC by Professor Donal Mulvihill.
A recent book on Food Materials Science and Engineering (Wiley, 2012) co-edited by Professor Bhesh Bhandari, from the University of Queensland, Australia, and Professor Yrjö H. Roos was awarded the Bruce Chandler award of The Australian Institute of Food Science and Technology (AIFST) as the book was judged to make the greatest contribution to food science and technology in Australia in 2015.
The main research interests of Professor Yrjö H. Roos are in dairy and food processing technologies, physical chemistry and materials science of food ingredients and foods (crystallization, freezing, dehydration, encapsulation, reaction kinetics, thermal processing, state transitions and water relations of dairy, food and biological materials).