News
News
Berry boost fires up Dragons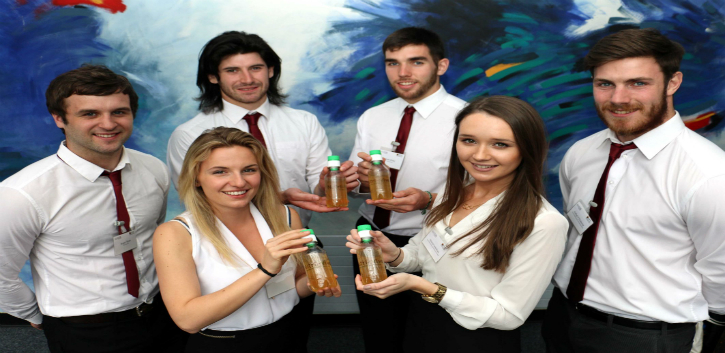 Nutri-vive, an innovative functional beverage developed by students, clinched the UCC Food Innovation Prize at the Dragons' Den-style event.
Students from UCC's BSc Food Science and BSc Food Marketing and Entrepreneurship degree programmes pitched new products they developed in groups as part of their final-year research projects.
Each student group had to present and 'sell' their product to the panel of four Dragons, all of whom have huge experience of the food industry and entrepreneurship. The trophy was awarded to the team the Dragons believed had developed the best product and business plan to make it a success.
Organised by Professor Alan Kelly, School of Food and Nutritional Sciences and Dr Joe Bogue, Department of Food Business and Development, the event showcased all the new products, with the group behind Nutri-vive, a functional, fruit-flavoured health beverage, taking the top prize.
The winners were Roger Ryan (BSc Food Science), Stephen Crowley (BSc Food Science), Sean Kiely (BSc Food Science), and Cathal O'Flaherty (BSc Food Marketing and Entrepreneurship), Hilary Lenahan (BSc Food Marketing and Entrepreneurship) and Rebecca Stark (BSc Food Marketing and Entrepreneurship).
Nutri-vive, a matcha tea-based drink, contains a wide variety of nutrients from natural sources including honey, elaeagnus berry, beetroot powder, matcha tea and vitamin C.
The special blend of vitamins, minerals, and antioxidants in the drink are designed to replenish the body's nutrients stores and give a boost of natural sustainable energy. The elaeagnus berry, the main functional ingredient in Nutri-vive, has an extremely high vitamin and lycopene content.