News
News
Dr Órla Murphy recognised for supporting adult education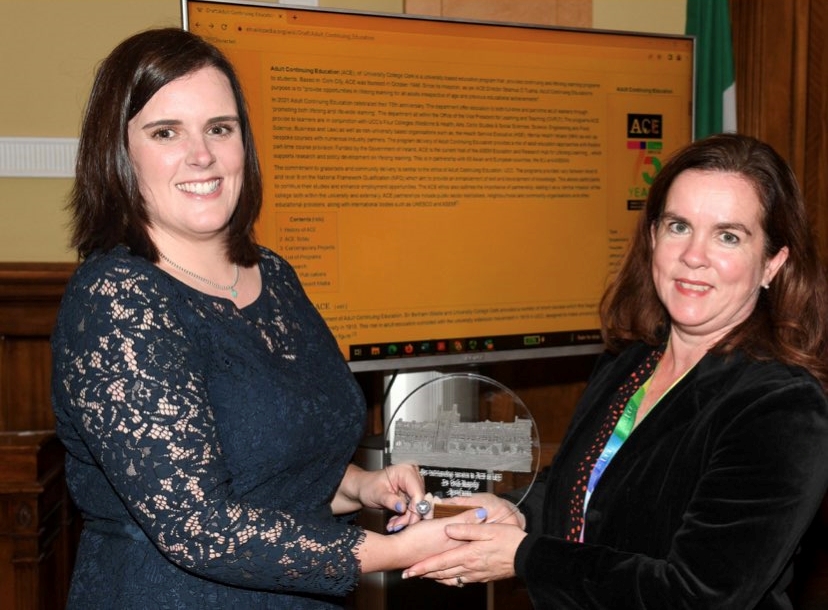 Dr Órla Murphy, Head of the Department of Digital Humanities at University College Cork, has received an ACE Champion award in recognition of the significant contribution she has made to adult education in Cork.
The award was presented to Dr Murphy by Lyndsey El Amoud, Assistant Director of Adult Continuing Education (ACE) at UCC. Through ACE, UCC has been offering education programmes to Cork and the greater Munster area since 1946, when 24 students graduated a Diploma in Social and Economic Science.
Dr Murphy has long been an advocate for adult learning at UCC. The Department of Digital Humanities, which she currently chairs, has offered a number of courses for adult learners in recent years. This includes the current Postgraduate Diploma in Digital Arts and Humanities, coordinated by Dr Mike Cosgrave. Among her many national and international service roles, Dr Murphy is the Deputy Chair of the Learning & Teaching Committee at UCC.
The award was presented in the Council Chambers of Cork City Hall, where Dr Murphy was in attendance for Wednesday evening's lecture by Donald Tracy, Director of Corporate & Community Education for the Continuing Education Division at Austin Community College, who was speaking as part of the Seán Ó Murchú Lecture Series, organised to celebrate ACE's 75th annviversary. Seán Ó Murchú was appointed the first departmental director of ACE in 1967, holding the position until 1990. Under his leadership, ACE saw a period of considerable expansion to the course offering across Munster. In 1969, Ó Murchú was instrumental in the founding of AONTAS, Ireland's national adult education association, and served as its Chair for a number of years. The public lecture series, which runs until May, seeks to celebrate Ó Murchú's contribution to ACE by continuing his ethos of outreach and accessibility to learning. Wednesday's lecture was also offered in collaboration with the Cork Lifelong Learning Festival, which runs for another two days.
For further details of upcoming speakers in the Seán Ó Murchú Lecture Series, see:
https://www.ucc.ie/en/ace/lectureseries/
For further details of Cork Lifelong Learning Festival 2022, see:
https://corklearningcity.ie/lifelong-learning-festival/