2020 - 2029
2020 - 2029
Honorary Citation by Prof Emer Rogan for Dr Derek Mooney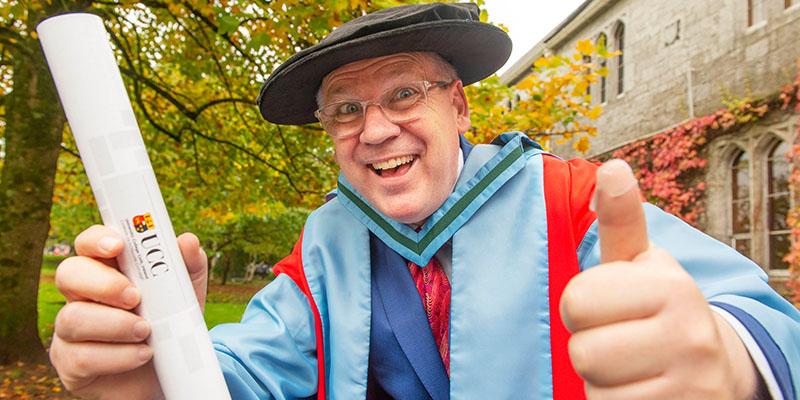 "Chancellor, President, Registrar, colleagues, distinguished guests, ladies and gentlemen:
It is my great pleasure to introduce Mr Derek Mooney as nominee for an honorary doctoral degree in Science today.
Derek Mooney is one of Ireland's best-known and most highly decorated broadcasters. For the past 30 years, he has been leading the development of natural history radio broadcasting in Ireland.
Derek's journey began at the tender age of 16, when he was employed as a 'runner' for the 1984 Olympic Games, which that year were held in Los Angeles. Derek is quick to point out that he was neither participating in nor presenting the Games, but rather that he was back here in Ireland, fetching this and that for the RTÉ production crew in Montrose, who were providing live coverage of the event in the early hours of the morning: Ireland was, and still is, 8 hours ahead of California.

It was a good year for Ireland, with a silver medal in the marathon for John Treacy, the man from Villierstown in Co. Waterford, and a gold for Derek, the young boy from Donnybrook in Dublin, who achieved a personal best, securing a job, albeit a part-time one, in RTÉ. It was a dream come true for a dreamer who, excepting the odd lapse of concentration, never wanted to do anything other than work for the national broadcaster.
Derek's foray into wildlife began at around the same time, following his renewed acquaintance with a neighbour, the naturalist and wildlife artist Don Conroy. At that time, Don had a nature and art slot on legendary children's programme The Den and was receiving as much mail as The Late Late Show. Derek offered to help Don with his correspondence and a lifelong friendship was formed.

Without the support of Don and some wise words from the then Acting Head of Young People's Programming, Joe O'Donnell, Derek would probably not have found his niche. "It doesn't matter what you do, whether it's jumping through flaming hoops or performing magic tricks; so long as you are passionate about it, you will have a career," said Joe to the young aspiring Late Late Show host. "And never forget," Joe continued, "above all else, be yourself."

Some years passed and eventually an opportunity to present a 15-minute filler programme on RTÉ Radio 1 was sent Derek's way. Derek had the perfect idea, a six-part series of nature walks with Derek and a wildlife expert. With the help from his good friend Don Conroy and guidance from his producer, the great Dick Warner, Habitats was born. It was a huge success and the rest, as they say, is history.
Since the beginning of his natural history broadcasting career, Derek and the team have been shining a light on crucial environmental topics, such as climate change, plastic pollution and habitat destruction; indeed, his programmes were among the first in Ireland to do so.
His presentation roles in the natural history field include Habitats, The Nature Line, Nature Trails and Mooney Goes Wild, all for RTÉ Radio 1, BioBlitz Live and Wildtrack and Nestwatch 2006 for RTÉ television, Nature Detectives for BBC television and Nature's Great Invaders for BBC Radio 4.
Derek also presented and produced the highly popular daily magazine show, Mooney, as well as a host of other programmes for RTÉ radio and television.
In 2015, Derek embarked on a new role as RTÉ's Executive Producer for Nature Programming. Since then, he has produced and presented the ever-popular Mooney Goes Wild, the landmark annual broadcast event that is now the International Dawn Chorus, and a myriad wildlife documentaries, one of which, about the Barn Owl, will be aired next Monday evening, on this occasion, presented by Mooney Goes Wild biologist, Terry Flanagan.

Terry is with us today, along with fellow Mooney Goes Wild stalwarts Éanna Ní Lamhna and Niall Hatch. Unfortunately, long-standing panellist Dr Richard Collins has been unable to join us today due to a family illness.
Derek insists that it is the aforementioned scientists, along with the wider team of regular contributors to the programme and the listeners, who have made natural history broadcasting on radio palatable. As he says, "Prior to Mooney Goes Wild and the introduction of passionate and articulate naturalists like Éanna, Richard, Niall and Terry, who are the main panel of experts on the show, nature belonged to the landed gentry, the green welly brigade. All I had to do was come up with the ideas and the guys would do the rest. I've been fortunate enough to rub shoulders with giants."
The topics of the acclaimed Mooney documentaries have been wonderfully varied, ranging from Eider ducks to Swifts, from the 'Father of Taxonomy', Carl Linnaeus, to the genius who portrayed the art world's most famous rhinoceros, Albrecht Dürer, and from the rich biodiversity of a hot Costa Rican rainforest to tragedy in a chilly Norwegian fjord.
This latter location was where the life of Keiko the Killer Whale, star of the movie Free Willy, came to a very sad end. Keiko was not the only whale featured in a Mooney documentary to suffer an ignominious death along the Norwegian coast. How many of you remember the case of the Cuvier's Beaked Whale that had to be put out of its misery on the small Island of Sotra, just west of the city of Bergen. An autopsy confirmed that the unfortunate creature had in excess of 30 plastic bags in its gut and was unable to feed. Derek and the team covered this story, once again drawing attention to the growing problem of plastic pollution in our seas.

"If you want people to conserve wildlife, first you must get them to care about it," Derek says. "This is what we do, and this is what I have always done. I'm a listener too. I am the audience."
Derek also conceived and presented the acclaimed RTÉ and EBU co-productions Nature Live, Back from the Brink and Back from the Brink 2 for television, but insists that none of it would have happened without the support of Niall Hatch and the buy-in from his colleague Colm Crowley, Head of RTÉ Cork, who took the raw idea and turned it into the wonderful series of programmes that they are today. Needless to say, we are delighted to note that these programmes, which focus exclusively on European nature conservation projects are all produced by RTÉ Cork and have attracted large audiences both here in Ireland and Europe. We can also look forward to two more instalments in the series early next year. This is a unique collaboration of twelve national broadcasting networks under the umbrella of the European Broadcasting Union. Once again, the editorial team of Colm, Derek and Niall along with the production crew in RTE Cork, will produce highly crafted natural history television that will be viewed by millions of nature lovers across the continent. No small achievement.
Derek's iconic radio show Mooney Goes Wild celebrated twenty-seven years on air in May of this year, making it one of the longest-running wildlife magazine radio programmes, if not the longest, in the world.
Over the years, Mooney Goes Wild, in conjunction with the RTÉ Guide, has produced numerous posters and CDs celebrating Ireland's flora and fauna. In fact, the Dawn Chorus edition, which featured the Mooney team on the cover, was one of the fastest- and biggest-selling issues in the history of the magazine, shifting in excess of 100,000 copies. The programme has also produced a series of popular inserts about Ireland's birds with the Sunday World newspaper, in collaboration with BirdWatch Ireland.
The show has won many national and international awards of which Derek is immensely proud, including the 2000 Prix Europa in Berlin for the programme's coverage of The First Brood of the Millennium. This was the story of Jackie and Daw, a pair of Jackdaws that built a nest and raised their young in a disused chimney on out-buildings in Co. Kildare. That same year, Mooney Goes Wild won the ESB Millennium Environment Award and the World Animal Health Week Award.
Derek's contribution to natural history broadcasting has also been recognised at international level.
In 2013, the RTÉ television series Secrets of the Irish Landscape, presented by Derek and once again produced by RTÉ Cork, won a Gold World Medal at the New York Festivals Awards, a Rockie Award at the Banff World Media Festival in Canada and a special Jury Prize at the Houston Film Festival.
In 2016, the International Dawn Chorus, which has been described as a Eurovision song contest for Birds, won both the European Broadcasting Union's coveted Rose d'Or award for Radio Event of the Year and the Phonographic Performance Ireland Award for Innovation.
Derek's programmes have also received other awards in broadcasting, including a Phonographic Performance Ireland award for RTÉ Radio's live coverage of the 2003 Special Olympics World Summer Games in Ireland, for which Derek was the executive producer, and a Phonographic Performance Award for the highly acclaimed Mooney Tunes series of concerts, produced in conjunction with the RTÉ Concert Orchestra.
Each programme and documentary represents a unique collaboration between Derek and the experts, aimed at creating a vivid word-picture for the listener.

As Derek puts it, "There is no visual distraction on radio. You've got to get the right people to tell the stories. Thankfully, when it comes to natural history there is no shortage of material to choose from, and in Ireland we are spoiled for choice when it comes to experts".

"Ireland is a relatively small Island but the people have broad minds. The natural world is facing threats the likes of which it has never seen before. It's terrible and can seem overwhelming, but we can do something. I honestly believe that, being islanders, we are connected to nature in a way that others aren't. We care about wildlife and that's a start. As I've said many times, if you don't care about something, you won't conserve it."
Derek's work and life's mission chime with our sustainability efforts at UCC, as we strive to find innovative and holistic solutions to the challenge of climate change while protecting the biodiversity of our precious natural environment.
Against this background, it is my honour to present Derek Mooney for an honorary doctoral degree in Science as a fitting recognition of his immense contribution in the field of natural history broadcasting.