2020 - 2029
2020 - 2029
Honorary Citation by Dr Francis Burke for Dr Declan Ryan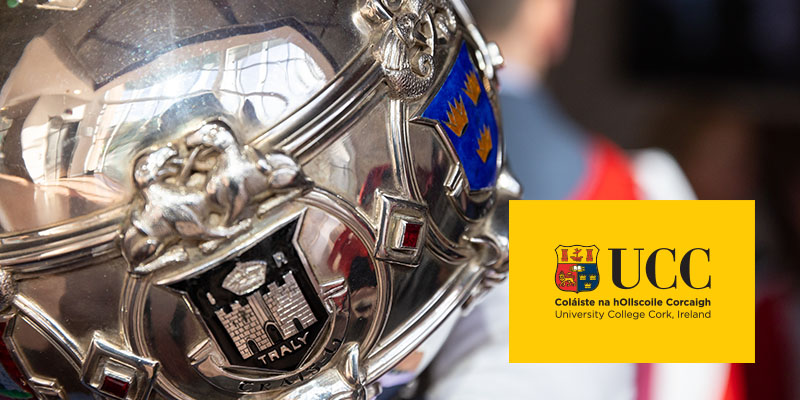 "Chancellor, President, Colleagues, Graduates and Guests especially Eoin, Jack and Ana Ryan.
Cork and aviation are in Declan Ryan's blood.
Declan Ryan was born in September 1963, six hundred and fifty meters from here, in the Bon Secours Hospital. His parents were Tony Ryan and Mairead Ryan, both from Thurles in Tipperary. So, he is of good Munster stock.
Declan was the middle of three boys, with an older brother, Cathal, and younger brother, Shane.
Tony Ryan, was the Ground Manager for Aer Lingus at the newly opened Cork airport. The family lived initially in Bishopstown and later moved to Tivoli. Further opportunities opened up with Aer Lingus and the family moved to Chicago, New York, Bangkok and finally to Dublin, close to the airport Dublin airport.
Declan meantime went to boarding school in Kildare where he has made friends for life.
Fast began forward a decade and after school and University, Declan worked at ground level in the airline industry, as an air steward in the USA. He then joined Ryanair, the airline, partially founded by Dr Tony Ryan. The early days for the airline were not easy. Indeed, Declan speaks evocatively about trying to motivate unenthusiastic staff in an airport hanger one freezing November morning.
Considerable work-ethic, belief and imagination were needed to break into the sclerotic airline industry of the time. Ryanair has certainly succeeded. And it has had a profound impact on low-cost, no-frills accessible travel. Initially this changed movement between Ireland and the United Kingdom, but has since spread to literally every corner Europe.
Declan has grown from the Ryanair experience and he subsequently founded Irelandia Aviation of which he is now the Managing Partner. While it is not a household name here, Irlandia Aviation is the world's most significant low cost carrier developer.
The important word is "developer". This means the company shapes the low cost carrier opportunity, invests behind it, and works intensively with management, partners, and investors to make it a success.
Declan has helped built five low cost carriers in Europe, Asia, USA, Mexico, and Colombia. In total these airlines have carried in excess of 315 million passengers on more than 630 planes on more than 2500 routes. This has been an active process for Declan. To progress these initiatives, and engage with the local stakeholders, he has worked and lived overseas for long periods of time.
The development of these airlines have resulted in substantial employment and income but also has had a very significant societal impact. The consequences of this increased interconnection be it for vacation, business or socialisation cannot be underestimated.
In addition to developing low cost carriers, he has also encouraged others by investing in, and advising, on a series of technology-led start-up enterprises with a strong focus on aviation and travel.
What has flown under the radar has been Declan's philanthropy. Inspired by Dale Carnegie and Chuck Feeney, especially the latter's concept of "giving while living", at the age of forty Declan set up the of ONE Foundation. The Foundation was given the name "ONE" after the U2 song "One" which contains the line "We carry each other".
The ethos of the foundation has been Active Philanthropy. The ONE Foundation pursued an active approach to philanthropy using high engagement and performance management to improve how non-profit organisations used their funding and prepared detailed business plans for their future. In effect the management principles of venture capitalism have been applied to non-profit organisations.
Over ten years the ONE Foundation supported twenty-two non-profit organisations in Ireland and Vietnam in the areas of children and families, youth mental health, integration of refugees and migrants and social entrepreneurship.
Declan's approach can be summarised in the statement he made to ONE Foundation staff in 2013;
Forget about those who will try to be obstructive, who are cynical, and who say that what you are doing will make no difference, or that things can't change. Always remember that for so many vulnerable people, your daily efforts are vital and bring them much needed hope.
Among the achievements of the ONE Foundation are;
Securing children's rights in the Irish constitution.
Developing and scaling new models of working on youth mental health, family support services and youth services for organisations including Bernardo's, Foróige, Jigsaw and Educate Together.
Expansion of the BeLongToYouth Services to expand its network to support young lesbian, gay, bisexual and transgender people.
Fostering new fields in Ireland like social entrepreneurship.
Over ten years, ONE Foundation spent more than €85 million targeting solutions.
Now his focus has shifted to the Ukrainian Refugees arriving in Ireland and the funding of charities to support their accommodation, education and training.
Culturally, socially and economically he has supported the set up of the community bookshops, 'Books at One' in Louisburgh, Letterfrack, and latterly The Liberties in Dublin. These not only act as bookshops but also as creative and social hubs for their local communities focussing on providing employment, work experience and active social interaction. Such bookshops, and social hubs are planned for every county in Ireland. The long-term sustainability of these enterprises will be driven by local empowerment and engagement.
Declan Ryan has actively grown the love, work-ethic and support that he has received from his family to succeed in the world of business. This business success has generated employment, increased economic activity and social mobility.
Without business success it is impossible to undertake philanthropy.
And he has used this business success through his active philanthropy to help others to grow, achieve their potential and pass these impacts on to the next generation.
Chancellor, because of his significant societal impacts, his business achievements, and because he is a son of Cork, I am honoured and privileged to present to you Declan Ryan for the award of the Doctorate in Law.
Praehonorabilis Cancellarie, totaque universitas!
Praesento vobis hunc meum filium, quam scio tam moribus quam doctrina habilem et idoneum esse qui admittatur, honoris causa, ad Gradus Doctoratus in utroque Jure, tam Civili quam Canonico, idque tibi fide mea testor ac spondeo totique Academiae.
THE TRANSLATION
Most Honourable Chancellor, and the whole University,
I present to you this my son, whom I know to be fitted and
suitable, as much in character as in learning, to be admitted for the sake of honour, to the Honorary Degree of Doctor of Laws and,
by my faith, I testify and vouch for this fact to you and the whole Academy