CNS News & Events
CNS News & Events
Dr Schellekens Organises and Speaks in Symposium at "Serotonin in Seattle"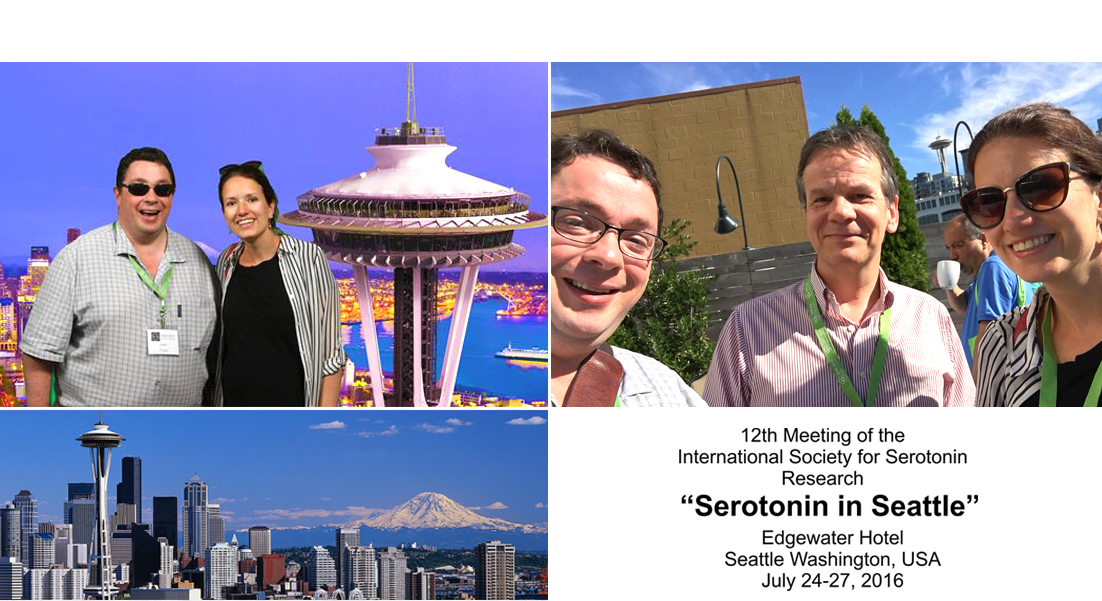 The symposium, organised by Dr Harriët Schellekens, lecturer Department of Anatomy and Neuroscience, took place in Seattle on Wednesday 27th July under the auspices of The 12th International Society for Serotonin Research Meeting "Serotonin in Seattle" which ran from the 24th to 27th July 2016 at the Edgewater Hotel, Seattle, USA.
Entitled: "Novel serotonergic mechanisms and functional crosstalk: Shaping innovative molecular neurotherapeutics" the symposium explored the recent advances in understanding the critical role of the 5-HT1B receptor (5-HT1BR) and 5-HT2CR in mood, appetite and reward-related behaviours which suggest great potential for the design of pharmacotherapies for multiple neural disorders that include an addictive dimensionality.
Dr. Schellekens presented original observations demonstrating novel interactions of the 5-HT2CR with the GHS-R1a receptor, a receptor for the hunger hormone, ghrelin, in reward behaviour, as well as a novel 5-HT2CR/Dopamine D1 dimer which inhibits D1-mediated signalling, suggesting a potential mechanism for 5-HT-mediated attenuation of DA signalling via the 5-HT2CR.
Dr. Neisewander gave insight into the mechanisms through which dysregulated 5-HT1BR function contributes to the pathology underlying cocaine use disorder and the implications for the development of effective treatments to reverse this dysregulation and enhance abstinence. Dr. Cunningham discussed the discovery of positive allosteric modulators (PAMs) as a pioneering pharmacological means to selectively enhance 5-HT2CR function with potential value as pharmacotherapeutics for binge eating and psychostimulant use disorders.
Finally, Carrie McAllister, a NIDA Travel Award Recipient presented novel evidence for an interaction between the 5-HT2ARand 5HT2CR. The symposia highlighted novel molecular mechanisms of 5-HT1BR and 5-HT2CR signalling which are poised to lead to innovative therapeutics targeting obesity, binge eating, substance use and potentially other neural disorders.
Other talks scheduled during the conference included talks by Professor John Cryan on serotonin in the microbiota-gut-brain axis, and also the Irvine Page and Maurice Rapport lectureships, delivered by the distinguished Professors Trevor Sharp and Daniel Hoyer. The inaugural, Paul Vanhoutte plenary lectureship was deliverd by Paul Vanhoutte.
For further information from the event visit the Serotonin in Seattle website