News and Views
News and Views
3 Awards for Business Economics Student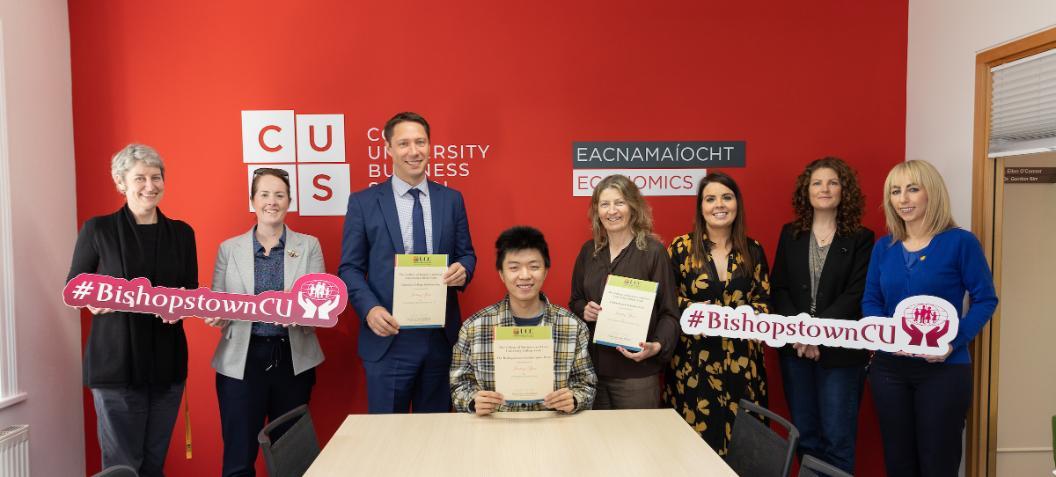 Jinting Zhou was awarded the Bishopstown Credit Union Prize, Quercus College and CUBS Deans Scholar Awards at the College of Business and Law Awards Ceremony.
Business and Financial Economics III student Jinting Zhou was presented with three awards by Professor Ursula Kilkelly to celebrate his academic performance. Among the prizes was the Bishopstown Credit Union Prize in Business and Financial Economics which is awarded to the student who received the highest aggregate mark across all economics modules in the second year examination in the BA (Hons) Business and Financial Economics programme at the first sitting.
Jinting Zhou was also awarded the Quercus Undergraduate College Scholarship. These Undergraduate Scholarships are awarded by the College of Business & Law based on the results of the Summer 2021 University Examinations. Academic performance was also recognised by making the CUBS Dean's List. The Dean's List is an annual award for academic excellence and performance of the very highest achievers. Dean's List winners become part of a distinctive alumni community, inspiring the career aspirations of future students from the School and beyond. Students who achieve the highest overall mark in the third year of an undergraduate degree programme in CUBS, are eligible to be nominated to the Dean's List. Prize sponsors' Bishopstown Credit Union were in attendance at the event, including CEO Philip Hosford and Sarah Donnelly.