News 2023
News 2023
Grace Lynch - Quercus University Academic Scholar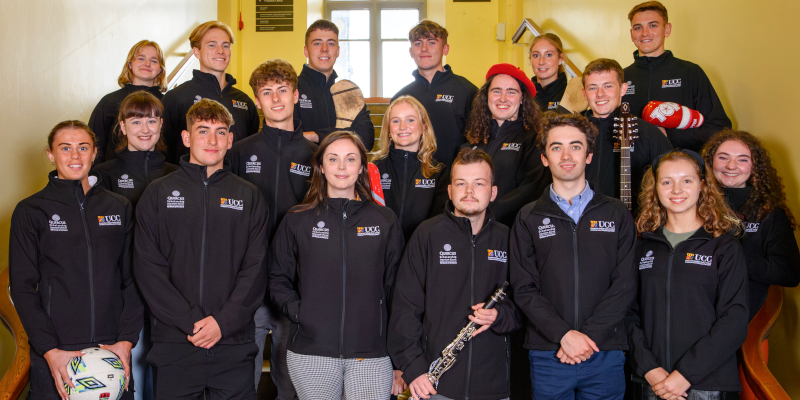 Congratulations to Grace Lynch who has been named the 2023 Quercus University Academic Scholar for the College of Science, Engineering and Food Science.
Grace is in her fourth year of Applied Plant Biology at the School of BEES. She is the first of her discipline to have achieved this scholarship, awarded for demonstrating academic excellence during her third year. Grace was also awarded a Quercus College Scholarship for outstanding academic achievement in her second year.
Grace has a passion for travel, and witnessing the impacts of the climate and ecological crises first-hand is what motivated Grace to study Applied Plant Biology. Plants are foundational to ecological and global food systems and thus are paramount in navigating towards a sustainable future for humanity and the planet. Grace is keenly interested in the full breadth of plant science research, from beneficial plant-derived bioactive compounds to plant physiology, biotechnology, ecology and conservation.
Grace has volunteered at the National Botanic Gardens in Glasnevin, where she worked on conserving Ireland's native flora at the National Seed Bank and contributed to research on limiting the spread of invasive alien plant species. Grace's academic interests expand beyond the plant kingdom, and she has also contributed to research on seaweed bioactive products during an internship at Teagasc. Along with travel and the health of our planet, Grace's passions include creative expression in art, design, and poetry, and she has had an eco-poem about the climate crisis published in UCC's Uprooted Magazine.
Grace is honoured to be a part of the Quercus Talented Students' Programme. She endeavours to continue achieving academic success in her final year and hopes to continue nurturing what will be a lifelong dedication to science.
Speaking after the announcement, Grace said it was an honour to be the first BSc Applied Plant Biology student to receive the Quercus University Academic Scholar award. "This achievement is a testament to the exemplary academic scaffolding, fascinating course content and superb standard of teaching provided by the School of BEES. Choosing Applied Plant Biology has been one of the best decisions I have ever made. The study of plants is paramount in helping us navigate towards a sustainable future for humanity and the planet. APB is a captivating, worthwhile, and fulfilling course. If you have a passion for plants and scientific endeavour and yearn to pursue a career that positively impacts the planet, then this is the course for you".
Head of Plant Science at BEES, Dr Barbara Doyle Prestwich congratulated Grace on her award. "We are all very proud of Grace's achievement. She is part of an excellent cohort of students on the APB course who are committed to working on some of the key global challenges of our time. It's rewarding to see such accolades coming to those who study plants."
Grace joins John Kearney on the list of BEES students who are current Quercus scholarship holders. John is a 2020/21 Quercus Sports Scholar. He was first selected to row for Ireland in 2018 at Coupe de la Jeunnese where he placed 5th in the coxless four. In 2019 he stroked the coxed four at Junior Europeans where he won silver and later on narrowly missed out on a medal in Junior World's. He raced again in the coxed four in 2020 at the U23 European championships and won bronze. Shortly afterwards he was selected to row as the spare for the Men's Senior double at the Senior European Championships.