News 2013
News 2013
MSc Organic Horticulture Students Collect Belling Bursaries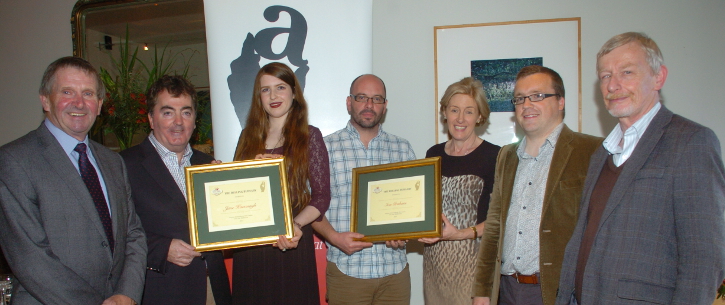 Two students from University College Cork's MSc in Organic Horticulture were presented with Belling scholarships at a recent event held in Skibbereen, West Cork.
Two of the MSc students, Jane Heffernan and Ian Graham, were recipients of Belling Bursary Awards presented by Sean O'Driscoll. Sean is CEO and Chairman of Glen Dimplex and a member of the Irish government's Global Irish Economic Forum.
The Belling Awards are presented annually in three categories: 1. The Originals, 2. Best Newcomer and 3. A Bursary for student(s) engaged in developing a product.
Both Jane Heffernan and Ian Graham were chosen having submitted business ideas which were adjudicated by a judging panel, chaired by Rose O'Riordan and John Field. Jane is interested in the role that organic hop production can play in the micro-brewing and agri-tourism sector, while Ian was interested in producing organic strawberry plants for Irish growers. The Belling Bursary is designed to support the student during their studies and help in the research and development of these novel business ideas.
Speaking at the awards event held at Liss Ard Estate, home to UCC's Centre for Organic Horticulture Research (COHR), Sean O'Driscoll said he was impressed by the innovative nature of the winning projects and encouraged by the successful completion by the first cohort of students of the MSc in Organic Horticulture.
Also speaking at the event was Prof. Peter Jones, Director of COHR and Head of Plant Science in the School of BEES at UCC. "With the successful completion of the first year of the MSc programme, we have now built up a body of organic research based on student projects. Shortly, we'll make that research available to everyone via the internet. We are committed to an open-access policy for any research that is done within the centre", said Prof. Jones.
According to Eoin Lettice, joint co-ordinator of the MSc programme, the areas of research have been quite diverse: "We've had one student looking at the effect of adding plant extracts in a liquid form on plant growth and yields while another has looked at the role of co-operatives within the organic sector in Ireland".
"Another exciting project has been conducted on the development of a decision support system to help growers understand when the best time to spray potatoes for Late Blight is. This project proposed the development of a smart phone app which would enable immediate communication with farmers".
"The breadth of research really has been incredible and we hope to continue elements of these research projects during the next number of years" said Eoin Lettice.
The MSc in Organic Horticulture was established in 2012 and remains the only course of its kind in Europe. A second cohort of students has recently begun studying on the programme which is based at the School of BEES' Centre for Organic Horticulture Research (COHR) at Liss Ard Estate, near Skibbereen in West Cork.
Belling is part of the Glen Dimplex Group, an Irish born company, which is the world's largest manufacturer of electrical heating. Glen Dimplex also holds significant global market positions in domestic appliances, cooling, ventilation and renewable energy solutions through their Morphy Richards, Burco, Creda and Belling brands, amongst others. The group employs ten thousand employees across four continents.