News 2013
News 2013
UCC Staff Awards 2013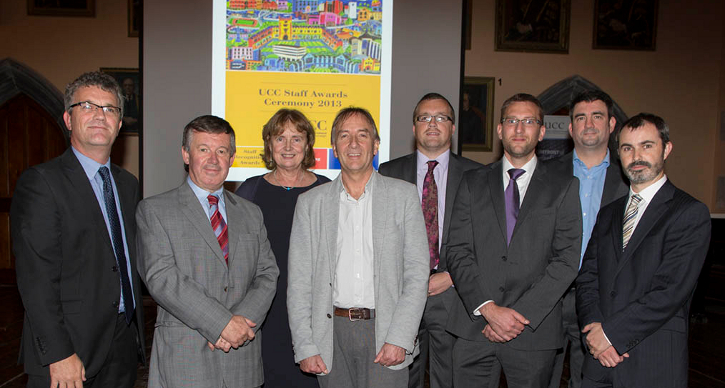 University College Cork has honoured staff members for their outstanding contributions to university life. The Awards Ceremony held on 10th October 2013 announced the winners of three award schemes: Teaching & Learning, Staff Recognition and Research. The School of BEES was well represented.
Under the Teaching & Learning Awards segment, 17 members of staff received eight Awards for Research into Innovative Forms of Teaching. Four Teaching Fellows were also appointed to support the work of the University's Centre for Teaching and Learning - Ionad Barrie – and to imbed best teaching practices in each of the four Colleges.

Representing the School of BEES, Dr. Pat Meere and Mr. Eoin Lettice were awarded the President's Award for Research into Innovative Forms of Teaching. Their project involves the development of an online portal and set of resources which will be linked to the newly constructed . This will enhance teaching and maximise the potential of the Geology Garden as a training, teaching and outreach tool.

Also representing the School of BEES and the College of SEFS, Prof. Gavin Burnell was made a UCC Teaching Fellow and will work, over the coming year, on a teaching and learning project within the university. Prof. Burnell's project is based on the integration of research and teaching in the area of mariponics.

The Staff Recognition Awards provide a formal process for acknowledging outstanding achievements of staff and for publicly recognising such achievements to the University and the wider community. This year, 10 Awards were made across the categories of 'Leadership', 'Exceptional Citizenship', and 'Enhancing the Student Experience'.

Prof. John O'Halloran, Head of School of BEES was awarded a Leadership Award for his work both within the School of BEES and in the wider university setting. Amongst other achievements, the judging panel recognised Prof. O'Halloran's commitment to outreach through his role as a judge in the BT Young Scientist Competition; his leadership role in heading the development of the School of BEES and his role as a member of the UCC Governing Body.

The Research Awards were introduced in 2012 and are highly competitive. Sponsored by Gilead, they acknowledge excellence in research activity across four categories: 'Early Career Achievement', 'Research Supervision', 'Research Support', and 'Research Team of the Year'. Five PhD Scholarships were also awarded through the Strategic Research Fund, supporting the stimulation of new research areas whilst also maintaining existing areas of Research strength.

Representing the School of BEES, Ms. Mary Catherine Gallagher was awarded a UCC Strategic Research Fund PhD Scholarship to work with Dr. Ruth Ramsay (BEES).

Colleagues across the university also picked up awards, including the Marine Ecology Group at the CMRC (represented by Dr. Michelle Cronin, Dr. Mark Jessopp and Dr. Tom Doyle) who collected the 'UCC Research Team of the Year'.The Marine Ecology Group was recognised as a leader in biotelemetry research, with outputs at the highest level including the top international journals Nature and Science.

Well done to all!