News
News
"Nice and Spicy for November"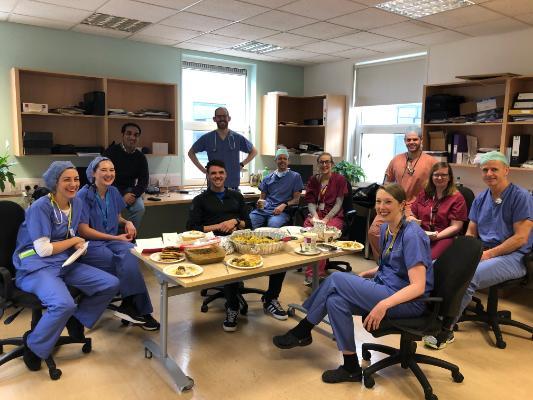 We spiced up the November "Coffee and a Gas" with some delicious homemade Lamb Qorma and Chicken Biryani which was very kindly prepared by Dr Nasser Khan, Senior Registrar, and his lovely wife Sadia. We had the best turnout yet. Soft drinks were provided, and some of the Department were convinced to try Tanora for the first time- a classic Cork favourite.

The Association of Anaesthetists of Great Britain and Ireland (AAGBI) first promoted the "Coffee and a Gas" initiative in 2017 to promote team building and wellness within Anaesthetic Departments (https://anaesthetists.org/). The hope is that encouraging members of Departments to chat in an informal environment will empower staff to discuss issues and concerns more openly and will lead to reduced stress levels. The AAGBI has also recently become a member of the "Zero Suicide Alliance". The AAGBI website contains very useful links and resources for supporting members and promoting wellness. The AAGBI suggested that Anaesthetic Departments around the UK and Ireland would hold a "Coffee and a Gas" during the week of 18th-22th November and we were very happy to coordinate our monthly meeting with this.
The Cork University Hospital Department of Anaesthesia is one of the largest Anaesthetic Departments in the country working across many clinical sites. We introduced a monthly "Coffee and a Gas" earlier this year and have found this initiative to be a great icebreaker within the Department. We are particularly delighted that the Anaesthetic Trainees have become actively involved in the organisation and we find that this adds to the sense of fun and anticipation that each "Coffee and a Gas" brings.
Plans are already underway for the December "Coffee and a Gas", including sourcing some spiced beef (a traditional Cork Christmas delicacy) and "Raza" (raspberry cordial- another Cork Christmas tradition). Ceremonial celery will also be awarded to Dr Eoin O'Rathallaigh, SpR, in recognition for his heroic battle to have healthier food provided for the "Coffee and Gas" sessions (#healthylivesmattertoo).
Organisers: Dr Murray Connolly (SpR 5), Dr Oonagh Hickey, Dr Brian O'Donnell, Dr Niamh McAuliffe (Consultant Anaesthetists)