News
News
Virtual Viva Voce Success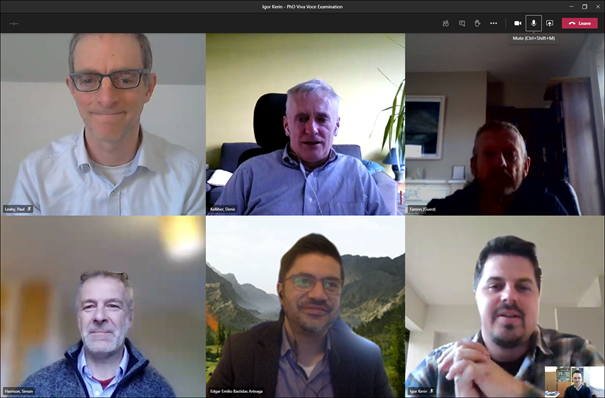 Congratulations to Igor Kerin who successfully defended his PhD thesis on "The Development of a Bridge Management System Involving Standardised Scour Inspection Procedures and Flood Forecasting" on Thursday 14th January.
Pictured after the virtual Viva Voce examination are : Back : Dr Paul Leahy, Supervisor, Dr. Denis Kelliher, internal PhD examiner; Dr. Eamon McKeogh, supervisor front: Dr. Simon Harrison, UCC, Examination Chair; Prof. Emilio Bastidas-Arteaga, La Rochelle Université, external examiner; Igor Kerin, PhD candidate;. Inset: Dr. Damir Bakic, University of Zagreb, external supervisor )
Igor's thesis focussed on the problem of hydraulic scour, which is a major risk to bridge infrastructure. Igor tested a new method of assessing vulnerability to scour, and created an early warning system for scour threats to vulnerable bridges.