News
News
Professor Gerard T. Wrixon Presented with MIDAS Ireland Lifetime Achievement Award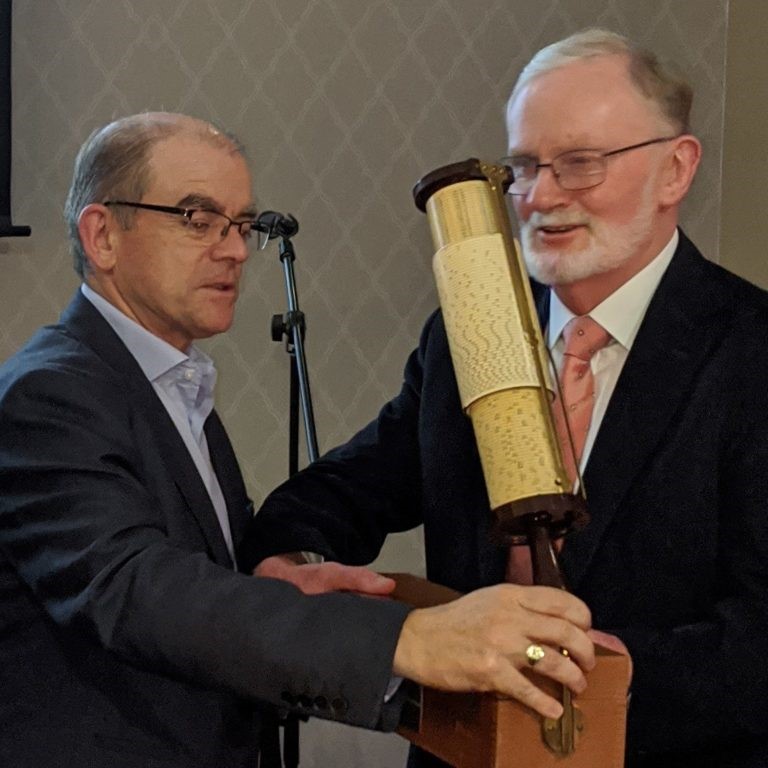 UCC engineering alumnus and former president, Professor Gerard T. Wrixon, was recently awarded the MIDAS Ireland Lifetime Achievement Award for his contribution to the development of the microelectronics industry in Ireland.
The award ceremony was held during the MIDAS Ireland Annual Gala dinner which took place at the Strand Hotel in Limerick on 21/11/2019.
The award citation was read out by Dr. Sean Foley, VP Design, Cypress Semiconductor Corporation and presented by Leonard Hobbs, General Manager, MIDAS Ireland.
In the award citation Professor Wrixon was recognised for his pioneering contributions to the microelectronics industry in Ireland as founder and former CEO of the National Microelectronics Research Centre (NMRC), which was subsequently succeeded by the Tyndall National Institute in 2004. Today, Tyndall – based at University College Cork – is the largest research facility of its kind in Ireland, hosting almost 500 researchers, engineers and support staff.
Professor Wrixon obtained the B.E. in Electrical Engineering from University College Cork before pursuing postgraduate studies at the California Institute of Technology and at the University of California, Berkeley where he obtained his PhD. He worked with the Fokker Aircraft factory, Amsterdam and Bell Telephone Labs, New Jersey before returning to Ireland as a lecturer in Electrical Engineering at UCC where he set-up the NMRC in 1982. The NMRC focused on applied research and graduate training in the microelectronics sector which experienced rapid growth in Ireland from the 1980s. He subsequently went on to serve as UCC president from 1999 to 2007. In accepting the award Professor Wrixon stated "I am delighted to be honoured with such an award. When setting up the National Microelectronics Research Centre (now the Tyndall National Institute) in 1982, little did I think then that the semiconductor industry would become such an enabling sector in today's digital world".
MIDAS Ireland, established in 1999, is an industry-led partnership consisting of FDI and indigenous companies, educational organisations, research institutions and government agencies working together to address common challenges within the sector in Ireland. It has established the MIDAS Ireland Lifetime Achievement awards to honour those who have contributed strongly to the development of the microelectronics industry in Ireland. Further details about MIDAS Ireland are available at https://midasireland.ie/