News Archive
News Archive
MA in Languages and Cultures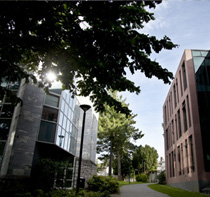 Are you a recent graduate in French, German, Spanish or Italian? Are you looking to expand your skills base and boost your future employability?
The MA in Languages and Cultures provides graduates with the opportunity to work on the myriad roles of languages and cultures in today's world.
It will allow students to specialize in any of the language subjects in the School of Languages, Literatures and Cultures in UCC including French, Spanish, German, Italian and Portuguese.
The programme offers a pathway to employment, to work in research and development, and to further study.
The Taught Masters is a 90-credit degree with a 30/60 credit split: 60 credits of taught modules and a 30 credit dissertation. Please see the following link for further information: http://www.ucc.ie/en/ckd16
Applications must be made online at www.ucc.ie/apply
2014/2015 Irish/EU Fee €5,400 (1 year full-time and €2,700 (Year 1 part-time); Non-EU/International Fee €11,620 (1 year full-time).
The programme director in the School of Languages, Literatures and Cultures is Professor Nuala Finnegan
E: Professor Nuala Finnegan
P: 00 353 21 4903213
SCHOLARSHIPS AVAILABLE: The College of Arts, Celtic Studies and Social Sciences (CACSSS) are offering Taught Master's Scholarships for 2014/15. For further information please go to the Graduate School page on the CACSSS website: http://www.ucc.ie/en/cacsss/