CUBS Leaders of Tomorrow
CUBS Leaders of Tomorrow
At a glance

Recognition Certificate (Demonstration of a clear positive impact across one of six categories):
Global Citizen

Innovation and Entrepreneurship

Learning Transformation

Exceptional Journey

Students Choice

Dean's Leadership
Award – certificate of Impact
Outstanding Achievement (Demonstration of an outstanding impact across one of six categories)
Global Citizen
Innovation and Entrepreneurship
Learning Transformation
Exceptional Journey
Students Choice
Dean's Leadership
Award – Up to €500 plus Certificate of Impact
Sustained Impact (Accumulation of three or more awards over the course of the student's time in CUBS).
Award – Certificate of Impact
Detail:
The award programme aims to recognise the positive (non-academic related) impact and performance of CUBS students as they complete their university degree. Students enrolled in a taught CUBS programme (undergraduate and postgraduate) can submit to the awards scheme with the possibility of attaining a Recognition Certificate, Outstanding Achievement, and Sustained Impact award. The initiative will provide opportunities for students to showcase their many capabilities and levels of impact across six categories (see summary Table 1). These categories are further described below and detail activities that highlight performance beyond academic grades but linked to UCC core values as set out in the Graduate Attributes Programme. For further details on the application process please see Table 2 below.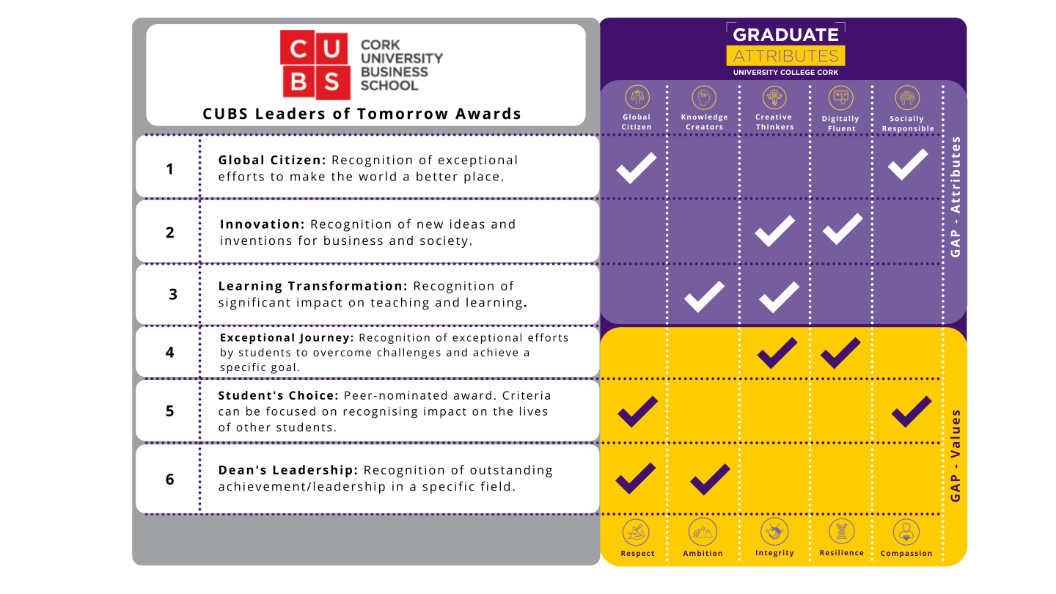 Table 1: Award Categories with associated attributes and values
Whilst the Assessment Rubric (see below) is the basis on which awards are assessed, the following information may assist in formulating submissions. The following guides are illustrative but not exhaustive in formulating your submission.
Global Citizen
Recognition of exceptional efforts to make the world a better place.

Steps taken to promote sustainability in our society

Impact on society/environment/university
Range from being on the committee of a board/society to active leadership in making a positive change.
Activities can be global with local impact.
Example impact metrics that can be used to describe the impact (see assessment rubric for further details):

People helped
Money raised
Activities organised and attendances
Practices improved or stopped
Innovation and Entrepreneurship
Recognition of new ideas and inventions for business and society
Demonstration of creativity and drive to bring an idea to fruition
Use of technology is welcome but the primary aim is not to solely demonstrate technology.
Ideas can cut across all domains but given the focus on learning and society in the other categories the focus should be outside of these
Activities can range from individual college projects that have real impact to activities in which a student has played a leading role in an innovation or external business.
Example impact metrics that can be used to describe the impact (see assessment rubric for further details):

Revenue generated or money saved
Customer base or orders fulfilled
Efficiency of the innovation over past solutions
Level of validation by independent assessors
Learning Transformation
Recognition of significant impact on teaching and learning.
Focus of initiative on teaching and learning within or outside of CUBS/UCC.
Can range from implementing a new teaching technique as a tutor to designing a new course and running it.
Focus can be on any topic from sport to business to academic.
Example impact metrics that can be used to describe the impact (see assessment rubric for further details):

Number of people on the course
Number of times it ran or was implemented
Measure of their skill/knowledge improvement
Impact that the learners created after the transformation
Exceptional Journey
Recognition of exceptional efforts by students to overcome challenges
Demonstration of resilience in the face of adversity
This can be very personal, but entry should be encouraged/facilitated by peer or staff nomination
Example impact metrics that can be used to describe the impact (see assessment rubric for further details):

Input focused
Determination of the size of the challenge or adversity
Measure of the effort expended overcoming the challenge
Personal impact for overcoming the challenge
Student Choice
Peer-nominated award which focuses on recognising impact on the lives of other students.
Nominated by two or more students (maximum of five)
Demonstration of respect and compassion for others
Description of impact that a student has had on others
Example impact metrics that can be used to describe the impact (see assessment rubric for further details):

No. of students that benefited from the student's support
Size of impact (for individual cases)
Length of time the student has been providing support
Dean's Leadership
Nominated directly by the Dean of CUBS.
Recognition of leadership by a student.
Application Process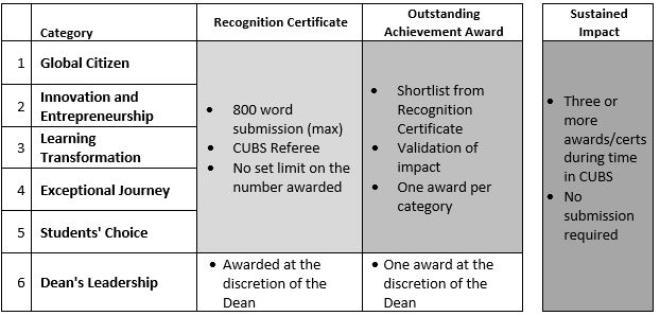 Table 2: Application process
Students can apply for a Recognition Certificate by submitting a 800-word (max) impact story (except for the Dean's Leadership category which is awarded at the discretion of the Dean). Students must detail the category they are applying for and utilise the submission template provided. The submission is assessed using the assessment rubric (see Table 3) and submissions which are deemed to highlight an outstanding impact are shortlisted. Shortlisted candidates may be invited to further detail their impact by request of the judging panel. Submissions are to be signed by the nominee (and nominator in the case of peer-nominated submissions) and also by a CUBS staff member.
Students can also self-nominate (for Global Citizen, Innovation and Entrepreneurship, and Learning Transformation), be nominated by their peers (for Exceptional Journey and Student's Choice) or be nominated by the Dean (for Dean's Leadership). Students can only self-nominate for one award once a year under a category that aligns most with their impact. However, this does not restrict a student from inclusion in a peer-nominated award. A student can also submit multiple peer-nominated submissions once they are for different peers (you cannot nominate the same person twice). If during their eligible time in CUBS a student attains three awards, they will be given a Sustained Impact award. There is no submission required for this award.
Assessment Rubric
| | |
| --- | --- |
| Description | Grade |
| Activity: clear description of the activity undertaken by the student. | (Out of 10) |
| Effort Invested: clear articulation of the effort invested by the student. | (Out of 10) |
| Size Impact: use of metrics to quantify the impact significance*. | (Out of 10) |
| Evidence of Impact: validation of the impact by relevant parties. | (Out of 10) |
Table 3: Rubric
*The metrics provided in the category descriptions are not exhaustive and only provide a guide for students. The selection committee will exercise its judgement as to the size and significance of the impact as detailed by the metrics provided and the nature of the submission.
Opening date for applications: 7th of Nov 2022.
Closing date for applications: 27th of Jan 2023.