Ally for Canvas
Ally for Canvas
Inclusive UCC is delighted to announce the procurement of the Anthology Ally software for Canvas. This tool scans all content in a Canvas course for accessibility issues and produces an 'Accessibility Score'. Specific instructions on how to remediate this score for each piece of content are provided. This tool will be deployed to all Canvas modules from January 2023 onwards. Below we have some more information and resources to help you get started.
A new menu item will appear for staff entitled Ally Accessibility Report. This will not be visible to students. From here, you can view your score and a breakdown of each issue. You can click each issue to begin remediating.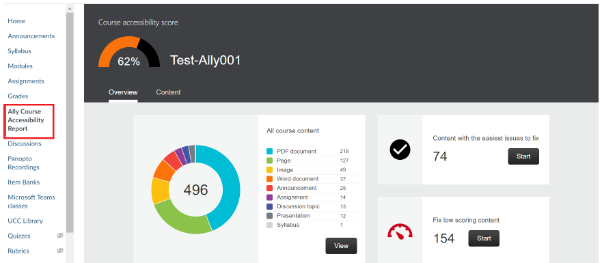 A score will also appear on the top-right of all Rich Content Editor content, which will bring you directly to the issues for that particular piece of content.

Students will not be privy to the course score. For them, Ally will provide accessible conversions of the content. They can download the content in different formats, by clicking the Ally symbol next to the content title.

The following formats are available for most inherent content and external documents: ePub, Electronic Braille, Audio, BeeLine Reader, Immersive Reader.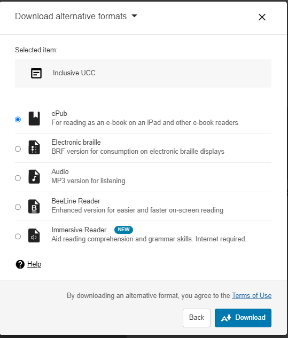 You can download the Ally Student Guide here. This explains the different conversions and what may be most suitable to your needs.
The below resources are to help you get started with Ally. The first guide, Instructor Package, comes directly from Anthology Ally.
Ally Accessibility Fixes was designed following a pilot, in semester one, with a group of 24 modules from across the four colleges, including central services such as the CMS and the Library. This guide pertains to remediation of content, prior to its upload to Canvas.
Guides 3 and 4, entitled Remediation Process, pertain to the steps involved in remediating content through Ally. One of the guides steps the user through the Report, the other guide is about checking content at a modular level.
There is also a downloadable infographic, made by our student intern Grace Arnold about How to Improve the Accessibility of your Documents. The video at the bottom of this page introduces the staff and student view of Ally.
Video Tutorial Series
Welcome to our video series on improving accessibility in the Canvas LMS using Ally! As a university staff member, you ensure all students have equal access to educational materials. In this series, we will show you step-by-step how to identify and fix common accessibility issues in Canvas, using the powerful tools provided by Ally. By the end of the series, you will have the knowledge and skills to create more inclusive and accessible content for all learners. Join us as we work towards a more inclusive learning environment!