News
News
IGNITE Start-ups featured in the Irish Times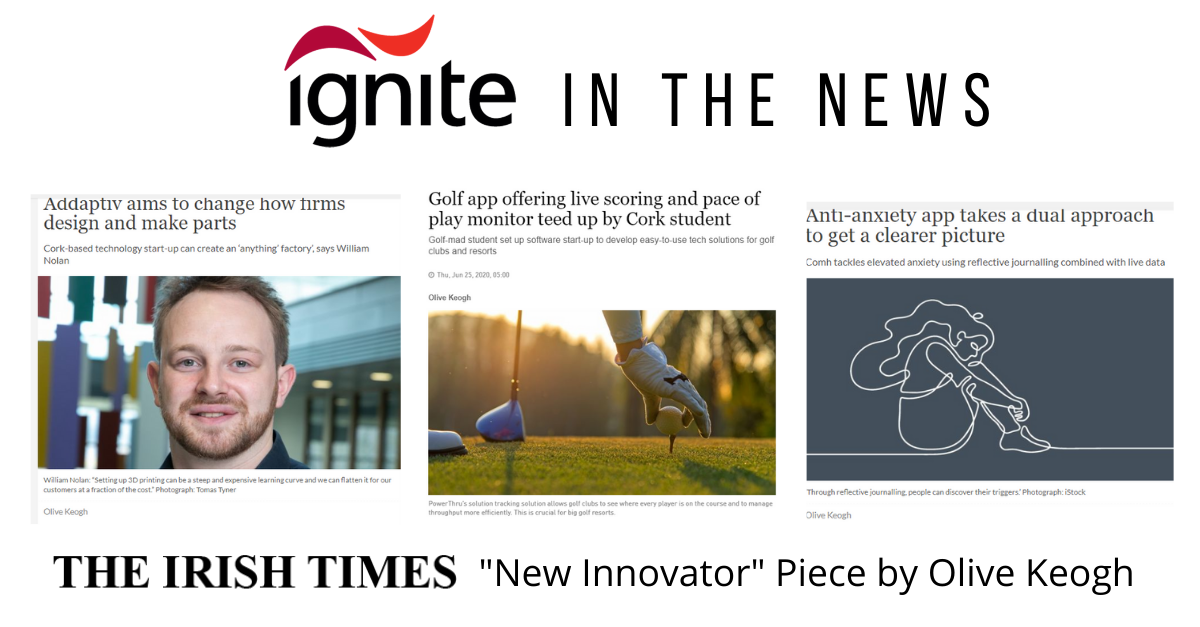 Three IGNITE participants were recently featured in the Irish Times Newspaper.
Olive Keogh, journalist from the Irish Times interviewed three IGNITE participants, William Nolan, Aidan Power and Conor Organ for her "New Innovator" news piece. Each of them working in three different industries, including Mental Health, Additive Manufacturing and Sport, specifically Golf. In the articles, they talk about why they've started a business, their experience on the IGNITE programme, adapting to the current pandemic and their plans for the future.
Read the full stories below.
William Nolan, founder: Addaptiv
Aerospace, medical and consumer products are just three of the sectors being targeted by Cork-based start-up Addaptiv Design & Technology which helps manufacturers incorporate 3D printing into their production to shorten lead times, localise supply chains and reduce inventory.
The company was founded earlier this year by University of Limerick manufacturing and operations graduate William Nolan and has since soft launched with its full commercial unveiling planned for September.
Coronavirus-related concerns around the security of the supply chain have ramped up interest in Addaptiv's service over the last few months and this has played perfectly into one Nolan's key strategic goals for his business which is to nudge manufacturing industry here towards replacing imported components with locally produced ones. Addaptiv can make components in volumes from one to thousands on demand.
Investment in the business so far has been about €40,000, which has been self-financed apart from a small grant Nolan received as part of his participation in the 12-month Ignite entrepreneurial programme for third-level graduates which is based at UCC. He is now looking to raise €150,000 to scale up and accelerate the full commercial launch of Addaptiv's service.
For the full story, click here.
Aidan Power, Founder, PowerThru Golf
Aidan Power is a passionate golfer with a single-digit handicap and, in January this year, he brought his hobby and his IT background together to create PowerThru, a software start-up specialising in technology solutions for golf clubs.
PowerThru's solution has two main features: electronic scoring and pace of play management. Electronic scoring, which sees players using their smartphones to record scores instead of hard copy scorecards, also facilitates live scoring and instant results calculation. The tracking solution allows golf clubs to see where every player is on the course and to manage throughput more efficiently. This is crucial for big golf resorts.
Power estimates that it will have taken about €40,000 to get PowerThru market ready and this has been funded by private investment and support from UCC and Enterprise Ireland under its innovation voucher scheme. New York-based angel investor Daniel Hallissey (who has a background in tech sales) is putting a five-figure sum into the business to accelerate its development and PowerThru is in the process of linking its platform to one of the leading providers of golf administration software in the UK and Ireland.
For the full story, click here
Conor Organ, Founder, Comh Health
Almost 60 per cent of people aged 18-25 in Ireland experience anxiety levels that are considered above normal. Conor Organ is one of them and, when he was diagnosed with generalised anxiety disorder in his final year at university, it prompted him to establish the mental health start-up Comh in 2019.
"When I was diagnosed with anxiety, I searched for something based around technology that could help me to cope because technology has always been close to my heart," Organ adds. "After trying a couple of apps and other solutions, I couldn't find one that suited me, and it was at this point that I decided to develop my own. The major difference between Comh and other mental health apps is that it tackles heightened anxiety from two angles using a combination of reflective journalling and live data. Each day the app's users are encouraged to write (on their phone) how they're feeling and why.
Organ is looking to raise about €50,000 this year, with a more ambitious fund-raising round of €500,000 planned for 2021.
For the full story, click here