News
News
Community Engaged Learning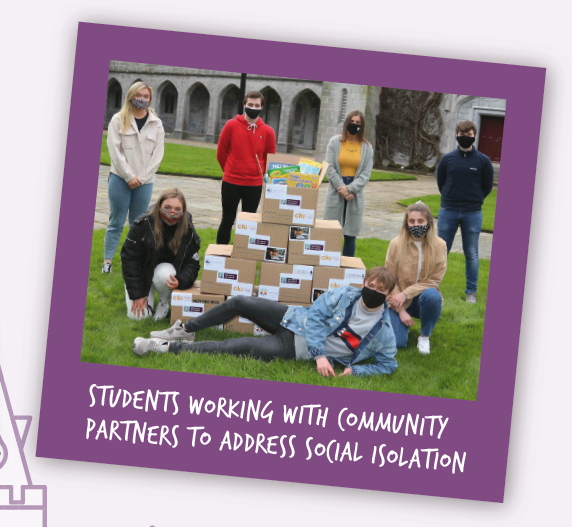 In November 20202, the Graduate Attributes Programme and the Civic and Community Engagement office successfully submitted a joint application to the NF's 2020 Network and Discipline Fund to showcase how Community Engaged Learning (CEL) promotes the development and acquisition of graduate attributes and values, and builds awareness and fosters active 'hands-on' learning of the UN's Sustainable Development Goals.
The ambition of the project was to compile and globally disseminate compelling stories about how CEL in Irish HEIs enriches 21st-century graduate attributes and positions Irish universities globally as uniquely engaged. Dr. Martin Galvin, UCC's Civic and Community Engagement Officer, approached our Campus Engage colleagues to see if the Campus Engage network could support the project and they were very excited to partner with UCC on this project. Dr Ruth Hally, the Civic Engagement Project Coordinator, based in CIRTL, led out and drove the project with support from Carol Veiga (Graduate Attributes Programme Manager) and Maggie O'Sullivan (Graduate Attributes Programme SEA), and in close collaboration and consultation with Kate Morris (Head of Campus Engage) and Lia O'Sullivan (Head of Communications, Campus Engage).
Six out of the eight Campus Engage university members (NUIG, NUI Maynooth, TU Dublin, UCC, UCD and UL) took part. Collectively and collaboratively, a wonderful set of inviting and accessible written case studies was produced which demonstrates how CEL, in their specific modules/programmes, has made a big impact on the individual acquisition of graduate attributes and values. It also speaks to the fact that CEL, through the lens of the UN SDG's, makes a really positive impact on the local community partner. The full set of case studies can be accessed here. For each case study there was an accompanying video which featured the student(s), the Module or Programme Coordinator and the Community Partner and this three-way relationship is beautifully captured in the context of each HEI's individual context and setting. UCC's Graduate Attributes Programme framework was employed to showcase how students, across diverse programmes in all six participating universities, developed and nurtured their own graduate attributes and values through their CEL modules. Whilst fully acknowledging that each institution has its own unique attributes and values, we were able to streamline and standardise the approach by leveraging UCC's GAP framework to inform the project.
The set of written case studies and suite of accompanying videos were launched at the international Talloires Network Leaders' Conference (TNLC2021) whose theme was: Global Institutions, Local Impact: Power and Responsibility of Engaged Universities. Held from the 30th September to 3rd October, it was jointly hosted on the virtual campuses of Tufts University's Tisch College of Civic Life and the Institute of Politics at Harvard Kennedy School and this year's keynote speaker was John F. Kerry, America's first Special Presidential Envoy for Climate and the first-ever Principal to sit on the National Security Council entirely dedicated to climate change. During the 3-day campaign, the Twitter posts on @IUAofficial and @campus_engage of the 6 videos received over 20,000 impressions, over 2,150 views and over 460 engagements. The case studies and videos were launched at a national level during UCC's line up of activities for VIT&L week.
The video playlist for all six video can be accessed here. The set of six case studies in pdf format can be accessed here.
For more on this story contact:
Dr Ruth Hally
Carol Veiga
Maggie O' Sullivan