News
News
New Horizons Medical Research Award to Nutritional Science PhD student.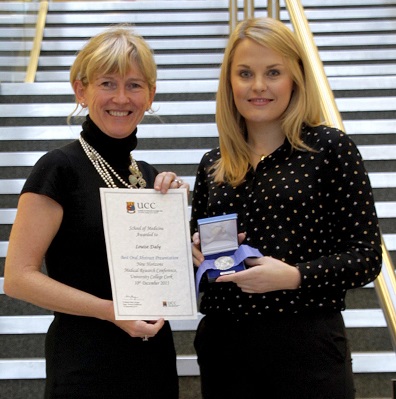 Louise Daly (BSc Nutritional Sciences 2014) who is now a 2nd year PhD student in the Clinical Nutrition Research Group in UCC won the overall research prize at the 'New Horizons Medical Research Conference 2015' held in UCC on 10th Dec 2015
Louise's research was entitled 'Sarcopenia, myosteatosis and weight loss: negative prognostic indicators in patients with foregut cancers'. Her work has shown profound levels of muscle wasting in patients with upper gastrointestinal cancers and she reported on how this has a significant impact on their quality of life and survival.
Louise was also the recipient of an award at the European Society of Clinical Nutrition & Metabolism for a top 10 abstract submitted to this year's annual scientific conference held in Lisbon (Sept 2015) and an award at the Nutrition Society Summer Meeting held at UCC in June 2015 for other projects she has completed on malnutrition in cancer.