News
News
Lecture to Mark the 70th Anniversary of the Death of Edith Somerville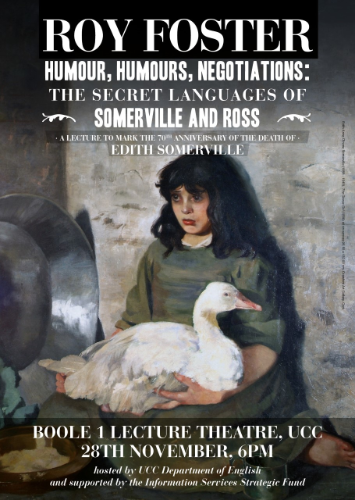 In November, the Department of English in UCC marks the 70th anniversary of the death of the leading Irish woman writer and artist, Edith Somerville (1858-1949).
Born in Corfu, Edith Somerville grew in in Drishane House, Castletownsend, Co. Cork. With her cousin Martin Ross, she wrote one of the great novels of the nineteenth century, The Real Charlotte (1894). They also published humorous adventures and sketches in their well known Irish R.M. series. Edith Somerville's many interests included fox hunting (she was master of hounds from 1903 to 1919), politics and the arts. She became

president of the Munster Women's Franchise League in 1913. For

St Barrahane's, Castletownshend, she

commissioned a beautiful series of windows by Harry Clarke.

Trinity College Dublin awarded her an honorary

D.Litt

.

in 1932 and she was a founding member of the Irish Academy of Letters.
On the 28th November, Prof R.F. Foster (Queen Mary University of London) will deliver a lecture entitled 'Humour, Humours, Negotiations: the Secret Languages of Somerville and Ross'.
The venue is Boole 1 Lecture theatre on the main UCC campus and the time is 6pm.
Tickets are not needed and all are welcome.