News
News
Banville and O'Callaghan Readings Available to View Online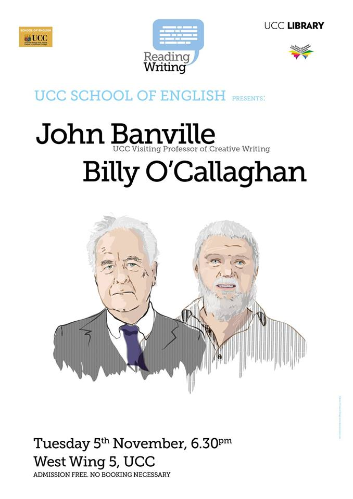 On the evening of Novemeber 5th, 2019, authors Billy O'Callaghan and John Banville read to a packed house in UCC.
Recordings of these readings are now available online for anyone who missed the event or simply wants to hear the readings again.
UCC School of English and Digital Humanities Visiting Writers' Series 2019-20: John Banville, Visiting Professor of Creative Writing, and Billy O'Callaghan were introduced by Mary Morrissy, Lecturer in Creative Writing and Associate Director of Creative Writing in the School of English at University College Cork. John Banville's Professorship is generously funded by philanthropic donation.
Billy O'Callaghan's reading can be viewed here: https://youtu.be/Ck1xdqVpu7c
And John Banville's can be viewed here: https://youtu.be/QUMls9-xDrs