2020 - 2029
2020 - 2029
Pat Ledwidge Honorary Doctorate Speech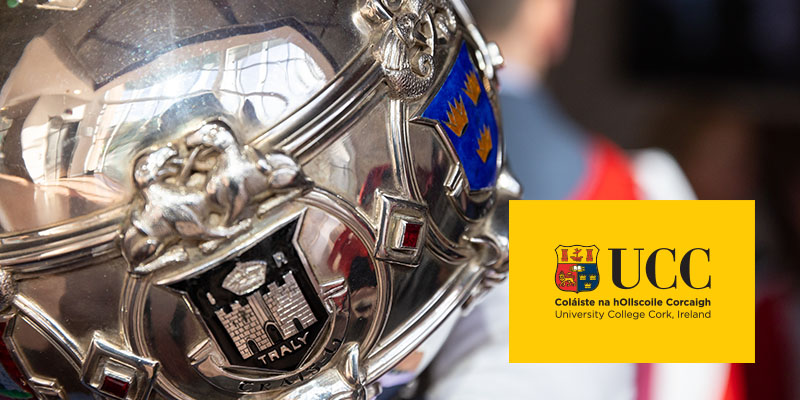 "Chancellor, President, Registrar, distinguished guests, graduates, ladies and gentlemen,
I am delighted to receive this honorary doctorate from the National University of Ireland in the presence of my family and friends. In accepting the award, I gladly acknowledge that many people contributed to the achievements it recognises, some of whom are here today. In my address, I will briefly touch on three themes: fortune or chance; Cork; and China.
As a strong believer in the role that chance plays in our lives, I confess to having been extremely fortunate in my wife and soul-mate, Anne; in spending my childhood as part of a loving family; and in becoming part of Anne's family. I grew up just outside Dun Laoghaire, a wonderfully diverse and stimulating environment, which profoundly shaped my outlook and values.
My horizons were further broadened by the superb educators in the History and Geography Departments in UCD during the 1970s. At the time, I did not always appreciate the quality of the ideas that were being communicated, but luckily, I retained some which were extremely useful later in my career, when I better understood the points being made. Above all, UCD encouraged me to think and to write, both timeless gifts. I firmly believe that an Arts Degree is an amazing foundation for life.
I had a wonderful 40-year career in local government, having graduated from UCD as a town planner. As the bulk of these years were spent in Cork City Council, in effect, I was a "lifer". Both lifers and local government get a bad press in some quarters, but I am proud to identify with both.
Cork City Council is an inspiring, innovative and supportive organisation to work for. It gave me opportunities, learning and the great satisfaction of seeing projects develop, sometimes over decades. For the final years of my career, I was privileged to work for Ann Doherty, Chief Executive of Cork City Council, who provided wonderful leadership, advice and support.
Most of my work over the past 30 years has been about trying to identify a sustainable future pathway for Cork, through developing and implementing plans and programmes. In that time, I have come to understand that while the future cannot be avoided, it can be influenced by policy choices, adaptations and mitigations. None will be cost free.
Policy and decision-making are frequently about choosing the least-worst option, within a framework of limited resources and political realities. The current challenges of Covid, Brexit and climate change impacts will all be extremely testing. There are no silver bullets.
As a small city, on a small island, at the periphery of Europe, Cork must harness its assets productively for the future. Thus, research, policy, governance and building coalitions for action all matter. Covid has demonstrated the veracity of this statement. Cork also needs to stay engaged with the wider world. As a result of its boundary extension, Cork now has the critical mass to develop as a sustainable mid-sized modern European city, within the European Union and, referencing Fintan O'Toole in his recent book, "to accept the unknown without being so terrified of it that you have to take refuge in fabrications of absolute conviction". Hopefully, a city that welcomes talent (like the people conferred in the preceding ceremony today) and investment; combats social exclusion; reduces its environmental footprint; values learning; and celebrates diversity. The alternative is a trip back to the 30s, 50s, 70s or 80s (take your pick) and their well-documented disastrous public policy choices.
Part of my work for the past 15 years involved building links with China, particularly with Cork's partner cities – Shanghai, Hangzhou, Wuxi and Shenzhen. Again, providence intervened when I was given this task by the then Chief Executive, Joe Gavin. Dealing with China throws up challenges that force one to question certainties, to broaden the mind and to reskill.
Engagement with China is a strategic interest for Ireland and for the European Union. If China perceives that its development is being blocked unfairly, it may turn inward, which will benefit nobody as the positive resolution of many global issues requires an engaged China.
As well as being a long way away, China poses cultural and ethical challenges. The ethical challenges are well-articulated in today's media. However, it is important to understand that engagement does not imply unconditional acceptance. Our values of freedom and democracy are fundamental. We must behave in principled and consistent ways that demonstrate our confidence in them.
Equally, positive engagement involves understanding the principles and values of the other party. The Chinese characterise their governance as Socialism with Chinese Characteristics. The key concept here is Chinese Characteristics, not Socialism. We must recognise that Chinese people have different cultural norms, based on centuries of political and cultural development: an aversion to adversarial debate; a respect for the written word, based on considered opinion which avoids the passions of the moment; and political authority restraining the private realm. Chinese people live in a "we" society, not a "me" society. Equally, China is not a monolith. The fine grain of Chinese social and political developments is not always apparent because of the language barrier, so its subtleties can be lost to us.
In acknowledging our differences, we can also identify areas of co-operation. Trust will be built by reciprocal behaviours. If we expect China to support a world order organised on multilateralism, so must we. The purpose of engagement is to build a shared understanding, so that issues can be addressed positively and resolved. As John Kerry emphasised at COP 26, co-operation is vital to conflict resolution.
China and Ireland are both dealing with the legacies of colonisation and other traumatic events, which still influence their behaviours. Both have transitioned from relatively closed societies to engagement with global systems. Chinese and Irish people also have many values in common – a focus on family and education; concern with face; an ability to internalise multiple realities simultaneously, again referencing Fintan O'Toole: "things are known and unknown at the same time". In my experience, we understand each other. Things can be inferred, not everything must be explicit.
In Ireland, we know well that conflicts will only be resolved by dialogue and that gestures – handshakes, granting visas, etc. - matter, even if some actions make individuals uncomfortable. The benefits of engagement at the sub-national level, paradiplomacy, are well recognised diplomatically and documented in academic research. Cork's engagement with its Chinese partners is premised on people-to-people engagement and on building understanding. The then Chinese Ambassador recognised this, in 2018, as being relatively unique in his experience of city relations. As a Shanghai official said to me at the start of the relationship: "Our task is to build a bridge between Shanghai and Cork, it is up to others to cross it". There must be a political will to cross that bridge. Cork is fortunate that Lord Mayors of all political parties and none, plus Elected Members, supported and resourced the engagement with China. This demonstrates strategic governance and leadership. The positive outcomes of this relationship have been formally recognised by both the Irish and Chinese Governments.
A primary focus of Cork's relationships with its Chinese partner cities has been on building links with schools and using the Confucius Institute, based in UCC, to provide a basic grounding in Chinese language and culture to schools throughout Munster and further afield. This work has been ongoing for 15 years with Chinese being examined at Leaving Certificate level for the first time in 2022. This is a key action to prepare young Cork people for engagement with a rapidly changing world.
To conclude, Cork's, and Ireland's, prosperity depends on continuing to look outward, deploying vision, imagination, common sense and action. Some of you conferred here today will stay in Cork; some of you will leave and return; and some of you will never return. This is as it should be, as Cork will welcome people from other locations who decide to make their home here, either for a time or permanently. The banner in Devere Hall today says "You've Done It!". You have done it in UCC and now you can use your talents to make a difference in the world. I would urge you all to be agents of positive change, make wise and courageous decisions and to accept responsibility for the outcomes of those decisions. Too many people will not accept this type of responsibility and thus miss the opportunity to contribute to a better world.
I wish to thank UCC for proposing me for an Honorary Doctorate in Arts and to thank NUI for bestowing this huge honour on me today. Thank you for listening to me."