CNS News & Events
CNS News & Events
Shauna Wallace Fitzsimons wins prize at Young Neuroscientists Symposium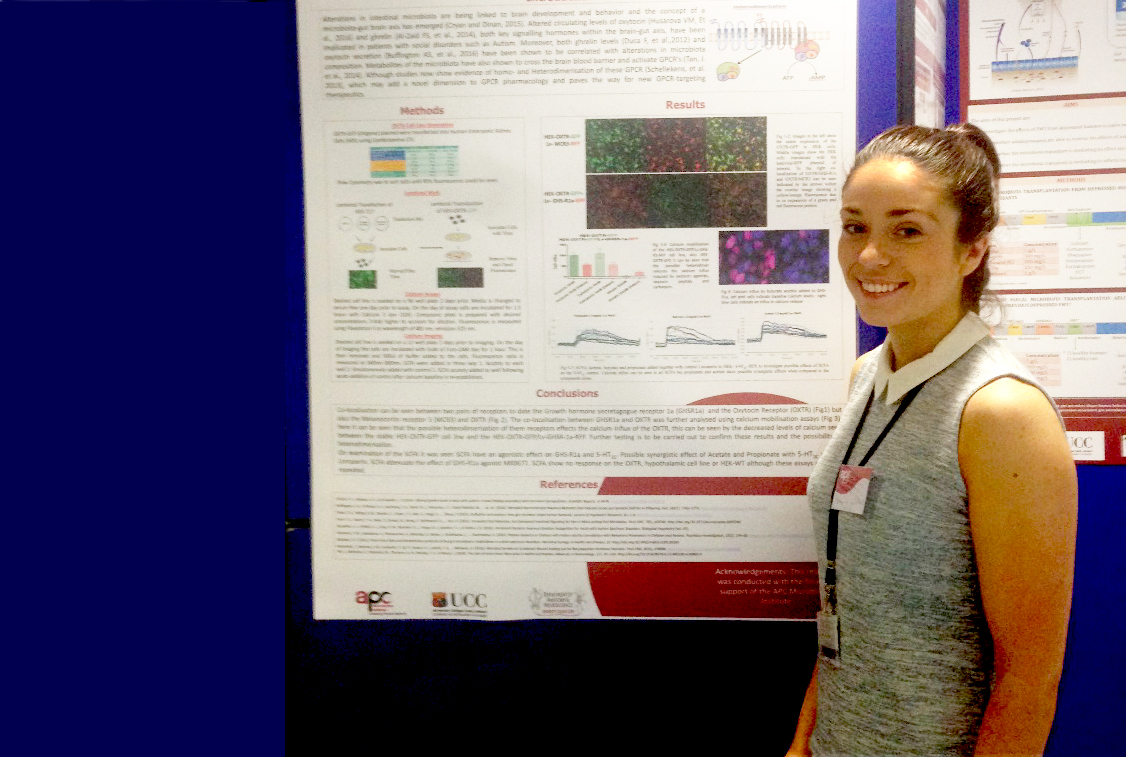 Congratulations to Ms. Shauna Wallace Fitzsimons who won second prize for her poster presentation "Novel Investigations of Central Oxytocin Receptor Signalling and Crosstalk in the Microbiota-Brain-Gut Axis" at the Young Neuroscientists Symposium held in Trinity College Dublin on the 1st of September 2016.
Shauna currently a PhD student under the supervision of Dr. Harriet Schellekens and Prof John Cryan, has just completed her first year in the department of Anatomy & Neuroscience and the APC Microbiome Institute.
Presenting preliminary evidence for a potential novel heterodimerisation between the oxytocin receptor (OXTR) and the ghrelin receptor 1a (GHSR1a), Shauna demonstrated colocalized expression following lentiviral-mediated expression and demonstrated attenuated receptor signalling using calcium mobilization assay. Crosstalk or dimerization of the OXTR/GHS-R1a receptor pair may represent a novel therapeutic target in the treatment of social deficits associated with neurodevelopmental disorders such as autism spectrum disorder. Further testing is to be carried out to confirm these results and the possibility of heterodimerisation.
Shauna also presented data investigating the potential of gut-microbiota-derived short chain fatty acids (SCFAs) to target GPCRs in the brain, reinforcing the importance of the microbiota-gut-brain axis in the regulation of behaviour via central mechanism. Co-authors and contributors to the work are Dr. Barbara Chruscicka , Clementine Druelle, Professor Ted Dinan, Professor John Cryan and Dr. Harriët Schellekens.
The work was funded by APC Microbiome Institute, University College Cork, Ireland.