News 2023
News 2023
BEES students and staff receive SEFS awards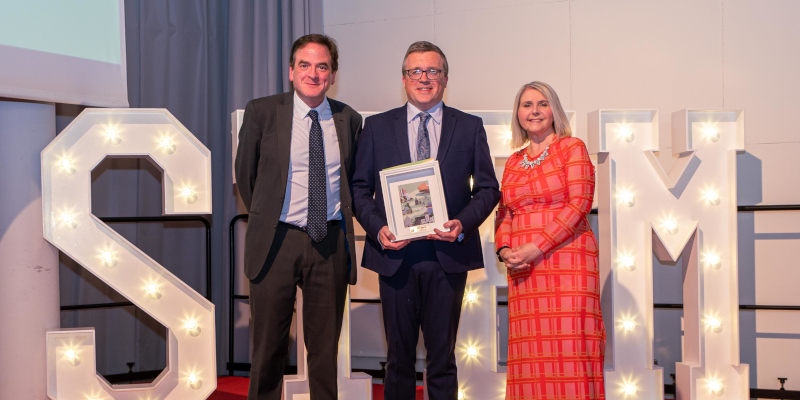 A number of staff and students from the School of BEES were presented with awards during the College of Science, Engineering and Food Science (SEFS) awards ceremnony which took place recently
A total of 51 students and staff were presented with prizes at a special ceremony in Devere Hall.
Three BEES students were recipients of Quercus Scholarships - Sara Goldschmidt (BSc Ecology and Environmental Biology); Grace Lynch (BSc Applied Plant Biology) and Colm Breslin (BSc Ecology and Environmental Biology).
Jamie Darby was a winner in the Postgraduate Research Publication of the Year category for his publication entitled "Underwater visibility constrains the foraging behaviour of a diving pelagic seabird".
Dr Eoin Lettice was a winner in the Excellence in Education and Public Engagement category while Dr Ed Jarvis was runner up in the Student-Nominated Staff Award (Academic).
Professor Sarah Culloty, Head, College of Science, Engineering and Food Science commended the awardees:
"I would like to congratulate all our award recipients on their success. The students celebrated at this year's Awards are an exemplar for the study of STEM. Through their impressive commitment to academic excellence and personal development, they are an inspiration to their peers and to the wider university.
We are also delighted to recognise the achievements of our outstanding staff whose leadership and support are essential to the success of the College, and whose work extends into the community."
Well done to all the award recipients!
Congratulations to Sara Goldschmidt (BSc Ecology and Environmental Biology); Grace Lynch (BSc Applied Plant Biology) and Colm Breslin (BSc Ecology and Environmental Biology) who were all awarded Quercus Scholarships at the recent @SEFSUCC Awards Ceremony. pic.twitter.com/2Y6LVZsxNa

— Biological, Earth & Environmental Sciences, UCC (@uccBEES) May 18, 2023
Well done and congratulations to Dr Ed Jarvis who was the runner up in the Student-Nominated Academic Staff Award at the recent @SEFSUCC awards ceremony. pic.twitter.com/CmtDGlonbz

— Biological, Earth & Environmental Sciences, UCC (@uccBEES) May 18, 2023
Congratulations to Jamie Darby who was a winner in the Postgraduate Research Publication of the Year category in the recent @SEFSUCC awards. Jamie won for his publication entitled "Underwater visibility constrains the foraging behaviour of a diving pelagic seabird". pic.twitter.com/IASg3u4j3Z

— Biological, Earth & Environmental Sciences, UCC (@uccBEES) May 18, 2023
Congratulations to Dr Eoin Lettice who was presented with the @SEFSUCC Excellence in Education and Public Engagement Award 2023 at the recent awards ceremony. pic.twitter.com/OJ6Py0Y6HV

— Biological, Earth & Environmental Sciences, UCC (@uccBEES) May 18, 2023