News
News
23 May 2023

UCC Student Centre Opening Hours for Summer 2023 (valid from Monday 22nd May - Sunday 3rd September 2023)

Read more
The Student Centre says "NO" to Single-use Plastics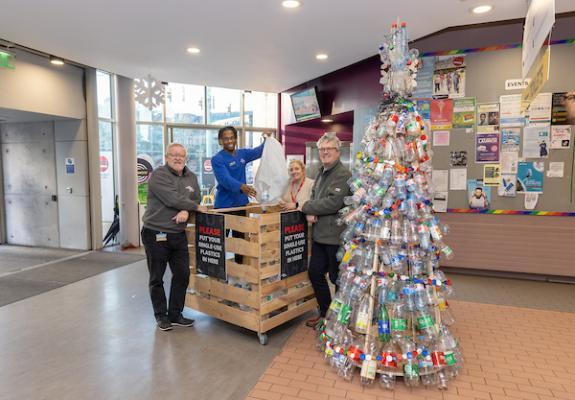 Pictured above from left: Terry Brennan, General Manager SFS (UCC) DAC, Kevin Omoro, Student Staff SFS, Lisa Crowley, Operations Manager SFS and Prof. John O'Halloran, President UCC (Photo Tomás Tyner, UCC)
At the start of this year UCC went plastic free, removing all single-use plastic in its operations throughout on campus dining, shops and vending machines.
UCC has estimated that it will save 560,000 plastic bottles and 1.4 million coffee cups during a graduate's four-year degree.
Creating a 'Plastic Free UCC' was a large logistical operation that required a whole of university team effort and at the heart of its campus, the UCC Student Centre embraced this green journey.
UCC's Student Centre provides catering and a range of services for UCC students and staff and over the years has moved from paper cups, to compostable cups to now fully reusable cups.
164,00 compostable cups and 138,500 plastic bottles will be saved this year by the Student Centre as it offers customers a range of cups to buy or participate in the 2GoCup deposit scheme.
"In December, we removed all of our single-use plastics from the shelves in our shops and cafés and from 1stJanuary, our single-use cups have also disappeared" says Terry Brennan, General Manager of SFS (Student Facilities & Services).
"We know this is the right road to take on our green journey and habits are quickly changed; already many people are bringing their own cups which is encouraging" comments Nuala O'Driscoll (Café Manager).
A refurbishment of the café is planned for Summer 2023 to facilitate further improvements and sustainability initiatives.
The Student Centre is already well down the road on its green journey and there is still a long way to go but the staff are enthusiastic and excited as they proceed on their way.
13 Feb 2023

Check out our full list of events here for Raise And Give Week 20232. Don't forget to donate to the chosen charities.

Read more

22 Nov 2022

Our annual Christmas Craft Fair will take place at Café Oasis, The Student Centre from Monday 5th - Friday 9th Decemeber 2022. Please join is in supporting local buinesses and crafts.

Read more

26 Sep 2022

Áras na Mac Léinn - The Student Centre has just launched new uniforms for the 20022/23 academic year. The royal blue polo shirt and black gilet will be worn by full time and student staff.

The gilet is made from fully recycled materials including recycled plastic water bottles for the outer shell.

Let us know what you think!

Read more
COVID Signage Gone!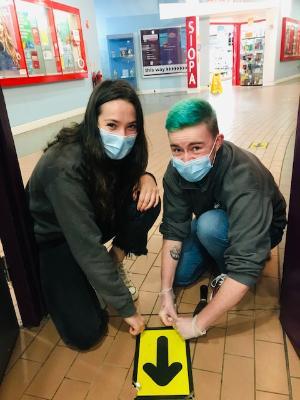 Student staff at Áras na Mac Léinn - Student Centre begin to remove all COVID-19 sigange from building.
UCC Student Centre open this weekend!
UCC Student Centre will be open this weekend. Traditionally the centre opens during the weekends before Christmas to facilitate students on campus studying for exams.
Café Oasis will be open this Saturday 11th and Sunday 12th December from 9.30 - 5pm and An Siopa from 10am - 4pm.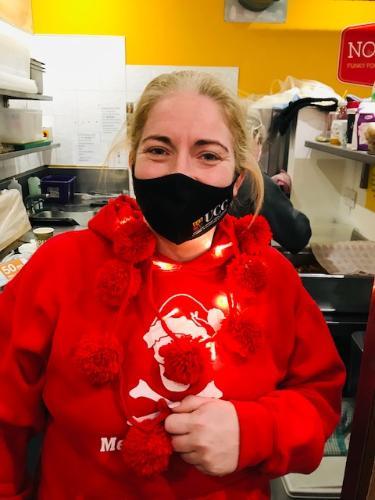 "Lit Lisa" - Our lovely Assistant Manager at The Student Centre café bars.