Christmas On Campus
Christmas On Campus
Christmas on Campus 2022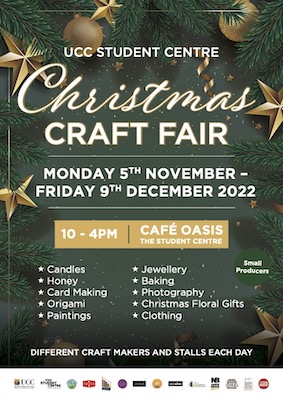 Christmas on Campus is Áras na Mac Léinn's Christmas festival. The centre glows with twinkling lights and is filled with the sounds of carollers and Christmas cheer.
Delicious Mince Pies with fresh cream and large helpings of Plum Pudding are served at the Café Bars.
Our Christmas Craft Market takes place at Café Oasis. To book a stand contact Gráinne at g.thompson@ucc.ie
The fair focuses on small local producers and is always well suypported by the UCC and local community.