News
News
UCC Planning Students present at Young Planners Workshop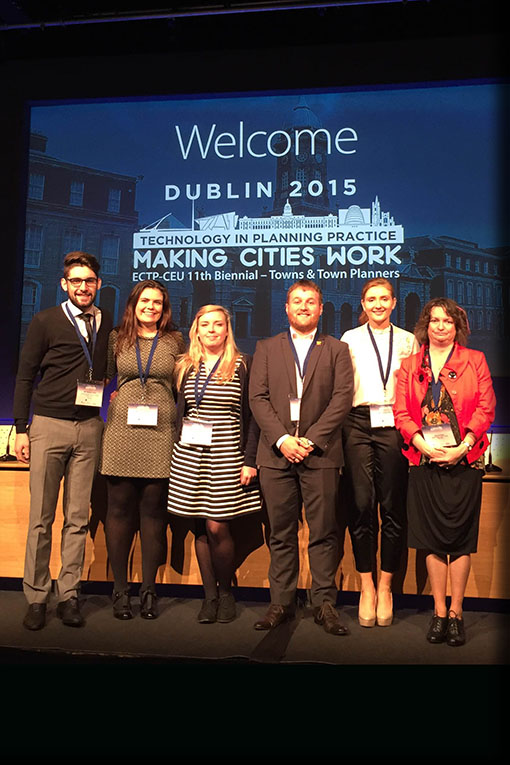 A group of Second Year Planning Students from UCC were selected to present the results of their transportation &technology research project at the ECTP Young Planners Workshop 2015 at the 11th Biennial of European Towns and Town Planners/Dublin October 2015. The student group consisted of Padraig Collins, Danielle Nevin, Luke Martin, Ciara Cosgrave and Kayleigh Sexton, and their research focussed on a review of the bike-share scheme in Cork since its introduction in November 2014.
Public bike share schemes have been introduced in many cities across Europe, and more recently in several cities in Ireland as a way to to improve urban mobility and redue car dominance. The M.Plan students had witnessed the early introduction of the scheme and endeavoured to explore its implementation and effects through carrying out this study and review. In introducing bike sharing in Cork, infrastructure changes were made to prepare the city for higher amounts of bike usage. These changes came in the form of dedicated bike lanes replacing some on-­‐street car parking and involving lane reductions, including some that are segregated from motor traffic with raised curbs, along with widened footpaths to accommodate bike stations.
The M.Plan students decided to assess the overall impact of the bike share scheme in Cork. This assessment involved an examination of individual successes and failures, and an assessment of the extent to which the scheme is likely to have a positive impact on mobility, accessibility, and sustainable transport in Cork City. The project was extremely well-received at the Biennial of European Towns and Town Planners/Dublin October 2015 and is a timely and much-needed review of the Cork scheme - which is changing the way people are using the city on a daily basis.