News
News
FRIDAY 24th FEB "Planning Together for the Future" U.C.C. Planning Society Annual Conference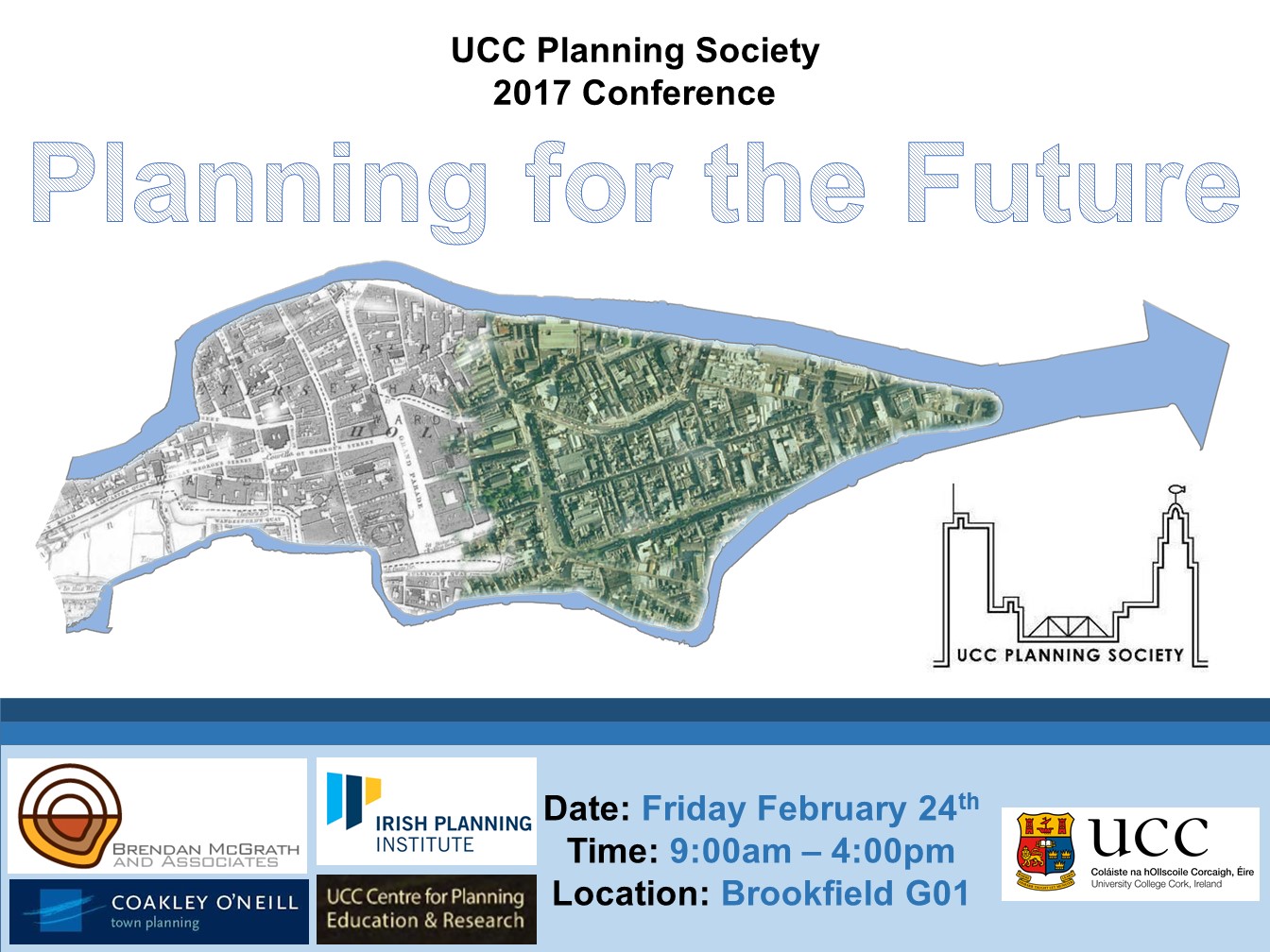 UCC students have announced an exciting line up for their Planning Society conference this year. With three topical and interesting sessions spread out through the day it promises to be a lively and enjoyable event.
To download a full conference brochure, cick here: Planning Soc Brochure:
SESSION 1 (09:00 am) is a very special student-only opportunity to discuss 'Ireland 2040 - the National Planning Framework' with Deputy Simon Coveney TD, Minister for Housing Planning and Local Government. To register for this session, students should follow this link. It will be held in The Glucksman Gallery Building and commences at 9:00 am. This session is hosted by the UCC Students Union.
The Confernece then moves to Brookfield (Room G01) for the remaining two sessions which are open to everyone. To register for these sessions, please follow this link.
SESSION 2 (11:30 am): 'Planning for Change and Tackling Future Challenges' includes discussion from a high level panel including Ms Ann Doherty (Chief Executive of Cork City Council), Dr. Rory O'Donnell Director of the National Economic and Social Council NESC, Mr. Brendan Allen Irish Planning Institute, and Mr. Mel Reynolds, Architect.
SESSION 3 (14:00 pm): 'Design and place-making'. This promises to be the creative highlight of the day. Key presentations on best practice will be by: Mr. Riccardo Marini of the world-renowned scandinavian urban design firm Gehl and Associates; Mr. Tony Reddy of Reddy Architects, Ms Sarah Newell of Limerick City Council, and Mr. Ciarán Cuffe, lecturer at the DIT planning school and former Green Party minister of state.