News/Newsletters
News/Newsletters
The School of Microbiology Celebrates Six Researchers on Highly Cited Researchers 2020 List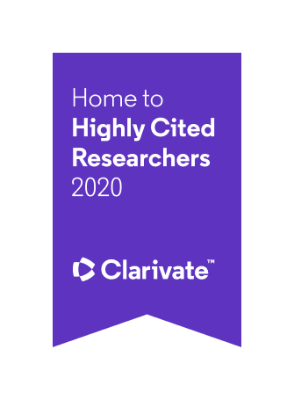 The School of Microbiology is delighted and proud to announce that six of our academic staff have been named on the annual Highly Cited Researchers™ 2020 list from Clarivate (Web of Science Group) released today.
This prestigious list recognises pioneers in their field whose citation records position them in the very highest strata of research influence and impact and includes 26 Nobel laureates. School of Microbiology researchers have secured recognition in fields such as food, therapeutics, microbiome and health. Four of the six 2020 Microbiology researchers are in the cross-field category which identifies researchers with significant impact across several research fields over the last decade.
The School of Microbiology researchers named on the Highly Cited List are:
Professor Ger Fitzgerald, Emeritus Professor of Food Microbiology, UCC and Principal Investigator at APC Microbiome Ireland (APC). His research interests span fundamental and applied aspects of the industrially important Lactic Acid Bacteria, which are used in the production of fermented foods and probiotics.
Professor Colin Hill, Professor of Microbial Food Safety, School of Microbiology, UCC and Principal Investigator at APC. His research interests lie in understanding the role of the microbiome in disease. He is particularly focussed on studying individual microbes, bacteriophages (bacterial viruses) and bacteriocins (anti-microbial peptides) to understand the forces shaping microbiome composition and to use that information to prevent and limit diseases of the gastrointestinal tract.
Professor Paul O'Toole, Professor of Microbial Genomics, School of Microbiology, UCC and Principal Investigator at APC. Paul works on the genomics of gastrointestinal bacteria in humans with emphasis on commensal species and host interaction. He focuses on the relationships between the composition and function of the gut microbiota, its interaction with habitual diet, and its relationship to health, functional gastrointestinal disorders, and ageing.
Professor Paul Ross, Professor of Microbiology, UCC and Director of APC Microbiome Ireland. His research in food and health includes the development of new antibiotics and anti-infectives, bacteriophage, human and animal pathogens, and how the gut microbiota influences health.
Professor Douwe van Sinderen, Professor in Molecular Microbiology, School of Microbiology, UCC and Principal Investigator at APC Microbiome Ireland. His research interests include the comparative genomics and molecular biology of bacteriophages infecting lactic acid bacteria, in particular Lactococcus lactis, Streptococcus thermophilus and certain Lactobacillus species. He also researches the comparative and functional genomics of bifidobacteria, which represent common gut commensals of mammals, including humans, with many reported health benefits.
Professor Jens Walter, Professor in Ecology, Food and the Microbiome, School of Microbiology, and Department of Medicine, UCC and Principal Investigator at APC Microbiome Ireland, University College Cork. His research focuses on the evolutionary and ecological processes that have shaped the host-microbiome interrelationship and the translation of basic microbiome science into therapeutic and nutritional strategies.
UCC also performed strongly in the Scopus listings released last week. Scopus assesses scientists for their career-long citation impact, or for their citation impact in 2019. UCC had 77 highly cited researchers in the top 100,000 authors out of 6 million researchers. These researchers include up and coming stars such as Dr Pauline Scanlan, School of Microbiology and APC, UCC.
David Pendlebury, Senior Citation Analyst at the Institute for Scientific Information at Clarivate said: "In the race for knowledge, it is human capital that is fundamental and this list identifies and celebrates exceptional individual researchers at UCC who are having a great impact on the research community as measured by the rate at which their work is being cited by others."
In total 32 researchers based in Ireland feature on the 2020 Highly Cited list. The full 2020 Highly Cited Researchers list and executive summary can be found here
Follow the conversation online at #HighlyCited2020 @WebofScience