Archive News
Archive News
Nature publication for Microbiology department researchers.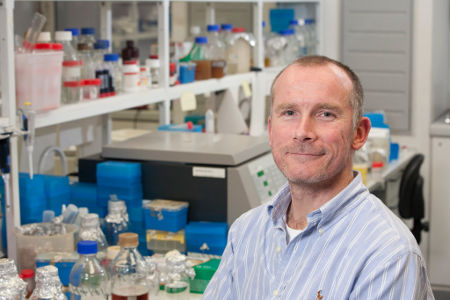 New research published in the journal Nature shows that a relationship exists between diet, gut bacteria and the health of older Irish people. The findings provide exciting new opportunities for the food industry as there is now the scientific basis for developing foods to promote healthier ageing.

The discovery was made by a multidisciplinary team of scientists from University College Cork and Teagasc Food Research Centre, Moorepark. Dr Paul O'Toole, Microbiology Department, UCC who led the study says, "It is well known that gut microbiota, or the community of bacteria in our gut, is required for immune development in infants and maintenance of health in adult life, and changes in the composition of our microbiota have been linked to inflammatory and metabolic disorders such as Inflammatory Bowel Disease, Irritable Bowel Syndrome, and obesity.
As we get older, we may experience deterioration in our dental health, salivary function and digestion, and this can also affect the good bacteria that live in our gut. Some of these changes are out of our control, but we can control our diet. However, until now, links between diet, gut microbiota composition and health in large human studies were unclear". The team collected information on diet, physical activity, immune function, and cognitive function, and measured the faecal microbiota composition of 178 older persons living in different settings in the South of Ireland.
The study funded by Department of Agriculture Food and the Marine and the Health Research Board found that the composition of the gut microbiota can positively and negatively impact the health of older people in our population. Dr O'Toole explains: "The healthiest people live in a community setting, eat differently and have a distinct microbiota compared to those in long-term residential care. It can be inferred from findings related to increased inflammation and increased frailty, that there is a diet-microbiota link to these indicators of accelerated ageing".
Professor Paul Ross from Teagasc asserts that "particular food ingredients that promote certain components of the gut microbiota may be useful for maintaining health in older individuals. In addition, profiling of the gut microbiota coupled with metabolomics offers the potential for biomarker-based identification of individuals at risk of less healthy ageing".
The publication can be viewed online at: http://www.nature.com/nature/journal/vnfv/ncurrent/full/nature11319.html
Picture: Paul O'Toole, Microbiology Department and Alimentary Pharmabiotic Centre, UCC.