Awards Season in UCC
It has been a busy award season for IT Services. Some of our colleagues received their Long Service Award in November and Staff Recognition Awards in December.
UCC Long Service Awards.
Our IT Services colleagues Rosemarie Scanlon, Denis O'Connell, Paul Sheehan and Liam Cotter received their award for 25 years of service in UCC. The awards ceremony took place in November in Devere Hall and was a great celebration of our colleagues across UCC. Congratulations to Rosemarie, Denis, Paul and Liam on 25 years' service and receiving this award.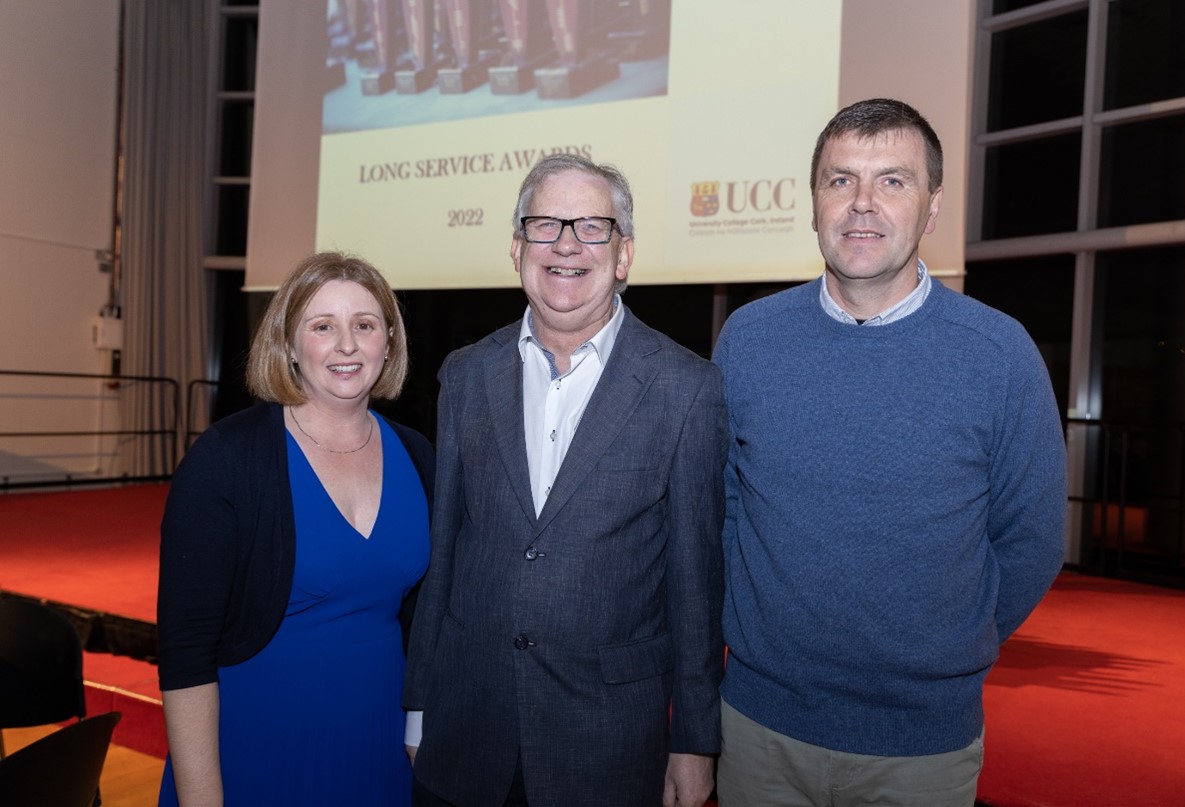 UCC Staff Recognition Awards.
On Wednesday 7th December the UCC Staff Recognition Awards took place in The Hub. IT Services were honoured to pick up awards over a few categories. Our IT Security Collaboration Team picked up the Cross Campus Engagement Award. The team led by our IT Security Officer, Barry Foley, includes Katie Horgan, Ruth Butler, Sean O'Mahony, Brian Clayton, Patrick Nagle, Ted O'Riordan, and Eugene van den Hurk. Each have brought their strengths and expertise in responding to cyber security threats, particularly over the last 2 years and frequently respond to these threats out of hours, over weekends and on holidays. Some represented their own teams recognising that this was a wider team award.
The UCC Apply Team also picked up an award under Cross Campus Engagement Award. The UCC Apply Team includes staff from Academic Services (Systems Administration), Recruitment and Admissions (GSO, IO, ACE, CPD), Quercus and IT Services. Well done to all our colleagues on receiving this award, in particular our IT Services colleagues Chris McElligott, Michael Walsh & Paul Sheehan. This is the second award scooped by the UCC Apply team this year. The team received the Rising Star Award from Ellucian earlier this year. You can read more about UCC Apply and the Rising Star Award in our June newsletter.
The Global Summit Team won an award for Enhancing the Student Experience. The Global Summit Team included staff from the Admissions Office, Graduate Attributes Office, General Services and Audio Visual and Media Services. Congratulations to the entire team, particularly to Kilian Murphy from Audio Visual & Media Services.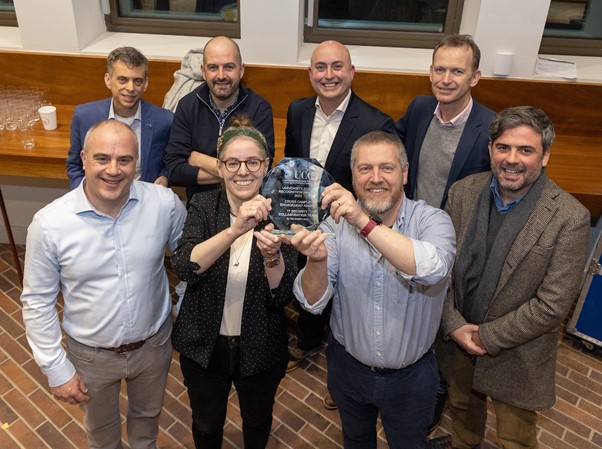 Finally, we would like to share our thanks to colleagues in Staff Wellbeing & Development for coordinating and organising the Long Service and Staff Recognition Awards. Two great events, showcasing some of the outstanding contributions by colleagues across UCC.