Accommodation Information
Accommodation Information
IMPORTANT!!
The EVN Symposium is taking place during Cork's tourist season, so it is essential to book your accommodation as soon as you can!
There are a variety of guest houses, B&B's and hotels within approximately a 15 minute walk of the EVN Symposium venue – the Western Gateway Building on Western Road. Those that are located more than five minutes walk from the Western Gateway Building are on or very near Western Road, along which a local bus runs approximately every 10 minutes.
Click on the following link to obtain a compilation of nearby accommodation offering special rates for the conference. The locations of the various hotels, guest houses and B&B's relative to the conference venue (the Western Gateway Building) is shown on this map.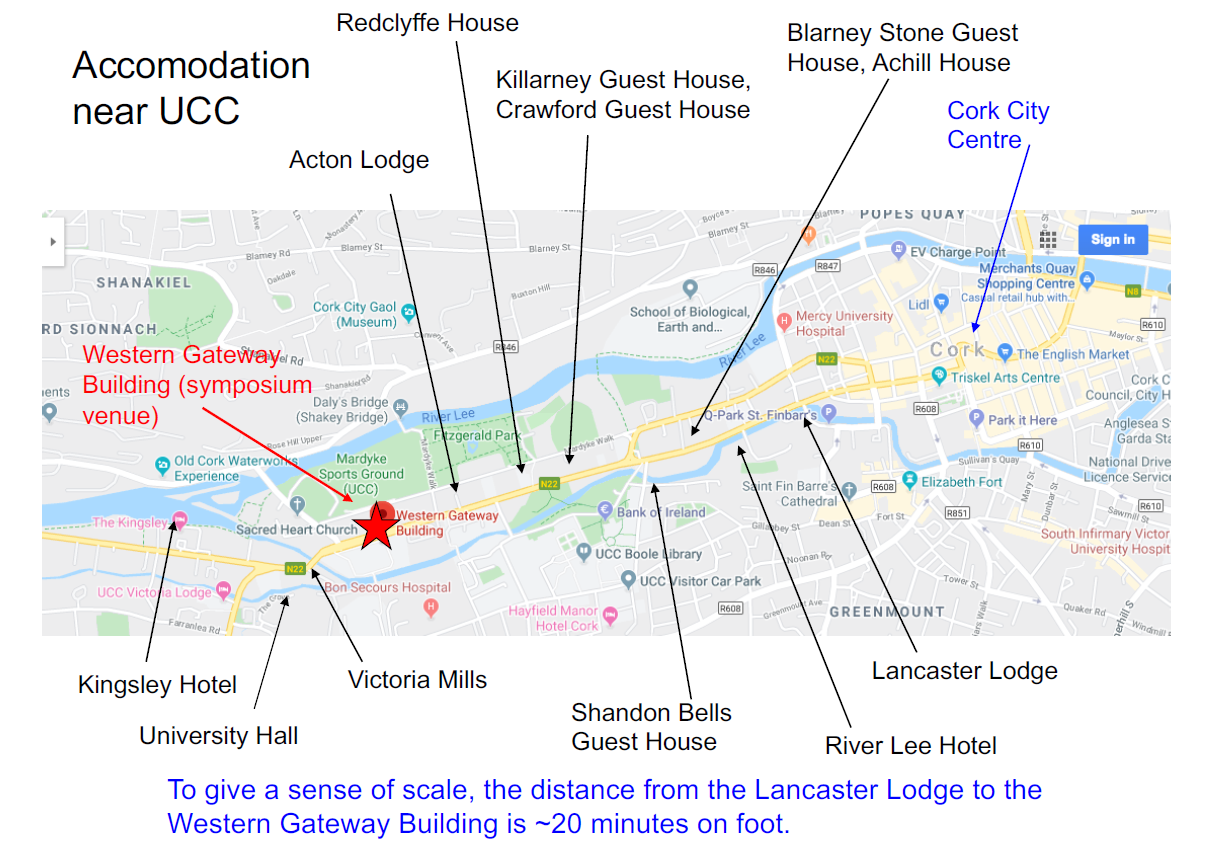 When booking, you should indicate that you will be attending the EVN Symposium (Astronomy Conference) and wish to book at the UCC Conference rate. The rates we have been quoted for single rooms are indicated in this compilation. In some cases, if you wish a single room and a particular place has no more single rooms available, they can offer you single occupancy in a double room for a somewhat higher price, also at a special rate.
We have also booked about 90 spaces in Victoria Mills, which is only 6 minutes walk from the Western Gateway Building, at a cost of €63 with continental breakfast (or €56 without breakfast). These are student apartments, with several rooms, a small sitting room, and a kitchen in each apartment. In nearly all cases, the rooms have ensuite bathrooms; in a small number of rooms, the bathroom is just next door to the room, but is used only by the occupant of that room.
Rooms in Victoria Mills must be booked before June 1, 2022.
Click at the following link to obtain instructions for booking Victoria Mills.
IMPORTANT!!
Please book your accommodation as soon as you can! Some of the accommodation venues in the list are holding rooms until 6-8 weeks before the start of the conference, while others are not, so that there is no guarantee of getting a room in your preferred location if you don't book early.