2020 - 2029
2020 - 2029
Honorary Citation by Dr. Jack Talty for Peadar Ó Riada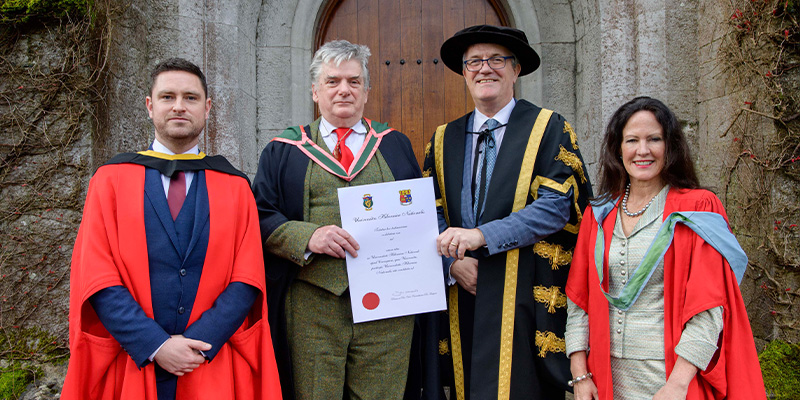 A dhaoine uaisle, is mór an onóir domsa a bheith anseo inniu chun céim oinigh Maistir Ceoil a bhronnadh ar laoch Ceol Tradisiúnta na hÉireann, Peadar Ó Riada.
President, Registrar, colleagues, and distinguished guests, it is my pleasure to stand before you today as University College Cork awards an honorary Master of Music to the renowned composer, musician, choir director, broadcaster, producer, and arranger, Peadar Ó Riada.
Widely respected as a passionate advocate for the traditional arts of this island, Peadar's wide-ranging artistic, cultural, and critical engagement with Irish traditional music and many related discourses, has contributed in several meaningful ways to how we all perform, share, enjoy, and think about Irish traditional music today.
As a Bachelor of Music graduate of University College Cork in 1976, Peadar recalls lively early morning strolls across the Shakey Bridge to secure his place in a much-coveted organ tutorial. For Peadar, these studies at the Department of Music served as a starting point and impetus for what would ultimately become a very fruitful, impactful, and much celebrated life in music.
Of course, at UCC, we are acutely aware of, and grateful for, the substantial and pioneering contribution made by Peadar's father, Seán Ó Riada, to Irish traditional music pedagogy during his tenure at the Department of Music from 1963 to 1971. We have become intimately reacquainted with his legacy as we celebrate 100 years of Irish Traditional Music at UCC this academic year. I have no doubt that Seán Ó Riada would be immensely proud of the enduring artistic and cultural contributions that Peadar has made in local, national and international contexts.
Peadar joined the renowned Cór Cúil Aodha in 1964, a choir that he has directed since 1971. Having composed extensively for the choir, Peadar has produced a significant body of both liturgical and secular works for male voiced choir in the Irish traditional idiom. In 1986, Peadar founded Cór Ban Cúil Aodha, an all-female choir that performs several large scale polyphonic works and choral arrangements of traditional Irish songs. Both choirs have released a number of highly significant albums to date.
As a composer, Peadar's exceptionally individualistic output is diverse and deeply embedded in tradition, community, nature, spirituality, and the Irish language. In addition to his larger scale ensemble works, a concerto for uilleann pipes, numerous song cycles, and music for film and stage, Peadar's original dance tunes have been absorbed into the mainstream traditional repertory, and have been commercially recorded by an array of traditional musicians.
In 2008, Peadar was awarded the TG4 Cumadóir na Bliana, the TG4 Composer of the Year award in recognition of his compositional work and its repute within the wider Irish traditional music community. In 2022, Peadar published Ceol Rinnce Gaelach Nua, a collection of 150 original compositions in the traditional idiom.
As a respected multi-instrumentalist, Peadar has performed widely in many artistic guises. The group Tríur, featuring Peadar, alongside traditional fiddlers Martin Hayes and Caoimhín Ó Raghallaigh have released three albums of Peadar's original compositions to widespread critical acclaim. The origins of the project as well as the recording process undertaken for the trio's first album, Triúr sa Draighean was the subject of filmmaker Dónal Ó Céilleachair's 2012 documentary, 3-Triúr (In Search Of Musical Form).
Peadar also performs regularly with The Drôle, a trio formed in partnership with traditional fiddlers, John Kelly and Eamon McGivney, with whom Peadar released A Few Tunes for our Friends in 2013. In addition, Peadar has released two albums with his long-time friend and collaborator, Seán Ó Sé, who I am delighted to see in our company today, along with members of Peadar's family.
At ease exploring many artistic identities and curiosities, Peadar has thoughtfully explored sympathies between Irish Traditional Music and Indian Classical Music through projects such as Continuing Tradition, a collaboration with the acclaimed Indian musician and composer, Ustad Wajahat Khan. This project was the focus of a Dónal Ó Céilleachair documentary of the same name, Continuing Tradition, that received its premiere at the 2022 Dublin International Film Festival.

As a broadcaster, Peadar has presented the popular Cuireadh Chun Ceoil, a flagship Irish traditional music programme on RTÉ Raidio na Gaeltachta, first broadcast in the late 1970s. In January 2020, Cuireadh Chun Ceoil celebrated 1000 broadcasts of the show with a special programme featuring music and discussion with special guest, Seán Ó Sé. I believe we have had over 150 Cuireadh Chun Ceoil shows since that notable milestone in January 2020.
If I may, I might digress with a personal anecdote that attests to Peadar's generosity and character. I recall being invited to the Ó Riada home, An Draighean, in Cúl Aodha, near the Cork-Kerry border when parts of this 1000th celebratory show were being recorded in January 2020. I met Peadar the evening before in Ballyvourney and he assured me that I should visit the next day as he was not particularly busy.
I arrived, as always, to a very hospitable and welcoming home, where I was warmly greeted by Peadar and Seán Ó Sé. We had tea and some food and it eventually dawned on me that I had stumbled in while Seán and Peadar were taking a short break from recording the show. RTÉ News and Nuacht RTÉ had also just arrived to record a special feature for a TV broadcast later that evening. This was Peadar's interpretation of "not being particularly busy".
Unperturbed by the many tasks at hand, Peadar interrupted his various more urgent commitments several times to make me more tea and direct me to various books stacked on nearby bookshelves. This anecdote reminds me of what I feel are just two central pillars of Peadar's character: his warmth and generosity, and his desire to stimulate curiosity and discussion, irrespective of whatever happens to be unfolding at that given time.
In association with his radio programme, Cuireadh Chun Ceoil, Peadar established An Comortas Bonn Óir Seán Ó Riada, The Seán Ó Riada Gold Medal, an annual competition first held in 2010. The competition focuses on a different instrument each year and shortlisted finalists compete at an annual concert held in Cork city. The competition has provided an invaluable platform for both emerging and more established traditional musicians, and it continues to attract a significant number of international competitors.
As an informed and passionate advocate for the traditional arts of Ireland, Peadar's insightful commentary, lectures, and writings on a range of topics, from Irish music and culture, to the Irish language, remain important and thought-provoking guiding lights for us all.
Among the many additional initiatives instigated by Peadar are Iontaoibheas Fódhla, a charitable trust founded to promote an Náisiún Gaelach; Féile na Laoch, an event held every seven years to commemorate the life and work of Seán Ó Riada; and An Acadamh Fódhla, an academy of learning comprising four strands: Indigenous Gaelic Singing, Land Knowledge, a School of History, and a School of Energy. In addition, Droichead na nGael is an ongoing project that further develops close cultural and artistic ties between Ireland and Scotland.
Peadar's many accomplishments have amassed a number of personal and professional accolades. In addition to the aforementioned TG4 Gradam Ceoil award, Peadar has been named West Cork Person of the Year in 1979; awarded the Skibbereen Eagle for Music and Culture in 1980, Gradam an Oireachtais in 2011; Gradam Francie Mooney in 2013; and Cork Person of the Month in June 2020. It is fitting that we may now add an Honorary Master of Music from University College Cork to this impressive catalogue of achievements.
Peadar was a close friend of the Irish writer, philosopher, and visionary, John Moriarty. I feel that the following excerpt from Moriarty's autobiography Nostos, resonates with how I perceive Peadar's instinctual and profound connection with the Irish psyche, as well as the natural world that continually shapes it. This reference also speaks to my earlier anecdote where Peadar abandoned what seemed like more urgent tasks to continue our conversations that day in Cúl Aodha.

"Clear days bring the mountains down to my door-step,
calm nights give the rivers their say,
the wind puts its hand to my shoulder some evenings,
and then I don't think, I just leave what I'm doing and I go the soul's way"

In recognition of his extensive, profound and multi-dimensional contributions to Irish traditional music, it is my honour to present Peadar Ó Riada for an honorary Master of Music from University College Cork.
Praehonorabilis vice Cancellarie, totaque universitas!
Praesento vobis hunc meum filium, quam scio tam moribus quam doctrina habilem et idoneum esse qui admittatur, honoris causa, ad Gradus Magisterii in Musica, idque tibi fide mea testor ac spondeo totique Academiae.