CACSSS Researcher Dr Chiara Bonfiglioli is awarded a €2 million ERC Consolidator Grant Award
CACSSS Researcher Dr Chiara Bonfiglioli is awarded a €2 million ERC Consolidator Grant Award
UCC coordinator of the MA in Women's Studies, Dr Chiara Bonfiglioli has been awarded a €2 million Consolidator Grant from the European Research Council for her project WO-NAM: Women and Non-Alignment in the Cold War era: biographical and intersectional perspectives.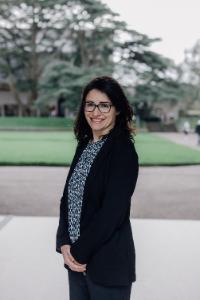 Dr Bonfiglioli (pictured) received her doctorate in 2012 from the University of Utrecht in the Netherlands and worked on successive fellowships in the University of Edinburgh in Scotland (2012-14), the University Pula in Croatia (2014-16) and the University of Vienna in Austria (2016-17). She joined UCC as a Lecturer in Gender and Women's Studies in 2017.
Her research explores the fields of women's and gender history and South East European studies, concentrating on Cold War women's activism in Italy and Yugoslavia. Her monograph Women and Industry in the Balkans: The Rise and Fall of the Yugoslav Textile Sector (2019) is the first in-depth examination of deindustrialization and gender in the South East Europe and the first book to combine gender and labour history to examine the experience of female industrial workers across the post-Yugoslav region.
WO-NAM will have a wider transnational scope and will explore the history of women's participation in the Non-Aligned Movement during the Cold War era, studying the roles of female leaders, women's movements and women's organizations in Yugoslavia, Egypt, Tunisia, India, and Cuba. It will redefine existing interpretations of Cold War history and historiography by conducting ground-breaking research on the significance of Non-Aligned networks in shaping transnational debates on women's rights within international institutions.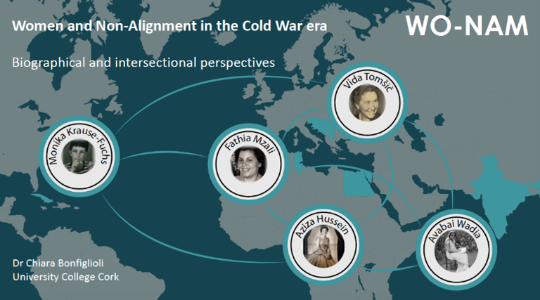 Based on archival research and drawing upon rich and diverse archival collections in the case study contexts, as well as the US and UK, WO-NAM will address women's individual and collective experiences of Cold War politics from an intersectional perspective. It will be the first project to address how female leaders and activists from the Global East and the Global South intervened in a variety of international institutions that were part of, or affiliated to, the United Nations, in order to shape ongoing debates on women's rights, family planning, and development.
Congratulating Dr Bonfiglioli Professor Chris Williams; Head of the College of Arts, Celtic Studies and Social Sciences said:
I am delighted to congratulate Dr Chiara Bonfiglioli on this greatly merited ERC Consolidator Grant Award. Through the WO-NAM project, Dr Bonfiglioli builds on an exemplary track-record of transformative, innovative research in the field of Gender and Women's Studies at UCC. In extending the study of activism around women's and gender rights to include voices from the global east and south, WO-NAM is set to deliver ground-breaking research of truly global impact.
On hearing the news President John O'Halloran congratulated Dr Bonfiglioli saying:
Heartiest congratulations on your ERC success. This is absolutely a tremendous achievement and well deserved. I continue to be deeply impressed by the quality of our staff and look forward to hearing of your successful outputs from the project.
Along with Dr Bonfiglioli the UCC School of Law's Dr Aoife Daly was also awarded an ERC Consolidator Grant for her project YOUTHCLIMATEJUSTICE. Congratulating both awardees Vice President for Research and Innovation Prof John Cryan said:
Congratulations to both Aoife and Chiara on securing such highly competitive and prestigious ERC Awards. Their projects address the role of children and women respectively as activists that face the challenges of the past, present and future. I look forward to hearing about the impactful outcomes from them in due course
The ERC awarded a total of 321 Consolidator awards, 8 of these to researchers in the Republic of Ireland. For a full list of awards see here.