News
News
New, staff-focused, Bystander Intervention Programme to launch next week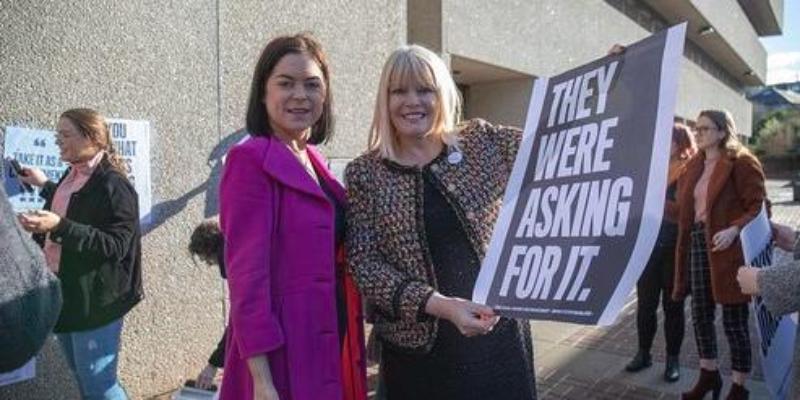 The award-nominated UCC Bystander Intervention Programme will launch a new version of the course, aimed at staff, on Thursday.
Shortlisted for the Outstanding Support for Students Award in the prestigious 2022 Times Higher Education Awards, Bystander Intervention has been rolled out at third-level institutions across Ireland since its inception here at UCC.
Led by Professor Louise Crowley of the UCC School of Law, the programme has featured in across the media in national discussions on consent and harassment.
This new programme will launch at 11.30am on Thursday, March 2 at the G.27 (Seminar Room) in the O'Rahilly Building and will feature a speech from Prof. Crowley as well as a Q&A session with staff who have completed the programme.
This programme was created to empower staff to safely and effectively intervene in situations where they witness or experience harassment of colleagues or students. Through Bystander Intervention, staff will be provided with the education and skills they need to respond to these situations in a positive and effective manner. We believe this programme will create a healthier, safer, and more supportive work environment for all staff members.
A systematic review of Bystander Intervention programmes show that they are effective in challenging harmful norms, and improving attitudes and behaviours. (Journal of Trauma, Violence & Abuse). Bystander Intervention is acknowledged across the Irish HE Sector and internationally by UniSAFE as a key priority in addressing sexual violence and harassment, and intimate partner violence within Higher Education.
Prof Crowley said:
"Awareness, recognition, and a sense of social responsibility, together with the skills to act, supported by a shared appetite and commitment for better, are the factors necessary to harness and effect real cultural change."
Eleanor Donoghue, Head of UCC Career Services, undertook the programme and said:
"Many of the staff I lead are front line staff who meet students for one-one sessions, and it is within these sessions that students can disclose for the first time, an incident they have experienced in confidence. The student meeting might occur under the guise of a chat about subject choice or a postgraduate qualification… however, with the skills of the staff member and through gently probing they are able to see a student in trouble.
"It is then the truth can unfold… it is crucial that staff are given the valuable training and confidence to intervene in a situation as a bystander, and the training and guidance given in the course has been invaluable to me. It will also be invaluable to staff to be able to make referrals to professional avenues of help for students, but it will also provide that guidance and confidence as a human being that we all need at times, to step in when the time is needed, once safe and secure to do so, and help in a situation that could potentially be much worse if we didn't," she said.
Schedule
Date and Time: Thursday 2nd March, 11.30am - 1.00pm
Location: G.27 (Seminar Room) O'Rahilly Building
| Time | Event |
| --- | --- |
| 11.30 | Tea/coffee |
| 12.00 | Launch of Staff Bystander Intervention Programme (Prof. Crowley) |
| 12.20 | Staff Panel Q&A (Panel of staff who have completed the programme) |
| 12.50 | Staff well-being (Susan O'Mahony) |