News 2021
News 2021
UCC ranked as one of the most 'sustainable universities' in the world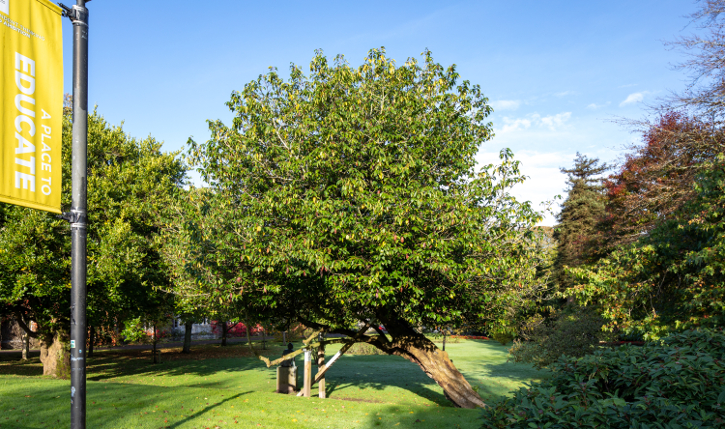 An international ranking which examines sustainability practices in universities across the world, has ranked University College Cork (UCC) today at eight, the only Irish university to make the top 10 of the 'greenest universities' in the world. UCC was ranked at ninth, in the annual world ranking last year.
The UI GreenMetric World University Ranking was set up in 2010 and examines universities around the world and their work towards reducing their carbon footprint and helping combat climate change. The educational, research and operational activities of 956 institutions across 84 countries were examined and UCC was ranked eight best in the world for sustainability.
"We are proud to be Ireland's leading university for embedding our learning, teaching and research to sustainability goals" commented Professor John O' Halloran, President of UCC. "To move up the ranking in a year of severe challenges is testament to the work of our staff and students."
"This award recognises the commitment to sustainability at all levels in UCC, it illustrates the transformative change that can be achieved when everyone works together" stated Dr Maria Kirrane, UCC Sustainability Officer.
Ireland's greenest university
Over a decade ago UCC students first embarked on the Green Campus programme, this programme is now central to university wide operations. Green Campus involves a seven-step programme and a cycle of continual improvement.
"Our Green Campus Forum continues to work on all aspects of sustainability under our 'Student-led, Research-informed and Practice-focused' principles. We are delighted to consistently lead on these metrics," commented Mark Poland, Director of Buildings and Estates at UCC.
UCC aims to make every student aware of sustainable development through both formal and informal learning. UCC has a University Wide Module on Sustainability and all 17 of the United Nations Sustainable Development Goals (SDGs) are covered within its curriculum. UCC is one of Ireland's leading research universities and 15% of all researchers in UCC are engaged in research that is directly related to the SDGs.
UCC campus is a designated as an "Open Arboretum" (a project led by BEES academics Dr Eoin Lettice and Dr Barbara Doyle Prestwich and which has now attracted Science Foundation Ireland funding), with over 2,500 individual trees and all the university's green space is managed for wildlife. UCC has divested from fossil fuels, and is the only Irish University to have signed the Principles of Responsible Investment.