Book Launch
Book Launch
Book Launch - Aula Maxima, UCC - Mon. 19th Sept. 2016
‌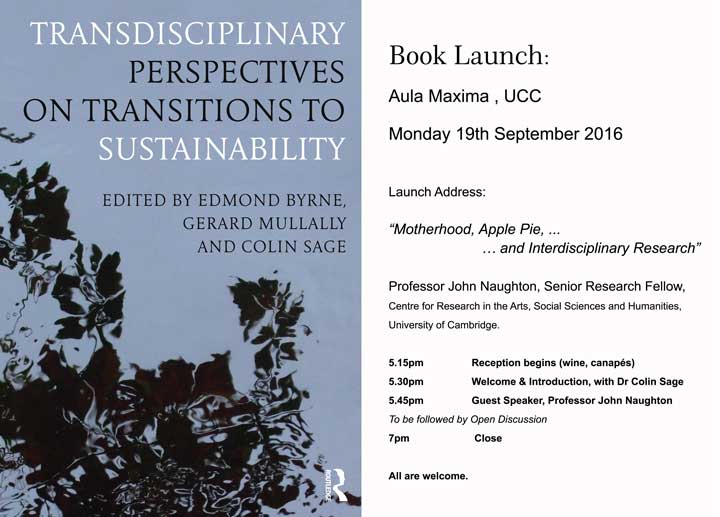 You are cordially invited to the launch of 'Transdisciplinary Perspectives on Transitions to Sustainability', a unique book which draws together the insights and perspectives of fifteen academics from across the disciplinary bounds at UCC (and a few from further afield) on this topical and pressing theme.
Authors (UCC unless stated):
John Barry (Queen's University Belfast), Edmond Byrne, Alessandro Chiodi, Paul Deane, Kieran Keohane, Stephan Maier (TU Graz), Owen McIntyre, Gerard Mullally, Michael Narodoslawsky (TU Graz), Brian Ó Gallachóir, John O'Halloran, Mary O'Shaughnessy, Colin Sage, Bénédicte Sage-Fuller, David Sheehan.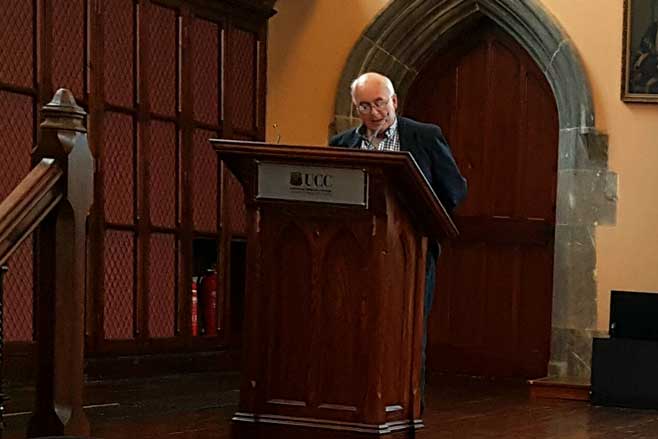 Professor John Naughton, guest speaker, at the launch of 'Transdisciplinary Perspectives on Transitions to Sustainability'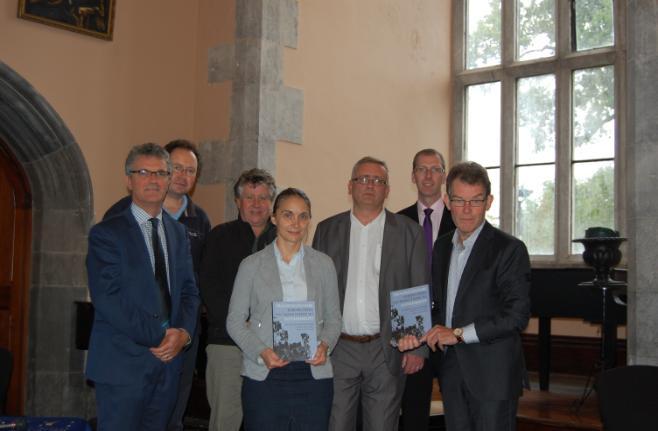 ‌‌‌Pictured at the launch were a number of the book's authors: Professor John O'Halloran, Professor Brian Ó Gallachóir, Dr Kieran Keohane, Dr Bénédicte Sage-Fuller, Dr Gerard Mullally, Professor Edmond Byrne, Dr Colin Sage.
Book editors Sage, Mullally & Byrne at the launch, Aula Max, UCC.
About the book:
Demonstrating how a university can, in a very practical and pragmatic way, be re-envisioned through a transdisciplinary informed frame, this book shows how through an open and collegiate spirit of inquiry the most pressing and multifaceted issue of contemporary societal (un)sustainability can be addressed and understood in a way that transcends narrow disciplinary work. It also provides a practical exemplar of how far more meaningful deliberation, understandings and options for action in relation to contemporary sustainability-related crises can emerge than could otherwise be achieved. Indeed it helps demonstrate how only through a transdisciplinary ethos and approach can real progress be achieved. The fact that this can be done in parallel to (or perhaps underneath) the day-to-day business of the university serves to highlight how even micro seed initiatives can further the process of breaking down silos and reuniting C.P. Snow's 'two cultures' after some four centuries of the relentless project of modernity. While much has been written and talked about with respect to both sustainability and transdisciplinarity, this book offers a pragmatic example which hopefully will signpost the ways others can, will and indeed must follow in our common quest for real progress.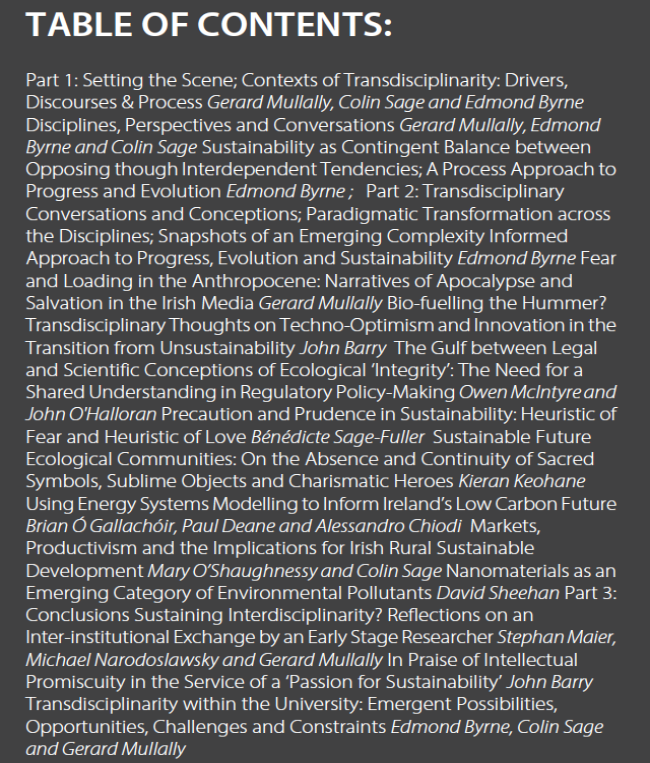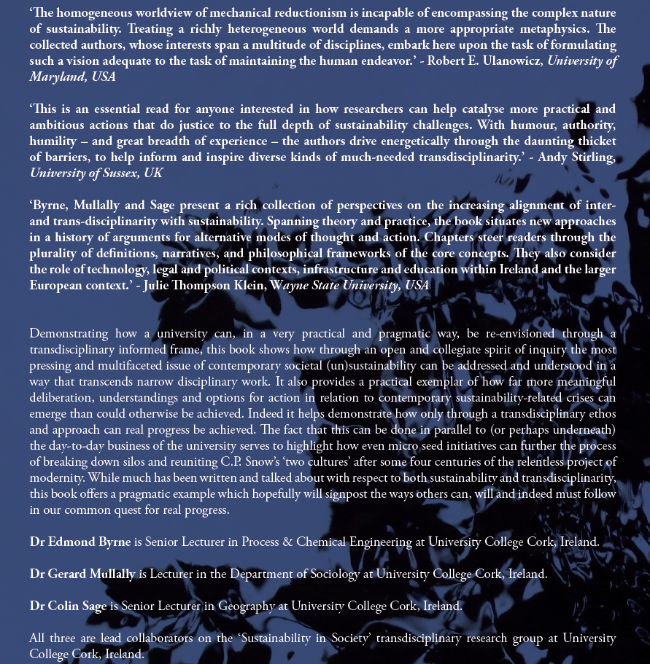 Postscript: The President of Ireland Michael D. Higgins invited the book's editors to Áras an Uachtaráin to formally present him with a copy on behalf of all the authors on 14th December 2016. This recognition for the book served to explictly acknowledge the response that academics centred around University College Cork have made (by enaging with this transdisciplinary process and subsequent research output) to the themes and calls of his Presidency. These include an exhortation to academics and their institutions to embrace the contemporary realities that 'in a complex world, we are called to understand the necessary relationship between the liberal arts – the foundations on which much academic learning must be built – and the fields of science and technology', so as to strive to realise a 'culture for paradigm shift to happen' to replace the debased 'model of separatism'.1 See also below.
1 Speech by President Michael D Higgins at EUA Annual Conference, 7th April 2016, NUI Galway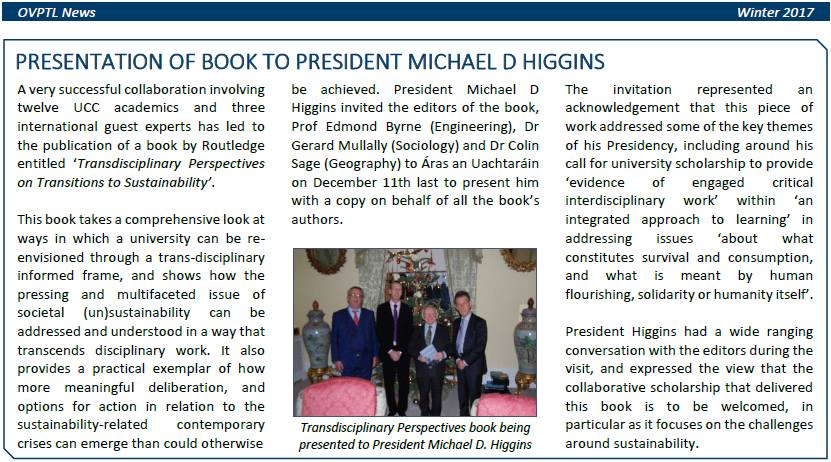 ‌