2015
2015
Quim Monzó & Manuel de Pedrolo: Double Catalan Research Seminar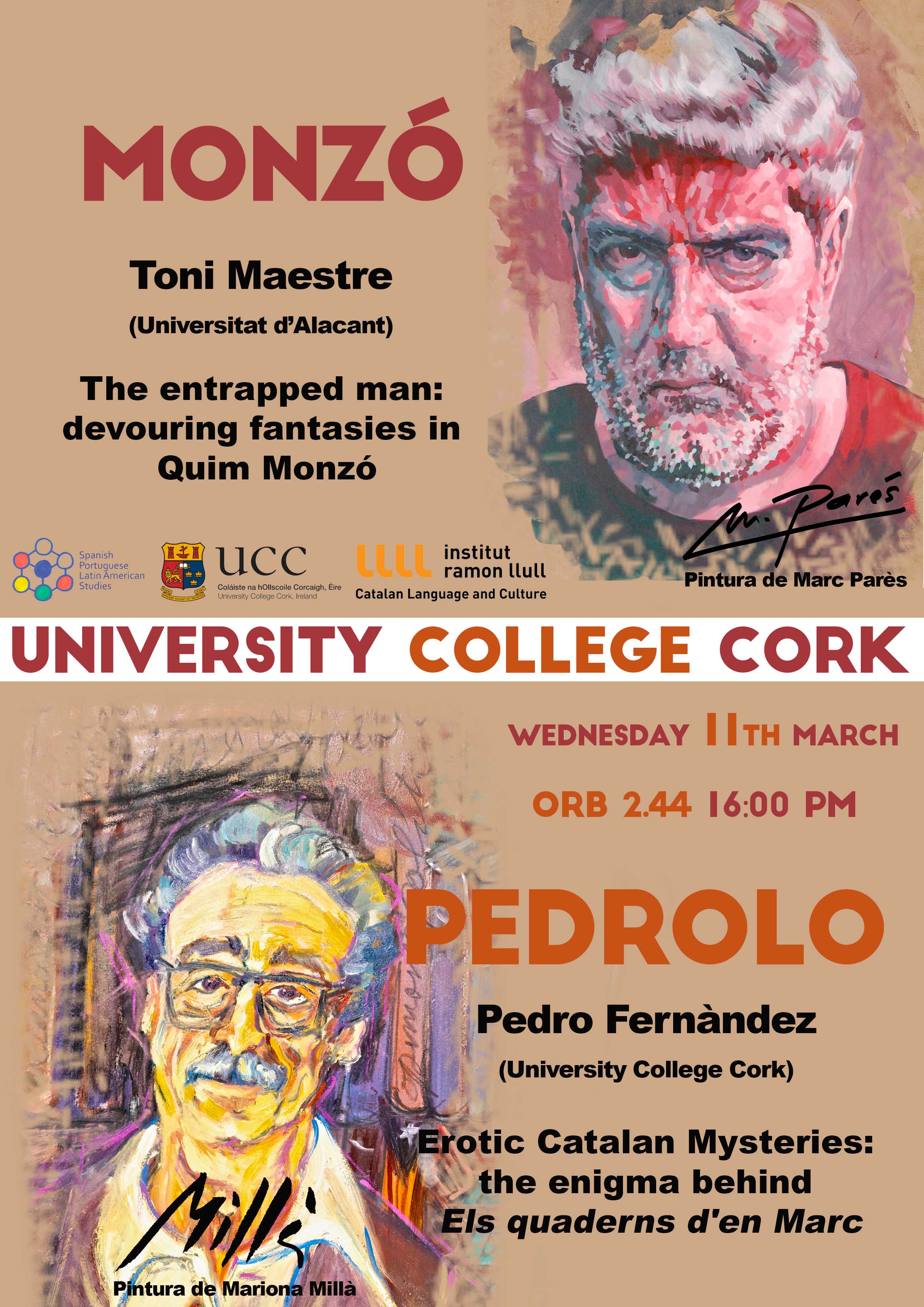 Wednesday 11th March - 4 p.m - ORB 2.44
DEPARTMENT OF SPANISH, PORTUGUESE AND LATIN AMERICAN STUDIES
SCHOOL OF LANGUAGES, LITERATURES AND CULTURES
DEPARTMENTAL RESEARCH SEMINAR
Double Session on Catalan Studies
Wednesday 11th March, 4 p.m.
O'Rahilly Building, ORB 2.44
All welcome!
The Entrapped Man: Devouring Fantasies in Quim Monzó
Main Speaker: Toni Maestre (Universitat d'Alacant)
In the last 40 years, the economic and labour crisis, the loss of leadership in education, the advances of feminism, and the questioning of gender roles among other reasons have provoked the collapse of traditional masculinity. Quim Monzó (Barcelona, 1952) echoes the crisis of male sexuality in his short stories and novels, which use to present dazed and frustrated men unable to cope with women because of outworn gender roles. In fact, as I will argue, they are devoured by their own sexual fantasies about women. In this paper I want to discuss these devouring nightmares in some of his short stories, in particular those related to the femme castratrice, the whore, the wife, and the virgin.
& PhD Student Pedro Fernàndez
(University College Cork)
Erotic Catalan Mysteries: The Enigma behind Els quaderns d'en Marc
The authorship of Els quaderns d'en Marc, an erotic fiction novel published anonymously in 1985 by "Edicions El llamp', is still one of the best kept secrets in the history of Catalan literature. Even though Enric Borràs, editor of its first edition, claimed in an article written in 2005 that he suspected Manuel de Pedrolo to be the author, there is no real evidence that confirms the latter's involvement in its production. This paper will give a brief overview of my recent research in relation to these authorship claims, drawing on innovative online digital tools that may shed light on this on-going mystery.