Winifred Wulff
Winifred Wulff
Life and Work of Winifred Wulff
This information is based on research done by Aoibheann Nic Dhonnchadha, Dublin Instiute for Advanced Studies. The photos have been provided by her through courtesy of the executor of the Estate of Mary Paula Walsh to which they are copyrighted.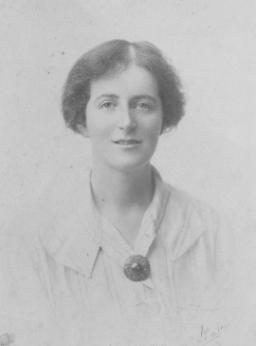 Winifred Wulff
14 October 1895
Winifred Paula Wulff was born in Broughty Ferry, a suburb of Dundee, Scotland. She was the only child of Max Wulff (1865–1939), a Jute Merchant born in Hamburg, and his wife, Harriette Lieben, who was born in England. Albert Wulff was first registerd as having a company 'Albert Wulff & Co', in Dundee in 1889/90. At that time, Max was not registered with an address of his own. Max and Harriette married in November 1894 in the German Protestant Church, Greenheys, Manchester, but Winifred was raised in the Jewish faith. The family was prosperous; Max Wulff is mentioned in the Dundee Post Office Directory as having a telephone. In 1901 they lived in 'Craigard', Broughty Ferry.
1900s
Winifred was reared bilingually, in German and English. After primary school at home, she attended a private boarding school in London, Allenswood Academy. Here French was the principal medium of instruction. (Eleanor Roosevelt had attended that same boarding school from 1899 to 1902, and it still exists.)
1910s
Winifred started to study medicine in Bedford College, University of London. This was the first higher education college for women and had just moved to their new site at Regent's Park in 2013. On medical advice Winifred had to withdraw from the course after about a year.
From January 1915 to Summer 1916 Winifred was unable to work, as she was suffering from multiple sclerosis which had first struck her at the age of seventeen. By 1918 she walked with a cane. During her time of recovery in a nursing home, she met the Irish nurse and physiotherapist Nóra Walsh who was three or four years older than Winifred.
Nóra came from Clogher, Co. Tyrone, and was the daughter of James Walsh, a national school teacher, and his wife Mary (née Shevlin) who had eight children. Nóra had already worked in France with the Red Cross in the Second World War in 1915.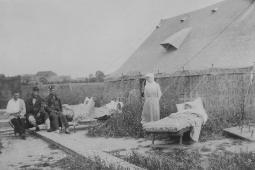 Both young women became close friends andWinifred moved to Ireland, 'coming eventually to live with Nóra and her family.'
Winifred learned Irish in 1918 with Nóra in Coláiste Bhríde in Ó Méith (Omeath), where Eoin Mac Néill was president. In October 1918 she registered in University College Dublin and graduated in Celtic Studies and German with first class honours in 1921. 'Among her classmates in UCD were James Delargy and Myles Dillon.' Around 1918 the Walsh family moved from Clogher to Dublin.
1920s to 1930s
By 1922 Winifred was a member of the Royal Society of Antiquaries of Ireland and that year she published an article entitled Carnagat, Journal of the Royal Society of Antiquaries of Ireland, vol. 12/1, based on a paper she had read the year before. It described a grave from the Bronze Age in the townland of Melthiga, Co. Tyrone. 1923 she published another article on Carnfadrig, a tumulus in the townland of Ballywholan, Co. Tyrone, in vol. 13/2 of the same journal. (Both articles are available on JSTOR.)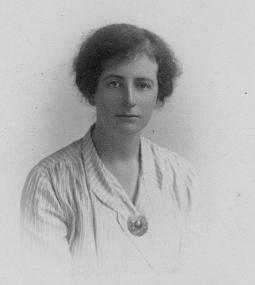 In 1923 Winifred obtained her M.A. degree. This year (or maybe in 1925) James Walsh bought Cypress Grove House, Templeogue, a large country house from the 18th century, with a farm, which became the Walsh's family home. Presumably during this time Winifred converted to Catholicism.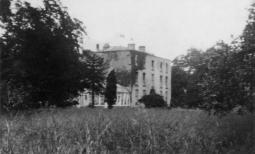 Cypress Grove House, Tempelogue, Co. Dublin.
In the 1920s and 30s the Walsh home was 'a hive of activity. Family members were involved in all aspects of the city's life.' Themselves Catholic and Republican, 'they had friends across all political and religious divides.' In 1922 Winifred commenced work on her doctoral thesis, an edition of the Irish translation of the Rosa Anglica. In the meantime, she busied herself with a series of articles for the journal Lia Fáil, edited by Douglas Hyde. They came under the general title An Liagh i n-Eirinn a n-allod. The first of these consisted on extracts from King's Inns MS 15 on ephemeral fever in 1926, followed by another containing extracts from RIA 23 K 42 on Materia Medica from the Book of the O'Shiels in 1927. The third and fourth part of that article were published in Lia Fáil 3 and 4 in 1930 and 1932, covering extracts from RIA 23 P 10 on the Rosa Anglica. In the meantime in 1929 she published the Rosa Anglica in book form with the Irish Texts Society with a full English translation.
Winifred also enjoyed companionship and help of other Walsh children, such as Róisín and Patrick. Róisín (1889/90-1949) had an honours degree from Univesity College Dublin, where she had studied English, Irish, French and German. She became a professor of English Literature and Irish at St Mary's Training College, Belfast. She resigned in 1919 and became a librarian. As Dublin County Librarian she started a hugely successful Travelling Library Scheme. In 1931 she was appointed Chief Librarian of Dublin City Libraries, and by 1938, was in charge of thirteen city libraries.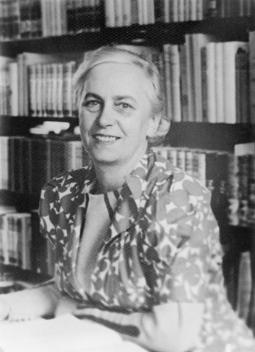 Róisín Walsh (ob. 1949), Chief Librarian, Dublin Municipal Libraries.
1930s to 1940s
In 1931, she published, with Kathleen Mulchrone, the Catalogue of Irish manuscripts in the Royal Irish Academy. She had taken on the task of cataloguing the many medical manuscripts there, devoting many hours to a painstaking and demanding work outside the limelight of Celtic Studies. 1931 was also the year when the was conferred with her PhD degree from University College Dublin. The last two parts of An Liagh i n-Eirinn i n-allod were published in Éigse 1940 and 1941.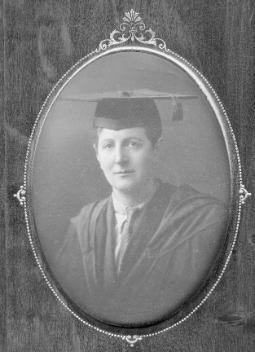 Dr Winifred Wulff, 1931, on the day of her conferring.
Among other publications by her were a Tract on the plague, Ériu 10 (1928), On the qualitees, maners and kunnynge of a surgeon, Zeitschrift für Celtische Philologie 18 (1930), Two medical fragments, Irish Texts 1 (1931), De amore hereos, Ériu 11 (1932). In 1934 she published A Mediaeval Handbook of Gynaecology and On Wounds in Irish Texts 5. Between 1934 and 1946 she worked on the Herbal Hortus sanitatis hibernicus, but due to her failing health and problems with the printers, it was never published.
Until 1942 she published two more articles, Contra Incantationes, Ériu 12 (1938) and De Coloribus urinarum, Irish Journal of Medical Science (1942).
During the last years of her life, Winifred's health deteriorated further. Her eyesight failed, and she spent her last years in a wheelchair, and died on 11 October 1946. She was buried in the Walsh family plot in Templeogue, Dublin.
Patrick Walsh (1895–1951) worked in banking, and was manager of the National City Bank Ltd. Nóra died on 20 April 1951 following a traffic accident. Patrick died of a heart attack on 8 September 1951.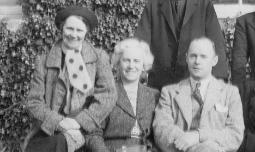 From left: Nóra, Róisín and Patrick Walsh (c. 1945).
Winifred Wulff at Cypress Grove, Templeogue, Co. Dublin. Though her health deteriorated, she still enjoyed tours in the pony trap.
1950s
Cypress Grove, with its farm and lake, was sold in 1952 to Redmond Gallagher, who owned the Urney Chocolate Factory.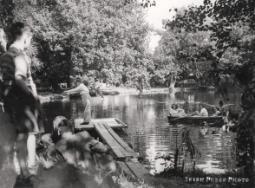 Cypress Grove, with its farm and lake, was sold in 1952 to Redmond Gallagher, who owned the Urney Chocolate Factory.
Dublin Trout Anglers' Association Annual Fly-casting Competition, Cypress Grove, Templeogue, Co. Dublin, c.1950. In boat, from left: Olive Walsh, Perry Reddin and Mary Paula Walsh, godchild of Winifred Wulff (Irish Press Photo).
Sources:
This information was kindly supplied by Aoibheann Nic Dhonnchadha, based on three articles, (1) Eagarthóir, téacs agus lámhscríbhinní: Winifred Wulff agus an Rosa Anglica, in Oidhreacht na lámhscríbhinní, ed. by Ruairí Ó hUiginn, Léachtaí Cholm Cille (Maigh Nuad 2004) xxxiv, 105–47; (2) The Irish Rosa Anglica: manuscripts and structure, in Rosa Anglica: Reassessments, Irish Texts Society Subsidiary Series vol. 28, ed. Liam P. Ó Murchú (Dublin 2016); (3) Winifred Wulff (1895–1946): beatha agus saothar, in: Léachtaí Cholm Cille 35 (Maigh Nuad [Maynooth]: An Sagart 2005) 191–250.
More biographical information in Irish is available on AINM.ie: https://www.ainm.ie/Bio.aspx?ID=1867.
Compiled by Beatrix Färber
© 2017 Corpus of Electronic Texts (UCC)
© Images the Estate of Mary Paula Walsh